We're well into Q3/2019 and have a few more months of tech developments to tick off our list until we commence 2020 with fresh new goals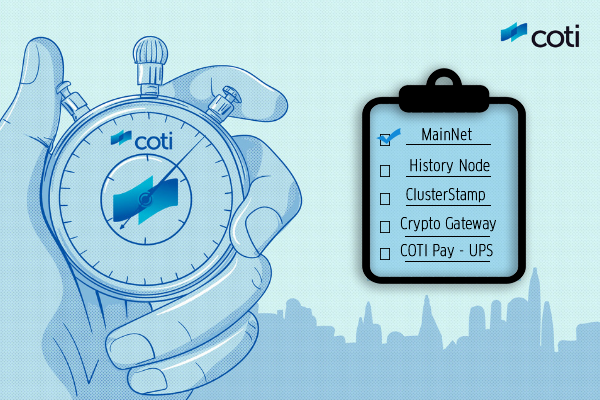 Our mission at COTI is to make cryptocurrencies fit for real world use and mass adoption. Our technological progression to date has moved mountains towards these aims and with the recent introduction of our interoperability solution, which enables communication between different payment systems, it's becoming even more realistic. 
 Our technological innovations for Q3/Q4 2019 are focused on two main targets encompassing our MainNet and Universal Payment System, each with their own set of milestones.
Now, let's dive into our technological roadmap for Q3/Q4 2019. 
MainNet
We launched the COTI MainNet on 4 June, 2019, which was the first official release of the COTI network proper. Some of the key technological innovations from the public MainNet launch included an initial version of the arbitration system to safeguard buyers and sellers from errors, fraud and counterparty abuse, as well as an enhanced privacy layer to protect transactions in a way which has not yet been possible for blockchains. Our DSP consensus innovation added an extra layer of security, solving the fundamental problem of double spending for all high performance distributed ledgers. 
 Other MainNet advancements included one-click payment requests, which enable any merchant to easily integrate PayPal-like payment buttons on their website for instant checkouts. Moreover, we introduced Trust scores to resolve the lack of trust faced by most blockchains and released the node manager, which provides an automated way of discovering neighboring nodes. 
 We're forging ahead with even more MainNet developments through to the end of 2019. These are some of our upcoming milestones: 

 TestNet Node Manager and History Nodes — Q3 2019
The Node Manager is a mechanism that promotes network discovery and connectivity, enabling anyone to join the network as a node operator and run any type of node. We've already released the initial version and have moved on to creating an Automatic Network Discovery Algorithm (ANDA). This will offer an automated way to discover neighboring nodes and uphold network decentralization for added security. 
 As for History Nodes, they are crucial because successful payment systems typically process one billion transactions per year. With a transaction size of approximately 5KB, this means that one year will produce several terabytes worth of transaction data. That is a lot of storage space, and it will not be resourceful for a single node manager to store all transaction records. This is where History Nodes come in, providing the necessary service to store complete transaction history. 
 We have commenced work on the first implementation of our TestNet Node Manager and History Nodes.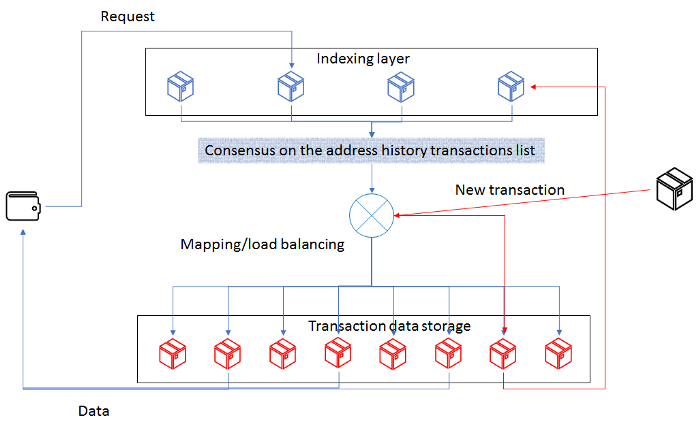 MainNet node operator and staking model — Q4 2019
COTI provides a decentralized solution designed to enable secure and trustworthy payments. This solution relies on the distribution of Trustchain responsibility to several types of nodes that are run by users. Nodes are needed to verify transactions and to ensure that the COTI network remains safeguarded against potential fraud and cyber manipulation. 
 Network participants are required to stake COTI coins in order to run nodes. Critical nodes in our system, like the DSP Node and Trust Score Node, require higher trust scores and more coin staking to run their respective nodes. We have released the first version, which validates an operator's eligibility to run network nodes and are working towards an official release to support node staking. 
 Ability to issue new tokens — MultiDAG, ClusterStamp — Q4 2019 
 With the ClusterStamp, older transactions are sent to the history nodes every set of intervals, and only the latest transactions are maintained by the whole network. This prevents the Cluster from growing to an unmanageable size. The ClusterStamp also provides a useful reference point for performing a system-wide audit to ensure that there are no inconsistencies or possible fraud. 
 As for the MultiDAG, it means that COTI won't be bound to one instance of a DAG. The COTI MultiDAG is similar to Ethereum, as a common decentralized infrastructure is the basis for a multitude of different tokens and smart contracts and one main coin for paying fees. Moreover, the MultiDAG will enable merchants and enterprises to issue their own token. 
 Our R&D team has already begun working on the full specification for the ClusterStamp and MultiDAG in preparation for the Q4 2019 timeline.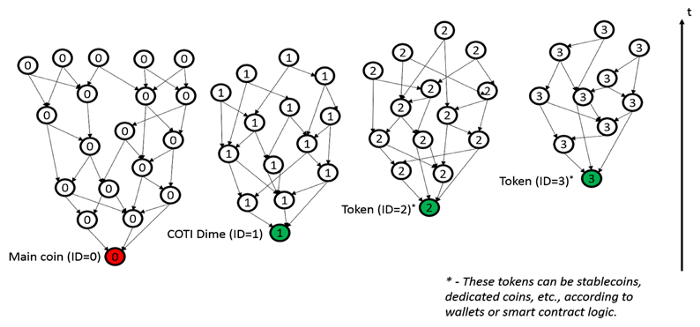 Global Trust System (GTS) — Q4 2019 
 To mitigate risk and ensure a trust-based system, we are introducing the COTI Global Trust System (GTS), which blacklists users tied to fraudulent activity. We are also implementing classification techniques to categorize transactions based on their associated risks. Finally, our proprietary scoring mechanism, a byproduct of transaction classification, measures the trustworthiness of a user in any cryptocurrency network. 
 The COTI GTS empowers any infrastructure or chain to leverage efficient behavioural tracking — a data layer that is chiefly missing in the crypto world — to calculate trust scores and risk indicators for consumers and merchants. All components of COTI's GTS can be integrated seamlessly into any blockchain network and do not require any further technological implementations from existing platforms. 
 COTI's Universal Payment System
 Our second major target for Q3/Q4 2019, besides the new MainNet developments, is to further advance our Universal Payment System. This provides merchants with a holistic digital payment solution that enables them to enjoy the best of cryptocurrencies and credit card processing. Some of the advantages are instant settlements, no FX costs, fraud protection, buyer-seller protection and more. 
 Some of our milestones for Q3 and Q4 2019 include:

 Crypto Gateway — Q3 2019 
 COTI's crypto processing solution will enable merchants to receive crypto payments through their website with instant settlements in their currency of choice. This includes the ability to embed a simple 'pay with crypto' button on the merchant payment page for quick checkout. 
 We're in the process of implementing the entire platform specifications. Once it's ready, we will embed the solution with select partners. 
 Credit card processing — Q3 2019 
 This network iteration enables fiat and credit card transactions to be accepted by merchants with instant settlements, which will assist COTI with increasing adoption. Instant settlements in latter stages will enable any credit issuer like a bank or e-commerce company to issue its own token in the COTI network with immediate access to COTI network volume and users. 
 COTI Pay white label — Q4 2019 
 White-labeling the COTI Pay platform will enable merchants and enterprises to build their own payment platform and accept payments from consumers. We've already released the first version of the COTI Pay white label platform. We are now on the road towards implementing customization options and building a bridge to enable existing infrastructures to embed a COTI Pay-like solution. 
 Universal Payment System — Q4 2019 
 This system iteration enables cryptocurrencies and credit card transactions to be accepted by merchants in one universal payment system with instant settlements, which will assist COTI with increasing adoption. By using the Universal Payment System, merchants will have access to better financing, which will provide them with an instant line of credit or the ability to earn interest when deferring their settlement period.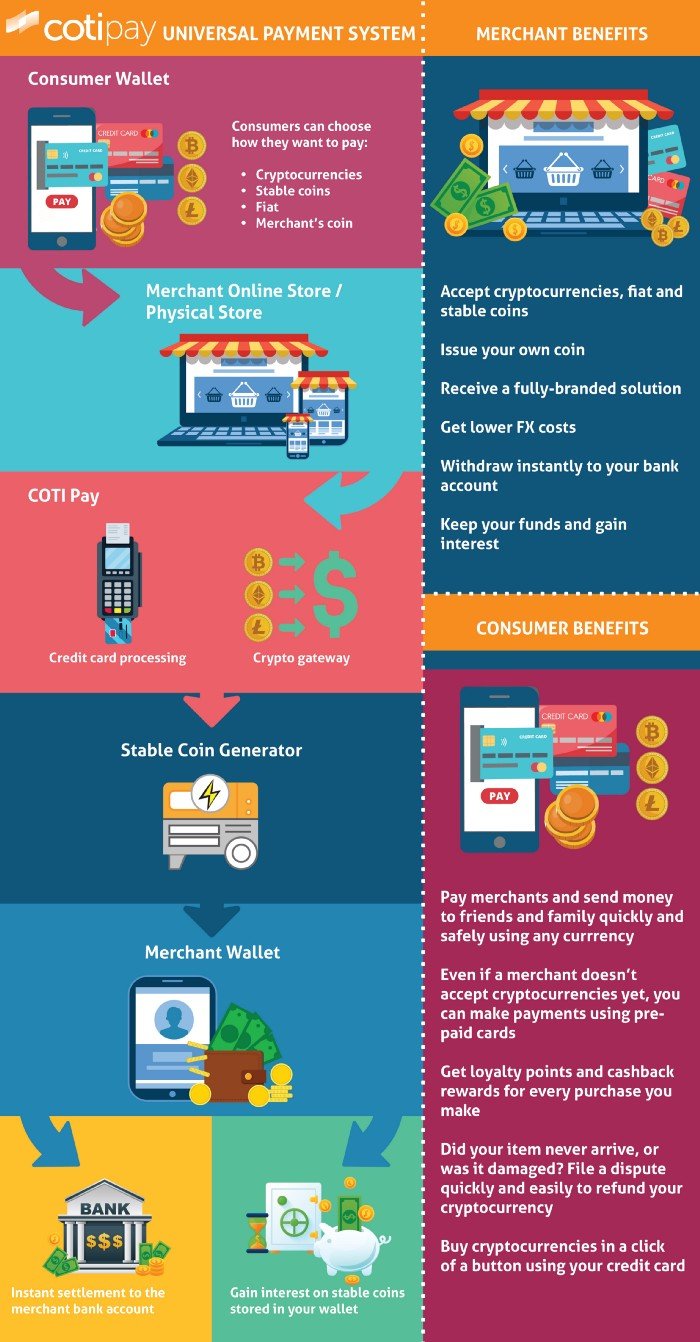 By completing our technological roadmap through to 2020, we believe that COTI will be that much closer to revolutionizing crypto adoption and becoming the infrastructure upon which future payment services are built. 
 For all of our updates and to join the conversation, be sure to check out our Telegram group. 
COTI Resources
Website: https://coti.io
Telegram group: https://t.me/COTInetwork
Github: https://github.com/coti-io
Technical whitepaper: https://coti.io/files/COTI-technical-whitepaper.pdf