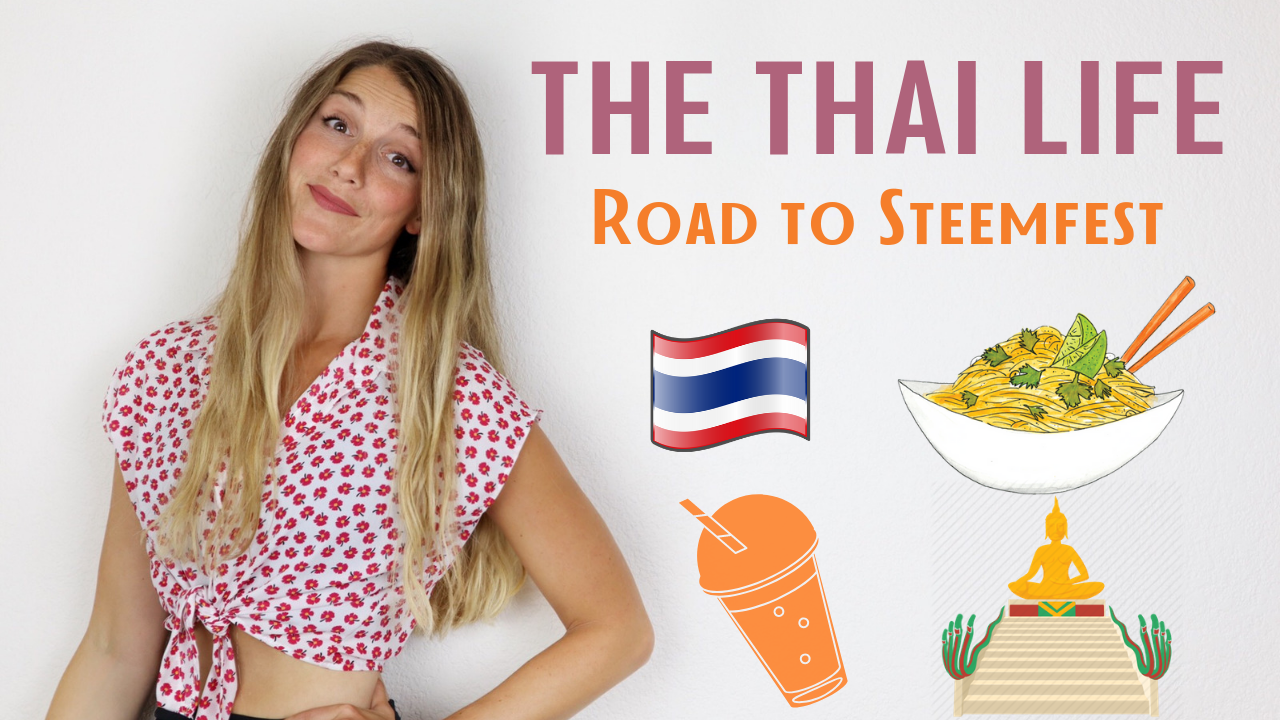 To be totally honest… before sitting down to write this post, I hadn't given much thought to what local delicacies or experiences I wanted to have in Thailand. I think that's the beauty of these weekly free-write challenges. Not only does it help Steemfest goer's to connect and get to know each other better… but it helps me prepare for my own travels by prompting such interesting questions.
At the risk of sounding like a totally ignorant white girl – I did a little research so my response was more compelling than just, "I want to eat pad-thai." Nothing wrong with that, in fact I love pad thai and am very much looking forward to it, but I figured there's a lot more than that. Alternatively, I probably could have asked @waybeyondpadthai to elaborate on her username and give me some good ideas. Maybe I still will! I'll have to hit up a few of my more well-travelled friends such as @daveonarrival and @o07 for some tips on traveling in Thailand.
One thing I'd be curious to look into… is what are the best low carb thai option? Seems like most foods have a strong presence of noodles or rice. I eat pretty low carb in my daily routine now and usually throw that out the window when I'm traveling…but am thinking about trying to be a little better this trip. I gorged myself so fully on pierogis in Poland last year that it took two months of solid effort to get the weight I gained off. I'm all about living large and enjoying local foods…but maybe I don't have to go big every meal… :)
When I think of Thailand another picture that comes to mind is people riding elephants on the beach. Not sure that's an activity I want to participate in though as it makes me sad to think about the elephants being in captivity for the sake of tourists enjoyment.
I also want to say that it will be my first time traveling in Asia, and if anything, I'm more nervous than I was about going to Poland. Bangkok is such a big city and I would be worried about getting lost – so I'll probably stay pretty close to the pack. I'm planning to get a room at the hotel where the event is happening and will try to setup some buddies that I travel around with so I'm never out by myself. I'm still hoping my sister @maryjaney will come with me this year… but we'll see what happens! She's my favorite travel buddy and it would be fun to have the @steemsistershow in action at Steemfest!
PS… we are open to collaborations/partnerships for anyone who might want to help fund our trip to have us support your brand/project in some way at Steemfest. DM me in Discord if that sounds interesting to you and we can talk.
Can I be honest for a second and say I'm a little worried about Steemfest attendance this year considering that we are at the bottom of the bear and the price of steem is so low? The amount of active/engaged users is pretty dang low and with the price of steem being around or under the $.20 mark – people will probably need to fund their trip with fiat – which will put more strain on even some that want to go. I promise I'm not trying to get a negative Nancy here – but it's something I've wondered about.
I've just decided that I'm going to view this as more of a vacation and less of a "working" trip. I mean, how often do you get to travel to Asia with such an amazing group of people and having someone as talented as @roeldandp crafting cool experiences for you? No matter what attendance looks like… I have no doubt that it will be worth every penny.
Okay… back to the thai life!! I'm excited to experience some tropical fruits that I don't usually encounter at home. From what I can tell, there seems to be an abundance of beautiful fruits and vegetables. I also really enjoy curries and look forward to tasting various types while I'm there. One thing I'm NOT planning to try is the famous blood soup! Ugh!
I'd also love to try a variety of different sweet, chilled beverages. (would be an occasional treat because of the aforementioned low carb party-pooper) But I would love to try thai iced tea and see how it differs over there versus what we get in thai restaurants here.
OH! And one more thing that I'm planning to avoid at all costs… is Durian Fruit. A co-worker of mine recently went to Thailand and brought back some candies for the office. Even though dozens of people ate candies and were fine – my friend tried one and immediately swelled up, broke out into hives and had to be rushed to the emergency room. After some testing – they found that she was allergic to the durian fruit in the candy. Yikes! Although the chance of that also happening to me is slim… being rushed to a Thai hospital is an experience I'd rather avoid.
Well… there are all my thoughts on the Thai Life! Tons more research is needed on my part still – especially when it comes to avoiding getting sick from water or food… but I'm feeling pretty excited to experience it all. Knowing that Roelandp is organizing cool events makes this trip pretty low pressure because I know I'm going to see a lot of the city and experience different things… just by attending. :)
Ps… you still have until Sunday, September 8th to get your own free-write challenge in for #roadtosteemfest. You can check out the announcement post HERE. @anomadsoul mentioned that anyone who participates in 75% of the weekly free-writes will have a special surprise waiting for them at Steemfest! Who wouldn't want that?
Love you guys and I look forward to reading other "Thai Life" posts in this week's entries! If anyone has resources/thoughts for things I should think about in my Thai travels – I'm always open to hearing them!
XO, Lea