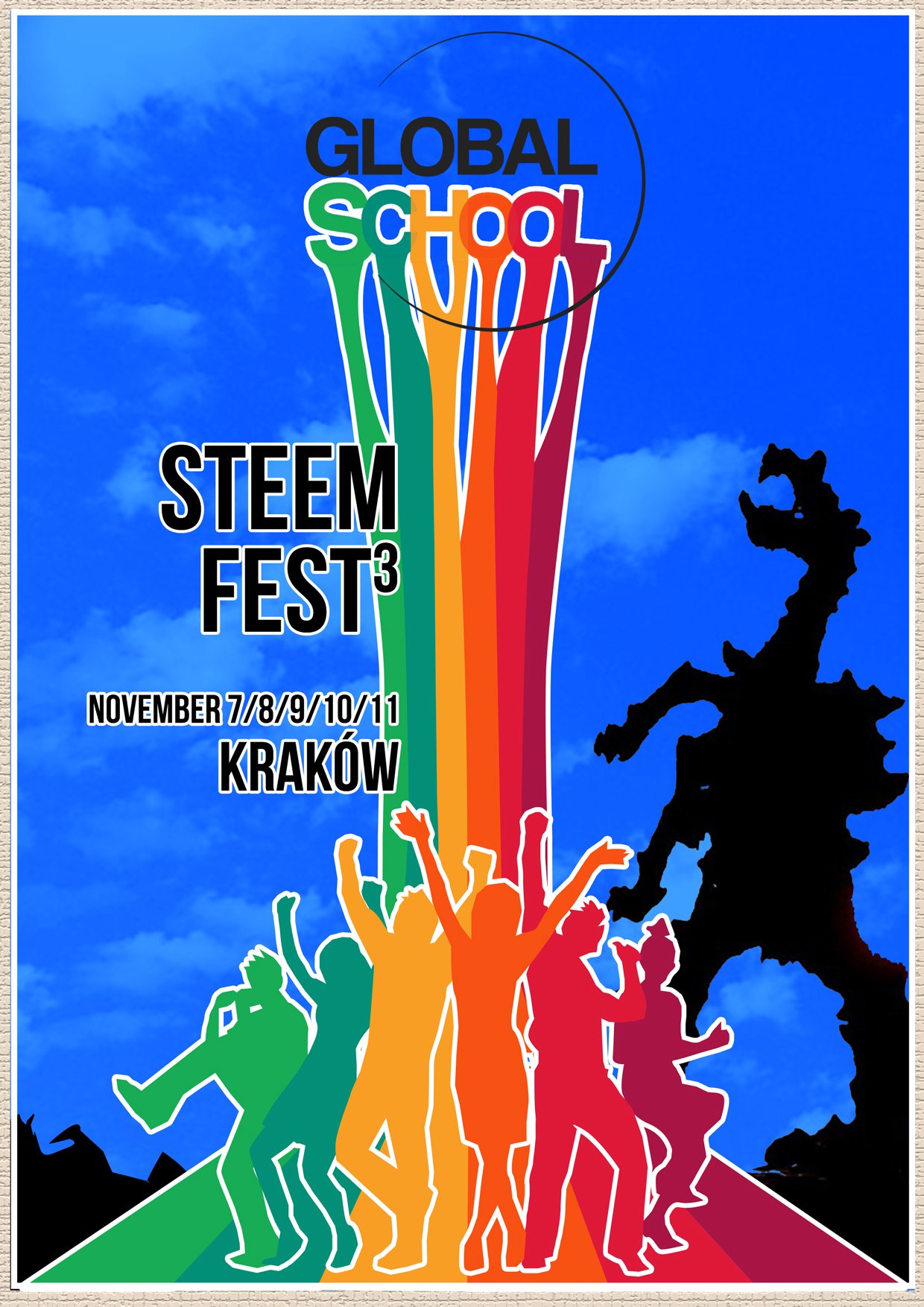 Life can be much more complex than what we would like it to be. One of the big problem facing every community is participation. Often today we think we can resolve participation thanks to technology, and often we gave ourselves a wrong impression.
For technologies to meet their promisses it does not require to be designed only for the users, but also to reply to real life problems without creating newones additionally, and that requires to involve the targets into the early stage of the plan to understand them and show them trust. This reminds me about the case of any creative or entrepreneur who has the urgent need to market themself to reach a life balance and who must develop a serie of new abilties to survive out of their craft while having to compete with giants in order to be seen and reach their supportive audience or their market.
If gobalisation is a reality for goods and services it is also for people and within the era of hyperconnectivity it is not given to everyone to feel confortable and be able to adapt with the tools of today and of tomorrow. If #blockchain such as #steem can offer a wide range of solution to support the civil society as a whole, art, education and business, it is also necessary to develop the ecosystem outside the online sphere and work on bringing those solutions accessible and implementable where they can become prosperous, that is what the globalschool team does by involving young generation into building solutions that are using notably the #steem #blockchain. The result of these efforts is not less than 30 000 human hours work Global School talent pool provided to support entrepreneurs and the creative industries in 2018, with your help in 2019 and further we will be able to provide up to 500K human hour work.
Last week @lizanomadsoul, @mammasitta, @gexi, @manncpt and @yinundmann were presenting the @globalschool at #steemfest in Krakow. As I was managing our IT and Administration groups remotely and I was also sick unfortunately I could not join. However, the team contacted me and kept me updated of their networking progress, while @mammasitta also took the time to send me regularly pictures to publish from the event where all the participants were busy meeting interesting people.
As it is already a week and I am getting slowly better, it is time to share slowly our presentation for those who could not join and want to know more about what is the Global School as well as to recall all the wonderful people we met and start to engage towards fruitful cooperations. To refresh the mind of everyone, before to share all our slides with some more information! Here my small recap! ;-)
Author: @jnmarteau, Founder of the @globalschool
What is Global School ?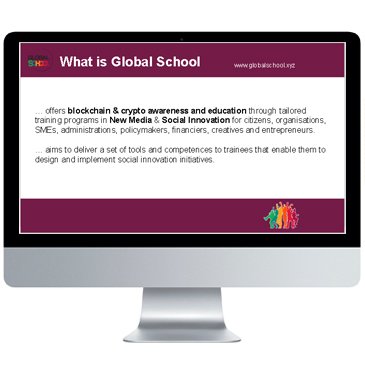 Global School offers blockchain & crypto awareness and education through tailored training programs in New Media & Social Innovation for citizens, organisations, SMEs, administrations, policymakers, financiers, creatives and entrepreneurs.

Global School aims to deliver a set of tools and competences to trainees that enable them to design and implement social innovation initiatives.
---
Global School Missions
Missions are built upon seven practice-driven modules:


---
A Multi Sided Work Environment Empowering Learners

Inviting experienced crypto bloggers, nomads, developers, creatives, entrepreneurs and curators to build a framework to empower learners with an ecosystem enabling to practice from transdisciplinarity work to learn cross cultural skills via cooperation and teamwork.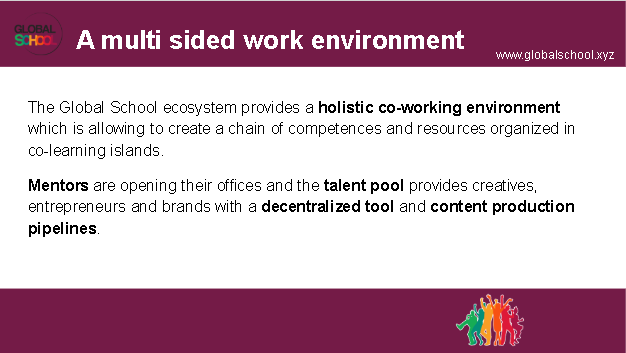 ---
How it works?

Bridging Communities Promoting Social & Development Impact
Global School is possible thanks to the cooperation of mindful mentors working locally or remotely and using with us blockchain as a tool to trace routes towards prosperous exchanges and social impact experiences from welcoming learners with first visit of the city to training or practice.
Holistic co-learning experience
During the practice learners get the occasion to be in the role of a contributor, an idea holder, a project developer, a team leader and also participate to the interviews and evaluations of new or/and older participants.
Co-creative production process
At Global School, we don't provide any standardised ready-made training programs. We offer tailored and based on business analysis, knowledge assessment, learning assessments and then build the material to be compatible.
Powering Co Creation Through Crypto Education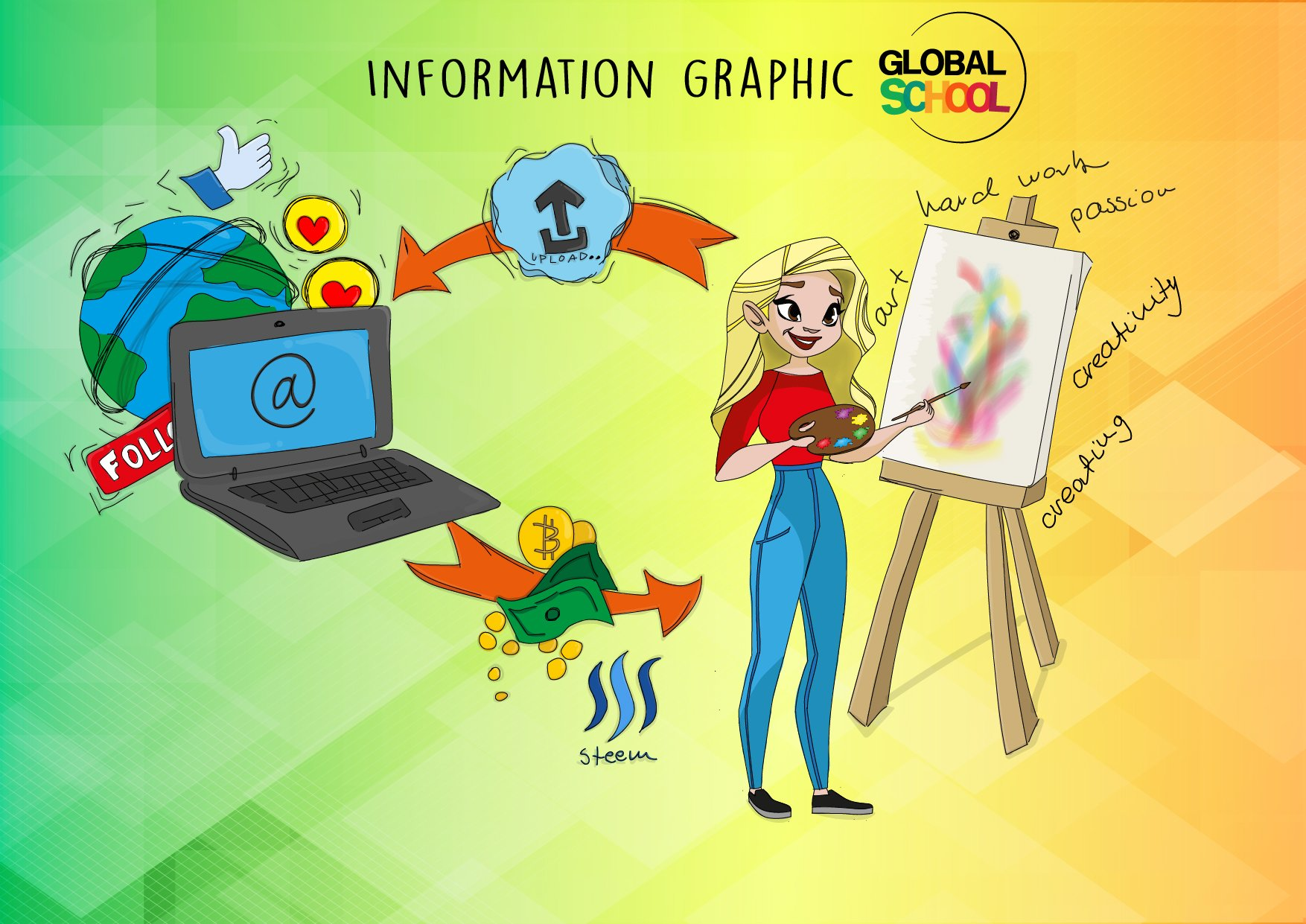 Supported by the @com-lab or community laboratory joined by @roelandp and @payger the "SteemSchool" is the first experiment of the Global School to provide offline and online platform with asset validation and a framework for learning and develop the #steem #blockchain outside the ecosystem. With a cursus dedicated to bring to the steem blockchain ecosystem educated steem users, future steem ambassadors, developers, creatives and entrepreneurs who are willing to push the boundaries of the steem environment to make it appear as landmarks in the city (See The Idea Machine: City Points).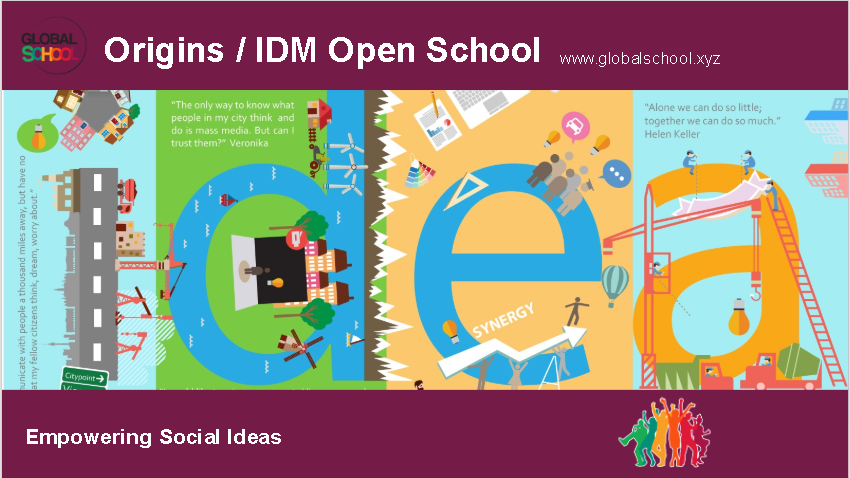 Implementing Blockchain Based Autonomous Spaces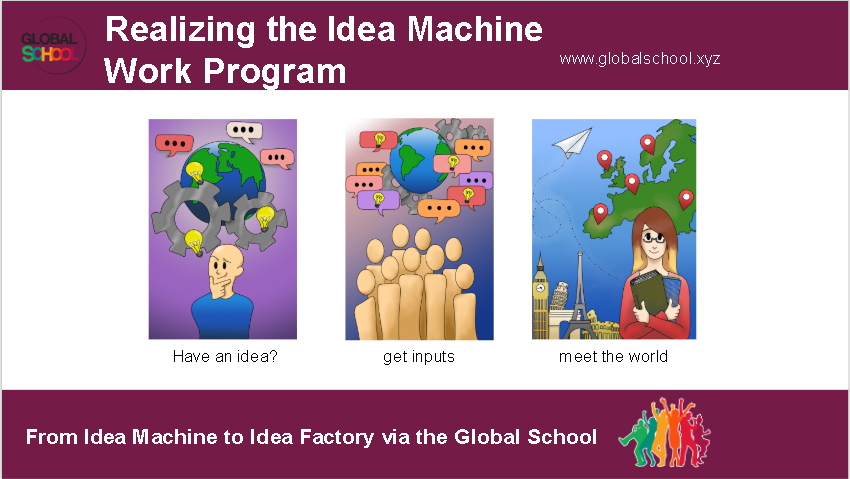 Experiencing for some years already the management of a serie of guest houses, we decided to develop @frameworks, a steem blockchain based autonomous entity able to reproduce itself while reaching the proper conditions. The Frameworks project is notably aggregating a physical network of spaces which count
the Cocoon (1 room), Vienna
the Hug Inn (1< 2 rooms), Vienna
the Platform (1 < 3 rooms), Vienna
plus a serie of hostels, all a network unified and which will be accessible through a platform - @frameworks. The digital platform will notably use Mapchanger, the 3d map build by the participants.
Developing Methodologies & Tools Making Decentralized Thinking Accessible for Everyone
Producing data visualisation of learning data and routes via projects such as mapchanger with the aim to provide the various non formal education activities such as trainings and workshops participants which are coming in huge number in such place a digital version of the space integrating a #blockchain based (#steem) ERP tool dedicated to these learning activities.
Building Users / Citizen / Custowner Centers of the Future
The project has two sides, the digital and the physical network. As we do not meet all the financial requirements to invest further in a bigger space (as we would like to invest in a hostel), we decided to focus on digitalizing the space we already aggregated. So, concerning the digital part, we are cooperating with the community to design solutions that integrates all the current communication channels and features as well as provide to the various participants, trainers, learners and back office. Also to give members of co creative or learning activities a preview of the most important information, documents and history of participants within a 360 degree immersive environment. Here we are even a step ahead of traditional 360 degrees mapped into a sphere or a cube as we are building a real interactive 3d scene, with depth, lightening, shadows and at some point photorealistic textures, like a video game kind of interactivity.
The com-lab
The basic idea of the @com-lab is to provide a white space for communities to share their requirements. The idea further developed as a kind of blockchain based press agency which allow remote workers to send row data to be processed and published by the community, allowing the exploration or worktrip to stay on the focus of those realizing the adventure (see @silkroad40).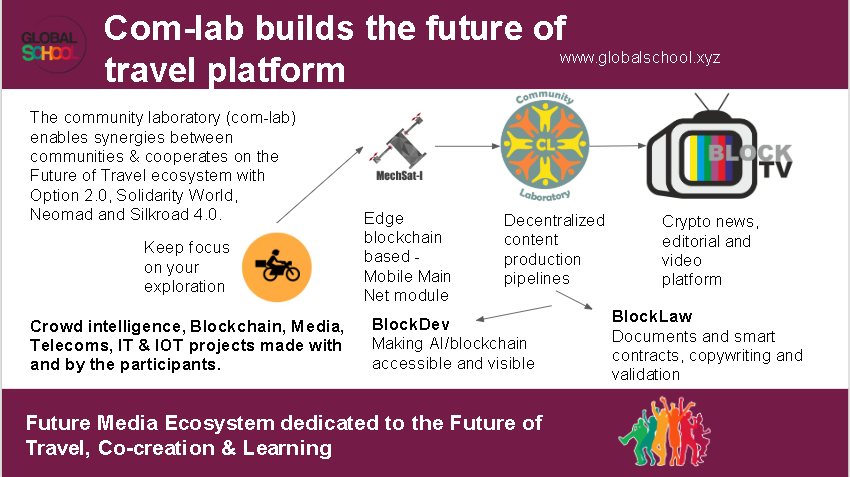 Dedicated to future of travel and learning, step by step the digital version of the com-lab became a kind of "users, citizen, learners and customers digital center of the future" which has the aim to manage and improve participation with the help of another tool we are producing the "iAme", the artificial intelligence or bot, kind of "siri" of Global School which will allow to reply to a maximum of requests while simplifying the back office work and enriching user experience. Hopefully all of this will be accessible via the @com-lab platform which Daniel started to code last week on the basis of the work of Jean (@jnmarteau) and #steem-js.
The com-lab platform
We are working for the moment with the IT group on a simple ERP tool based on steem.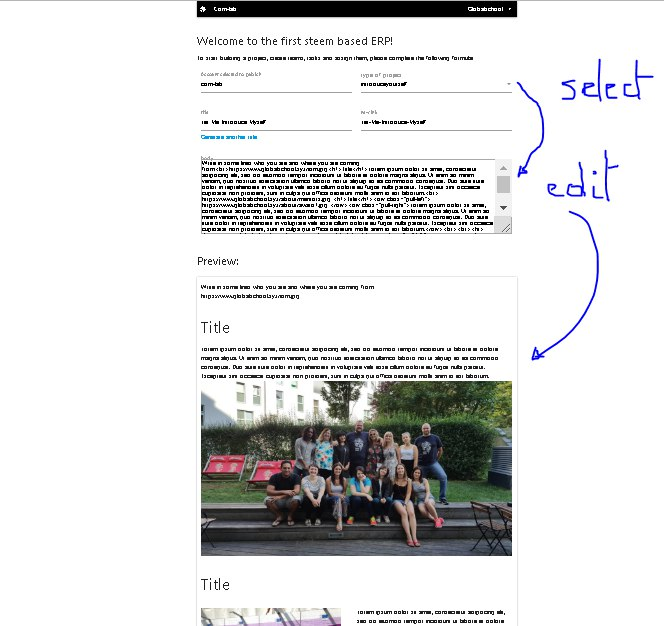 Our goals are to simplify the life of the students, mentors, team, supporters and the community in general by providing them with a simple tool that allow to win time to create beautiful article with template to complete for various cases which are re occurring the most such as for introduceyourself, projects, meetups, workshop, hackathon, daily report, weekly and cycle report. The interface will evolve to simplify the life of teams as it is thought for an easier teamwork and cooperation. We are planning a first release end of the year.
Portfolio
Global School talent pool provides creatives, entrepreneurs and brands with a decentralized technology and content production pipelines
sketching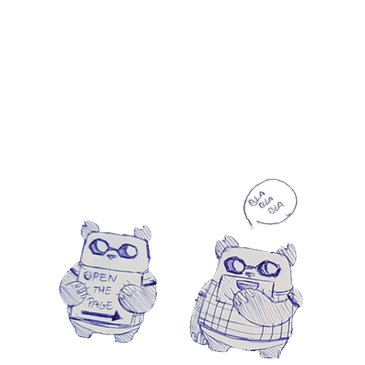 digitalization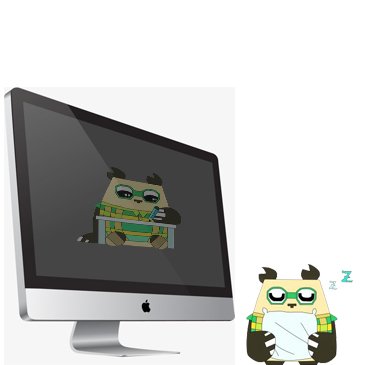 ---
stickers design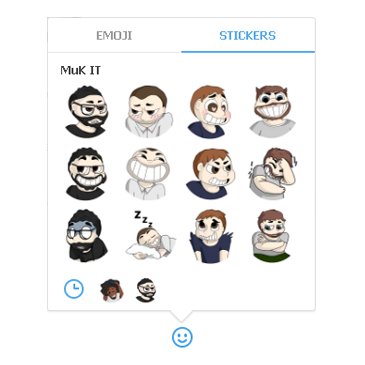 emojis design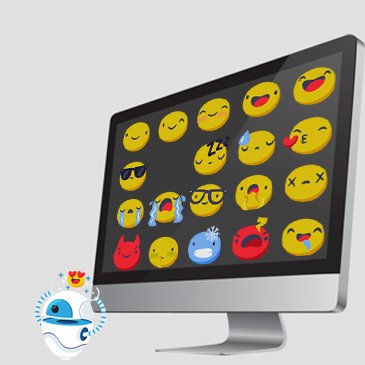 ---
AI & Blockchain dev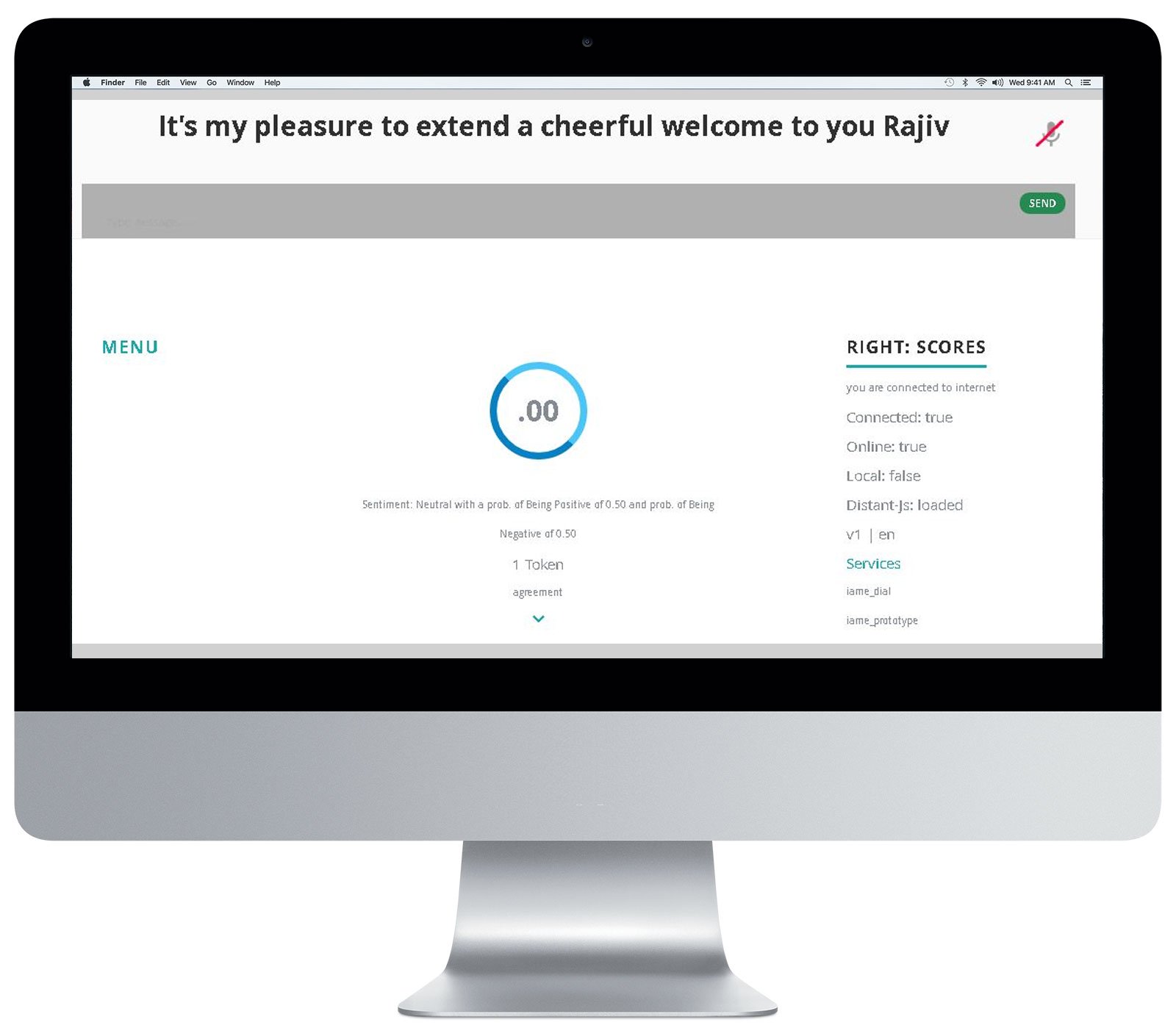 3d & VR developement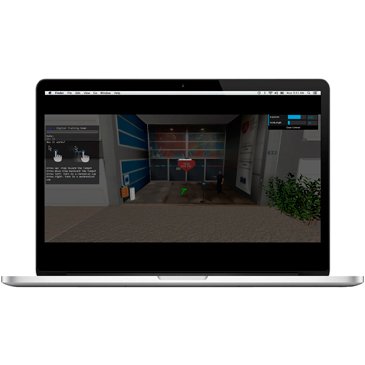 ---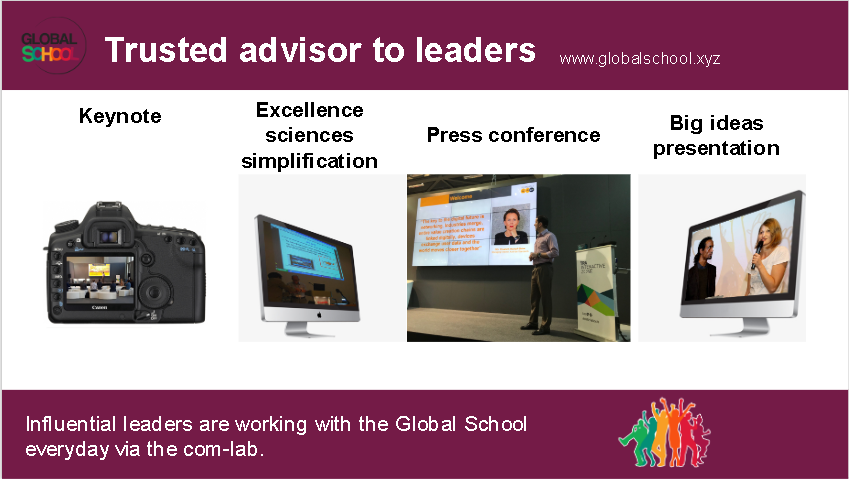 Network of partners
Option 2.0 @opt2o, Generation Europa @generationeuropa, Solidarity World @solidarity, Internet of Ideas @innovations, @YumLeadership and Austraining.
What Can We Do For you to Keep you Focused on your craft?!
Global School provides packages of hours of the talent pool via its various agencies to meet your needs. For exemple, one of the benefit for cooperant members is the participation to the Social Innovation lab which can help you to find fundings and partners to apply and increase your media access, presence and visibility.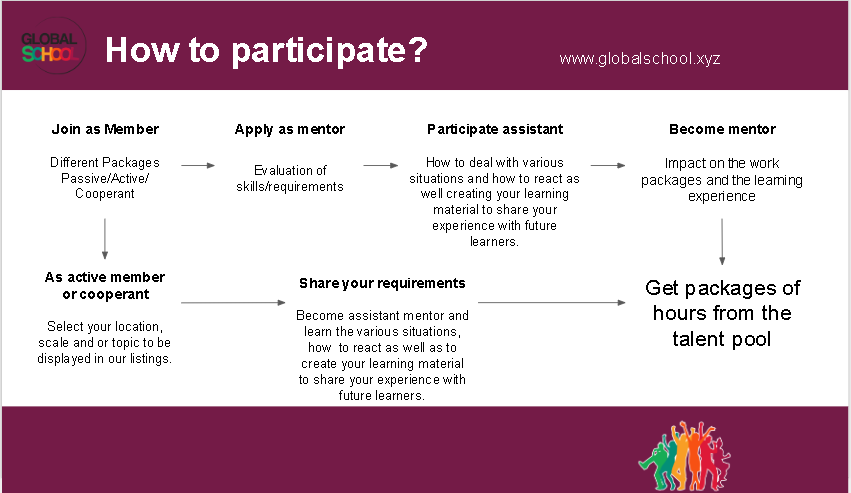 RoadMap
For the moment we are looking for support, partners and fundings. We are preparing our new @fundition campaign and hope to be ready soon. In between the team is working hard to be ready for the next steps!
Last updates: Global School - Talent pool & Camps planning 2019
07 - 20 Jan Vienna Winter Camp
20 places avaiable 1049, 00€/ per person - 2 weeks with accomodation and catering. During these 2 weeks you'll get the occasion to select and experience the folllowing workshops, training and talks:
3d modelization and video game design;
from html to blockchain and iA prototyping;
funding process from proposal idea to application and reporting;
hospitality: how to develop your guest house after airbnb;
business and project management, all you need to know about erp systems.
22 Jan - 06 Feb / Advertising (8 Students)
04 - 17 March Vienna Winter Camp / Scenario Building
20 places avaiable 1049, 00€/ per person - 2 weeks with accomodation and catering
10 - 31 March / Economy (15 Students)
12 May - 08 June / IT (12 Students)
19 May - 03 June / IT (15 Students)
More to come with your support!
We would like specially thanks the following steemians who already decided to show their support by delgating to the @globalschool as well as to the team. A big thank you to @decuration (@twinner), @mammasitta, @pharesim, @lizanomadsoul and @irwanumpal for their trust and early support as well as to @shortcut for his curation work managing the trail of globalschool last months with @creative-commons as well as to @alexandravart and her initiative @ccommons.art & friends inspiring us!
Make a crypto-donation on the @globalschool IM Wallet:

0xADF8785EC0698BC5e9D03Bc2C7881305e9110606

Join us
Connect on discord or telegram
Thank you again for your trust and support!
Jean