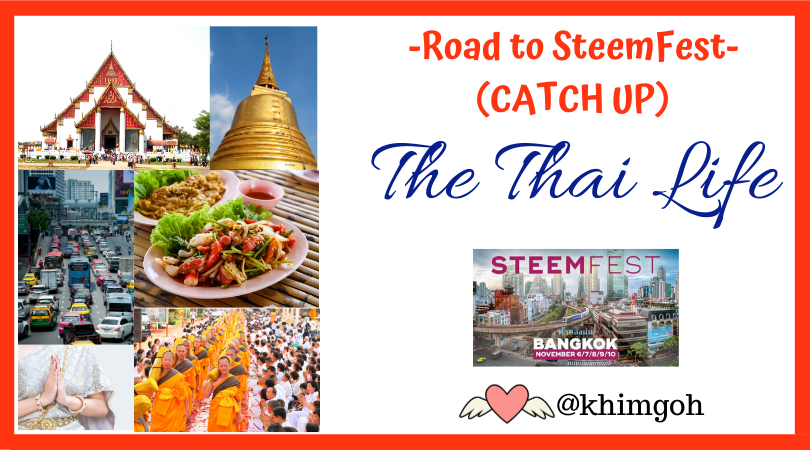 Hey everyone we all have chance of catching up with this #RoadToSteemFest initiative. If you are going and missed the chance to take part in all the topics this is your chance. We all have until 3rd November to catch up so there is still time to get in on the action. These posts also help people to get to know you as they read about you. Like @anomadsoul says, we won't be strangers when we meet up.
I wrote this post when the topic came up and didn't get a chance to post it because I was caught up with stuff at work and my mum being hospital. By the time I looked up the dateline to post this had passed. So here I am sharing the post that I wrote for the Thai Life and What to Expect

Steem Fest is 58 days away and yes I am counting down the days as they go by. The only thing that the bunch of us has worked out is making sure we got the Steem Fest ticket. We are now working on flights and accommodation which we are having a little trouble confirming due to some date differences between the few of us. Hopefully that gets sorted ASAP. Air fares and accommodation prices are just going to go up as we get nearer to the date. This time @anomadsoul has asked us to share about what we are expecting to do when we get to Bangkok.
Funnily enough, just the other day, Hubby was asking me about my plans when I am there. He said that I should at least think about it and list them down and try to allocate time for them. Gee...isn't that a coincidence? Double confirmation that I should be planning stuff out better so that I make the most of the 7 days that I will be spending in Thailand. Wow! 7 days, this is the longest that I have been to Thailand for. The last time we went was about 4 days only if I remember correctly. So this trip would be almost double the time but 5 days would be Steem Fest and all its activities!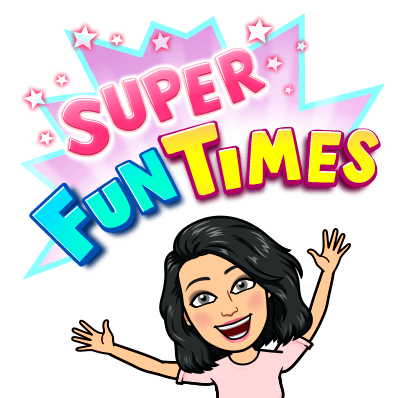 The main thing of course being Steem Fest as most of the first 5 days would consist of meeting and building bridges with a people who are coming from all over the world and especially Moms who are on Steem and making a difference. I am also going to focus on learning more about the whole ecosystem as so many things have changed whilst I was gone for the whole first 6 months of this year.
Things move at lighting speed in technology and catching up takes a heap load of time. I also hope to be able to be able to promote our little community of @steemitmamas and garner more support for the girls! It is really all about people and relationships that makes this ecosystem successful.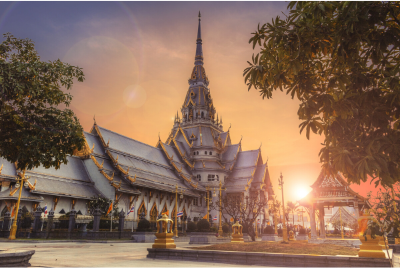 I am so happy that Steem Fest is going to be held in Bangkok this year because I have a chance to go! The last time I was in Bangkok was way back in 2013 when I was expecting my first son. Hubby and I thought that it would be nice to take off for our last holiday together just the two of us before his arrival!
LOL! I also wanted to do some maternity and office clothes shopping...ok ok massive maternity and office clothes shopping. All I remember was shopping at Platinum mall, eating at their absolutely wonderful food court, shopping and sleeping at the hotel. Oh I guess we did do some walking around. I remember that I also really enjoyed visiting their convenience stores and supermarkets!

When I think of Bangkok I think of an awesome holiday. So here is the list of stuff that I want to do when I get there!
Food Crawl - Ok some people do pub crawls but I prefer to go look for good food! Maybe because I am Malaysian and we just love eating. I really want to try good street food and local Thai food and fruits. I have heard from quite a few people now that the experience is something you don't want to miss. My previous trip we stayed safe because I was then 27 weeks preggie and didn't want to get sick from simply eating food everywhere. But this time around, I think I can become a little more adventurous.
Visit the After You Dessert Cafe I love dessert!
Convenience Store and Supermarket Shopping generally because I really love looking at their vast selection of different stuff. Some examples are the Mama Instant Pork Noodles for when you have instant noodle cravings. I also love the fact that they have different flavoured potato chips from brands like Lays. You can pick from shrimp tom yum, Thai basil and even green curry flavour! Interesting right? Visiting convenience stores in Thailand is so pretty fun. Who knows, I might do a post just on convenience stores! LOL
Visit and shop at Platinum Mall, Central World, Terminal 21 and MBK Center! This explains it all right? Need I say more? Shopping Window Shopping...yeah right!
Buy coconut oil, nuts and seeds because I heard that the prices in Thailand are much better than Malaysia. I will definitely be comparing and if so, will bring back some too.
Thai Massage - I love love love love Thai massage. I go a place nearby in Mahkota Cheras that does the best Thai massage all the time. I hope that it will be just as good when I go for one in Thailand.
Finally, I am taking this trip as a time for myself without having to worry about hubby and the kiddos. A change of scene and environment I think would do wonders for me. This year has been extremely challenging so far and I am only recently starting to come out of it. Nothing like a holiday and fabulous company to refresh myself.
Thanks again for stopping by my little space. Can't wait for Steem Fest!!
Xoxo,
Khim

p/s Presently my situation is awful, my office has lost quite a few team members and there is so much work to do. On top of that, my CEO is contemplating not approving my leave because he says that there will be no leader in the office. Some of my more seniors consultants have left the organisation and hence, he is saying that I will have to stay back in the office just because there is a lack of people.
pp/s Another thing that has happened to me as well if the fact that IRB has sent me a letter saying that I owe them 50k of back taxes. When I met with them, I realised that somehow my company has declared income for me that I am not aware of and submitted it with their company account and tax submissions. I on the other hand reported all the income based on the my yearly forms that was given to me by the company and was in total shock when the officer in charge told me that I had earned and additional 100K that year and did not declare it! So yeah...this year is turning out to be pretty awful. So now I have spend valuable time trying to sort this out. I can't believe how oppressive it feels to have a 50k bill hanging over your head. Mistake or not...the government always wins.
Sorry about the doom and gloom...it is now only 4 days away from Steem Fest and everything could do down the drain for me.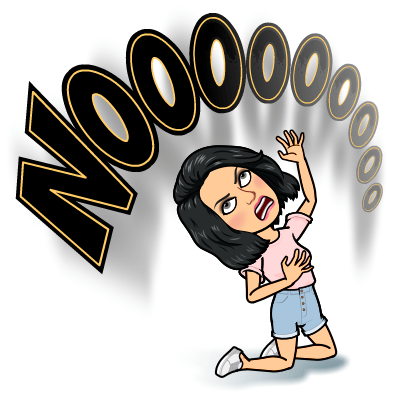 Xoxo,
Khim