Last year I was eagerly looking forward to attend Steem Fest but due to health conditions I was not able to and I was feeling very disappointed. From that time onward I had decided that come may whatever I will surely attend SF4.
I was eagerly looking forward to this year's Steem Fest news and dates and the moment the first post I read I gave my yes response immediately.
I had no doubts on attending this year's Fest, the only thing was the dates which I was waiting for since I have some other commitments and if there would had been a clash then it would become difficult for me. End of November is my wedding anniversary and be it whatever this is not the time when I would be without my husband. This was the only hitch for me. We have already planned a holiday during this time so then it would not be possible for me to attend the Fest.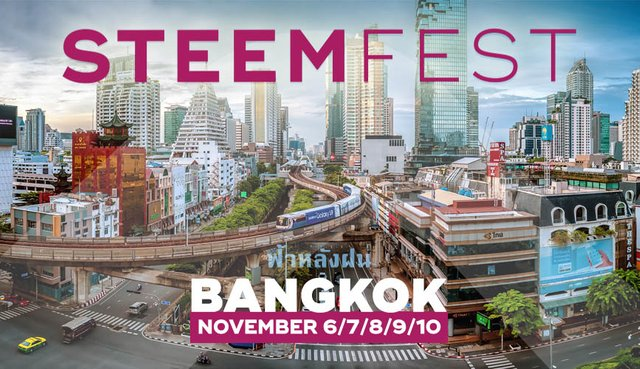 As far as other plannings had to be done that was not much of an issue. I had saved up for the Fest knowing it would be coming up and I so wanted to be a part of it. The other was then managing the bookings. Again here there were 3 things to be done Book the flight, Hotel and pay the Fest Fees. Hotel details were readily available so I had no need to check for options and it was just going ahead and booking the hotel. Paying up the Fest Fees was a 5 minutes job. Booking the flight ticket was taken up by my Husband, since he works for an airline, he booked the staff ticket for me and that was it.
Everything has been sorted, absolutely without any hassle. In a day or two I will get the exchange required to spend over there. There is a exchange office below my building so again I need not worry about it much. I have already checked with them on the rate and prepared with how much I want to exchange. The last is the Visa for Bangkok. For Indians there is a visa on arrival, so again here no action as of now required except for keeping 2 passport size pics handy.
So you see in all it has been a comfortable arrangement for me.
Time is ticking and we are just 6 days away from the Fest. I am sure everyone who is attending is geared up and looking forward to the date 06th Nov.
Thank you for visiting my blog. 👼🏻👼🏻💖💖🌹🌺🌸




"Unlimited Abundance, Blissful Happiness and Unconditional Love"
My other blogs of Interest
---
---
Member of
---
| | |
| --- | --- |
| Supporting People Who Help Make The World A Better Place @ecoTrain | |
---