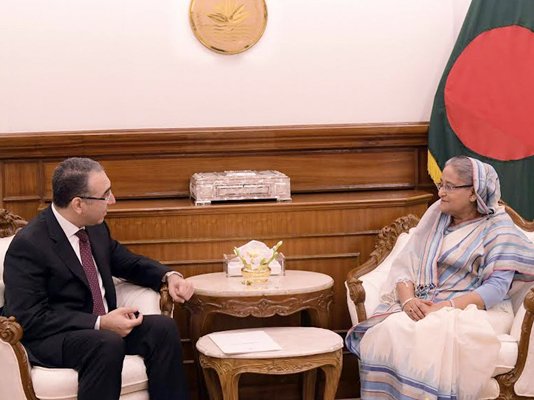 Prime Minister Sheikh Hasina today said that Bangladesh has sheltered refugees from Myanmar due to humanitarian reasons, but now they want to return them. Sheikh Hasina said this when newly appointed ambassador to Egypt Wahid Ahmed Shamsel Dinar met with Prime Minister Sheikh Hasina at Tejgaon office in the morning.
Prime Minister's Press Secretary Ihsanul Karim said the Prime Minister and the Egyptian ambassador discussed the issues related to bilateral interests. The Rohingya issue also came up in their discussion. Quoting the Prime Minister's statement about Rohingya, the press secretary said,
We gave shelter to them because of their humanity, now we want them to return. '
Sheikh Hasina said Bangladesh has discussed this issue with Myanmar and the concerned but the Myanmar is not taking steps according to the treaty.
Referring to the situation of the Rohingya refugee camp in Cox's Bazar, the Prime Minister said her government is making a place for the transfer of Rohingya people, where around one lakh Rohingyas get the chance to live in a good environment.
In the meeting, the Prime Minister said Bangladesh has given its highest importance to her relations with Egypt. Because, after independence, Egypt was the first country to recognize Bangladesh among the Arab countries.
The Prime Minister recalled the context of the first historic visit of Father of the Nation Bangabandhu Sheikh Mujibur Rahman to November 1974, saying that the visit of the two countries was laid on that tour.
The Prime Minister also mentioned about her visit to Egypt in 2009 to attend a Non-Aligned Movement (NAM) conference.
The ambassador said he would work to increase the existing bilateral relations and cooperation between the two countries.
The ambassador said that Egypt is interested to invest in Bangladesh's electricity sector and an electrician in Bangladesh is ready to set up its factory. He also praised the Prime Minister's fight against terrorism and drugs.
The Egyptian ambassador emphasized the strengthening of cultural relations of the two countries. In this context, he also informed the Prime Minister that he also met the Culture Minister of Bangladesh.
The Prime Minister welcomed Bangladesh's investment in Bangladesh and said that the government is ready for allocation of land in the country's special economic zone. He assures the Ambassador of all possible help and cooperation while performing his duties in Bangladesh.