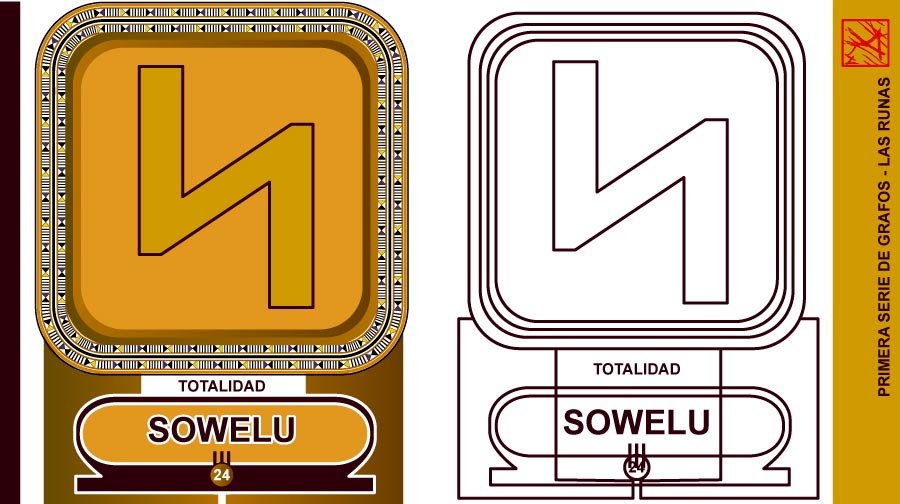 La figura del grafema Sowelu de la escritura rúnica nos indica la totalidad del universo expresándose como torrente de energía dentro de nosotros.

EXPLICACIÓN DEL GRAFEMA
De acuerdo a la tradición del
Oráculo Rúnico
del linaje de los sacerdotes de Odin, la runa Sowelu nos indica que las fuerzas del universo entran en acción por medio de nosotros que somos su vehículos de acción, es el éxito en todo lo que nos propongamos, los enemigos y obstáculos no se pueden resistir ante las fuerzas de Sowelu. Todo es causar, todo tiene una razón de ser, nada se da por azar o por suerte, solo que algunos eventos tardan en expresarse por el acomodo de piezas que el universo va haciendo para que se exprese lo que se tiene que expresar en el mundo físico y material. No hay Sowelu invertido porque cuando un evento se da en los mundos superiores lo consumado consumado está y no hay nada ni nadie en el mundo físico que pueda evitarlo o desvirtuarlo.
According to the tradition of the Rune Oracle of the lineage of the priests of Odin, the Sowelu rune It tells us that the forces of the universe come into action through us who are its vehicles of action, it is success in everything we set out to do, enemies and obstacles cannot resist the forces of Sowelu Everything is cause, everything has a reason for being, nothing is given by chance or luck, only some events take time to express themselves by the arrangement of pieces that the universe is making to express what has to be expressed in the world physical and material.. There is no inverted Sowelu because when an event occurs in the superior worlds the consummate is consummated and there is nothing and nobody in the physical world that can avoid or distort it..

Las Runas son una forma de escritura originalmente usadas exclusivamente para liturgias y ritos Celtas en la antigua religión de los habitantes de las tierras nórdicas y escandinavas, de uso solo espiritual, no para registrar el idioma hablado. Con esta serie de grafos iniciamos la promoción de las escrituras antiguas que formaron parte de las culturas extintas con las cuales de alguna u otra forma aun seguimos emparentados.
Runes are a form of writing originally used exclusively for Celtic liturgies and rites in the ancient religion of the inhabitants of the Nordic and Scandinavian lands, for spiritual use only, not to record the spoken language. With this series of graphs we began the promotion of the ancient writings that were part of the extinct cultures with which in some way or another we are still related..

SOPORTE CREATIVO
A la derecha de la imagen pueden observar el diseño vectorizado para indicar que la imagen es original del autor del post sin ser bajada de internet y los derechos de usos son reservados.
To the right of the image you can see the vectorized design to indicate that the image is original from the author of the post without being downloaded from the internet and the rights of use are reserved.
I hope you like the design