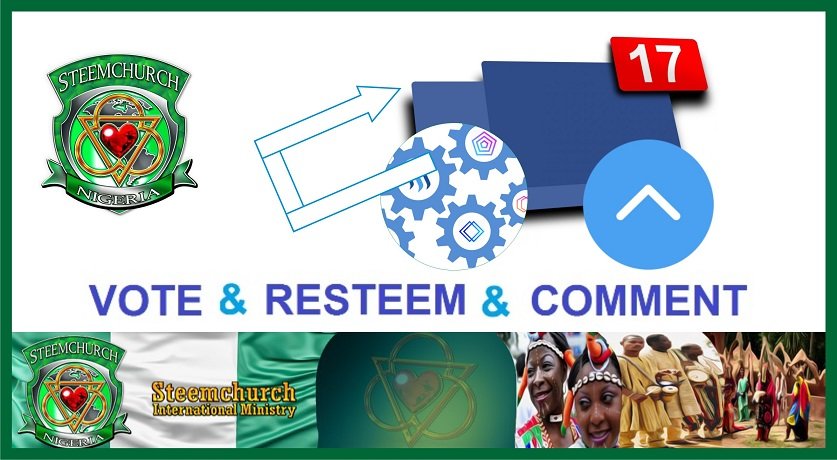 Yesterday, we created a blog on sustainability of projects where the need for and the benefits for sustainable projects were highlighted. In today's blog, we are dedicated to communicating the need for a better and robust engagement among community members towards sustainable project delivery.
Generally speaking, engagement on social media is when other users perform actions on a user's blog. Such actions as it relates to steem blockchain may range from upvotes, resteems and comments. To me, I see these actions as all constituting curation.
It is sad that on daily basis, communication and engagement among community members is on the decrease in the @Steemchurch community and it is not towards the health of the community and projects. Earlier today, @Sc-v blogged on the health of a church and the need for healing.
Indeed, we need healing as it concerns the communication and engagement among members of the Steemchurch communities and related parishes and projects. Through engagements, we will be able to share ideas and help to publicize our activities to a wider reach to blockchain users.
It is unfortunate that some parishioners are all out for juicy curation from @Sniffnscurry but are not ready to contribute to the betterment of the community in knowledge, goodwill and engagement. Frankly speaking, while we all may not have enough curation power to curate our community, but the tiny suggestions through comments can go along way to build our community. Resteems can go a long way to spread our event and activities to a wider reach and audience on the blockchain.
Where there is no wise guidance, the nation falls, but in the multitude of counselors there is victory. - Prverbs 11: 14, World English Bible
Your suggestions through the comments section are important to us and will guarantee our community victory. You may not know that one person that will see a resteemed post on your blog and it will impact so much on them or such will become a great partner for our community/project.
While I do not intend to sound hard, but I think it wise that parishioners would only qualify for curation only if the user has engaged the community with at least 10 comments on community accounts and other parishioners' posts.
I hope you share your thoughts in the comments section of this post. Together we can push our community forward.

ANNOUNCEMENTS
The first Comments Engagement Contest hosted by @Sc-n is still ion. We deem it important to extend the duration to 48 hours to allow for more participation. Please maximize the opportunity.
As of now, we have 2,120 SP. We call for more delegation towards the targeted 10,000 SP by July ending. Thank you to all who have delegated.
Collation of registered members of Steemchurch International Ministries have begun. Endure you have declared your membership to enjoy the coming blessings.
In the meantime, curation will be focused on parishioners who have declared their membership in @Steemchurch, stating how they will assist to build the community with their skills and resources as well as their life project which the community will be so glad to support them to a successful accomplishing.
2. Delegate SP to @Sc-n
4. Resteem our submissions for wider reach.
5. Declare your Membership to @Sc-n and @Steemchurch
Every parishioner that makes that declaration will be awarded a Certificate of Membership signed by @Sirknight. The certificate is beautifully designed by brother @edxserverus. Feel free to use your certificate and our newly created banners as footers for your #sc-n and #steemchurch posts.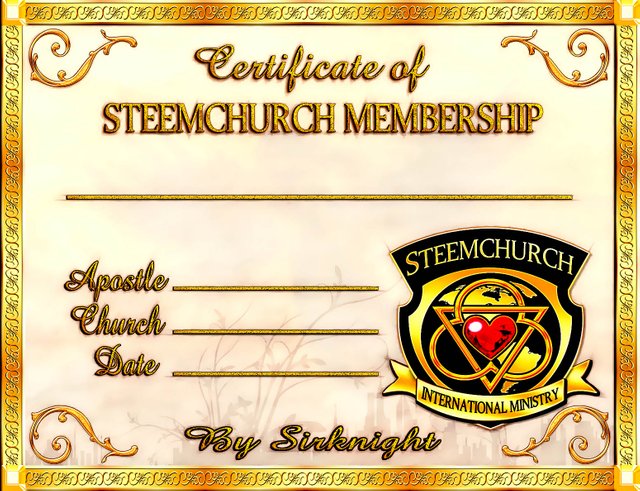 Long Live @Steemchurch International Ministries
Long Live Steemchurch Nigeria - @Sc-n
Long Live Nigeria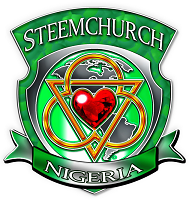 @UYOBONG
Your Chief Servant