"No one has ever become poor by giving." ― Anne Frank
"We must give more in order to get more. It is the generous giving of ourselves that produces the generous harvest." ― Orison Swett Marden
"Give, and you will receive. Your gift will return to you in full—pressed down, shaken together to make room for more, running over, and poured into your lap. The amount you give will determine the amount you get back." - Jesus Christ (Luke 6: 38, NLT)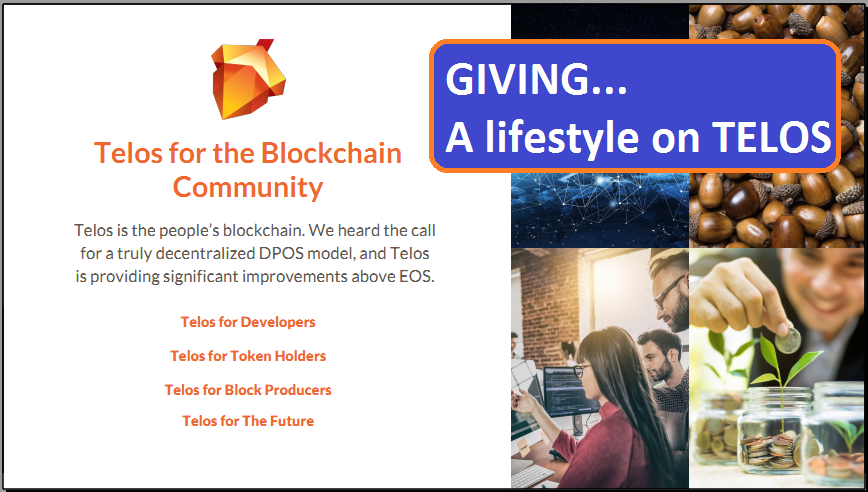 It became very necessary to share those great thoughts and truths about giving as we x-ray GIVING AS A LIFESTYLE TO IMBIBE ON TELOS BLOCKCHAIN. This blog is the second in this series teaching on The telos of Telos.
As contained in the Telos Press kit, "Telos " means "the ultimate purpose of a thing." The Telos blockchain is people oriented and a response to people's call for true decentralized DPOS model. Telos was created to provide significant improvements above EOS, thereby becoming a great platform for developers, token holders, and block producers with a great potential for the future.source
The Telos blockchain leverages the power of humanity in forming and great and powerful communities which can thrive through a thick competition of proposals with their unity in votes. Actually, a user is believed to cast a vote in favouro a block producer, proposal or arbitrator that is trusted to contribute the growth of the blockchain while gleaning the blessings that accrue thereof.
To my understanding, trust is a gift, at a height beyond mere tangibles. Whosoever earns trust should esteem such for it is hard to come by. To trusted and the trustee, both owe each other a reciprocation of a great and loving gesture.
Being a part of the Steemchurch community on Telos - @Sc-telos with proxy address as @Freedomquest, I have discovered that there is a reciprocating lifestyle of giving that makes us thrive on the Telos blockchain. According to the Wikipedia.org, lifestyle is the interests, opinions, behaviours, and behavioural orientations of an individual, group, or culture. It goes beyond a singular action to a continuous and conscious set of activities geared towards achieving the telos of the community or group.
Having helped to register 20+ members to Telos and setting up accounts for 10+, I discovered that after the initial receipt of Acorns in line with the number of days spent on the Steemchurch Telos Village, subsequent daily visits to the wallet do not automatically update the Acorn gifts which were supposed to be daily blessings.
Yesterday, I decided to ask Sirknight, and his response was powerful - "You must send to receive." Those words put me on the consciousness of the lifestyle of "giving to receive". Certainly, this is one of the great principles of Christianity. Even God coudn't dodge this principle. In order to get us back to Himself, He had to offer Christ.
As we onboard Telos for blessings and prosperity, we have to be conscious of the telos of Steemchurch Expansion which is the spread the message of giving which is a catalyst to receiving much more blessings.
Each day, feel free to send 0.01 Acorn to "acornwell.jc" with a recap of your telos of being a part of this expansion. That is simply your wish, and your prayer.
Remember the quotes we echoed in the beginning of this write. Jesus Christ Himself had to advise us to give if we expect to receive. He emphasized that in the measure we give, we shall receive more of it pressed down and shaken together to an overflow. Are you in need of a thing, then be the man who is ready to give.
God bless you!
Telos is for The Future and those who are mindful of the future know the value of Giving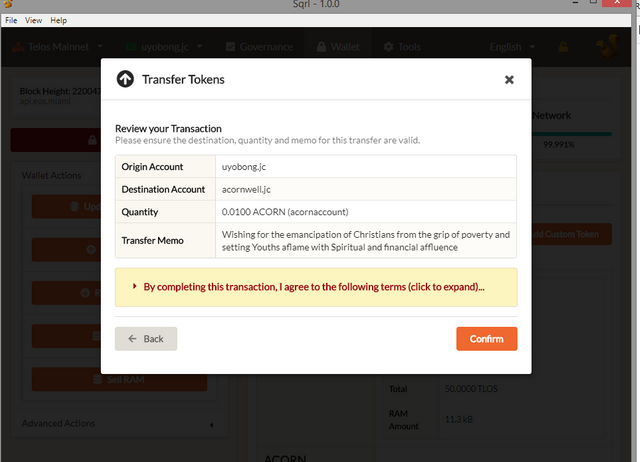 How to send to receive
To qualify for the daily Acorn blessings, we must engage the principle of giving. You have to first send a tiny 0.01 to "acornwell.jc" which is the Steemchurch wishing well. The procedure to achieve that is as follows:
Click "Send Tokens"
Fill in Recipient as "acornwell.jc"
select Token as "ACORN'"
Type in amount as "0.01"
Make a wish in the Memo
Confirm transaction

Contact Steemchurch:
DISCORD | STEEMIT | WEBSITE | TWITTER | FACEBOOK | TELEGRAM | TELOS
---
---
FILL THIS FORM and use uyobong.jc as referrer in the questioned screenshot below

I see Steemchurch Telos Village. beyond a "conventional village setting." As captured above by @Sirknight in the working proposal, Telos Village is a community for the prosperity of the community.
---
I am UYOBONG MBABA, your brother, teacher and analyst