"Do not be anxious about anything, but in every situation, by prayer and petition, with thanksgiving, present your requests to God. And the peace of God, which transcends all understanding, will guard your hearts and your minds in Christ Jesus" ― Apostle Paul (Philippians 4:6-7, NIV)
"Never stop praying" - Apostle Paul (1 Thessalonians 5:17 , NLT)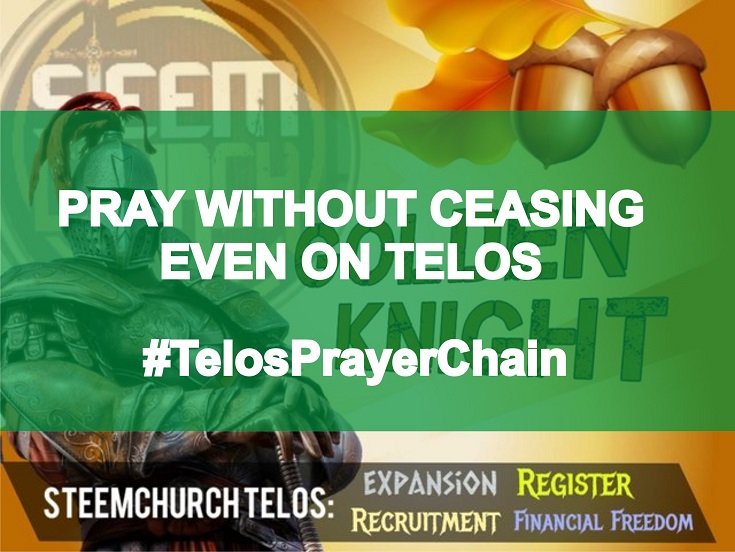 Over the weekend, while brainstorming on Steemchurch Telos Village and the impending blessings and what we could actually do for and with Telos, I was caught-up in an revelation that our daily gifting of 01 Acorns to "acornwell.jc" can become a prayer link that will change things for Christian families.
Just while on the reflect, I remembered that Jesus had fore-warned us not to be anxious about anything because our Father in heaven knows our needs and will always meet with them in a timely way. That was when the above shared scriptures came to mind and I decided to share and introduce to you what I tag #TelosPrayerChain
As the name implies, #TelosPrayerChain is simply a web and consistent prayer activity which is channeled to a particular telos (purpose). Like I have emphasized in my first two blogs on The telos of Telos series of teachings, Telos expansion of the Steemchurch is for a purpose and we must always be conscious of it.
Prayer is the means through which God has established that we receive His supernatural help. In the place of prayer, we communicate with God and pour our vulnerabilities to Him. Prayer is that spiritual exercise that distinguishes Christians from the world. Christ, our model did express his dependence on prayer and it resulted in amazing results.
Truly, the grace of God flows to us through prayer, thus, prayer becomes central, not peripheral, in our lives and families as well as our ministries.
Thus, as we seek to achieve the grand purpose of liberating families and Christian friends, we have to engage the tool of prayer which will certainly ease our efforts. This will be possible through #TelosPrayerChain.
With #TelosPrayerChain, it will be necessary that we send daily 0.01 Acorns to "acornwell.jc" with the memo indicating a word of prayer to God to help our mission come to fruition.
The procedure to achieve that is as follows:
On your sqrl wallet tab, Click "Send Tokens"
Fill in Recipient as "acornwell.jc"
select Token as "ACORN'"
Type in amount as "0.01"
Write a PRAYER in the Memo
Confirm transaction

TelosPrayerChain Day #1 - Dear Lord, open the eyes of Christians that they may see their inheritance and wealth in Christ - Amen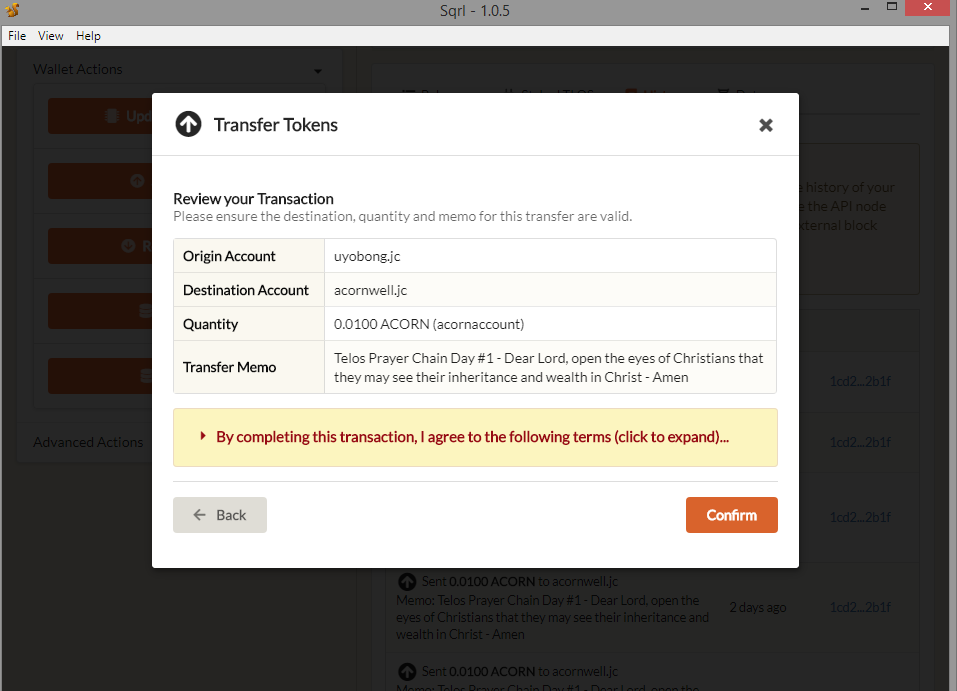 #TelosPrayerChain Day #2 - Dear Lord, stir a desire in the heart of Christians for you, for in you all will find prosperity - Amen. (Psalm 42: 1-2)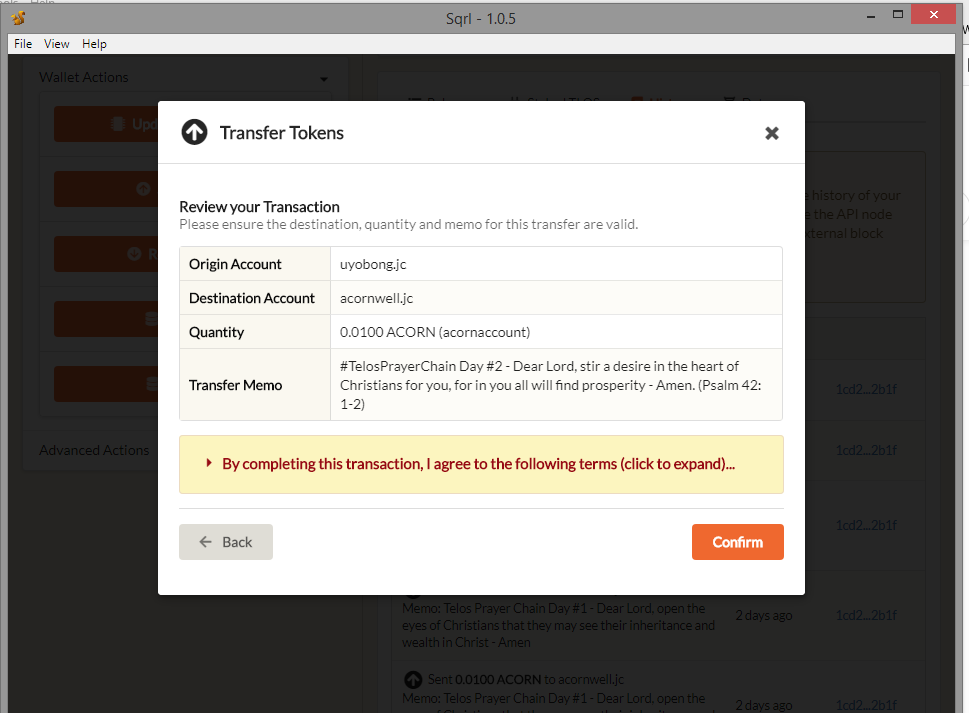 Useful links:

Contact Steemchurch:
DISCORD | STEEMIT | WEBSITE | TWITTER | FACEBOOK | TELEGRAM | TELOS
---
---
FILL THIS FORM and use uyobong.jc as referrer in the questioned screenshot below

I see Steemchurch Telos Village. beyond a "conventional village setting." As captured above by @Sirknight in the working proposal, Telos Village is a community for the prosperity of the community.
---
I am UYOBONG MBABA, your brother, teacher and analyst