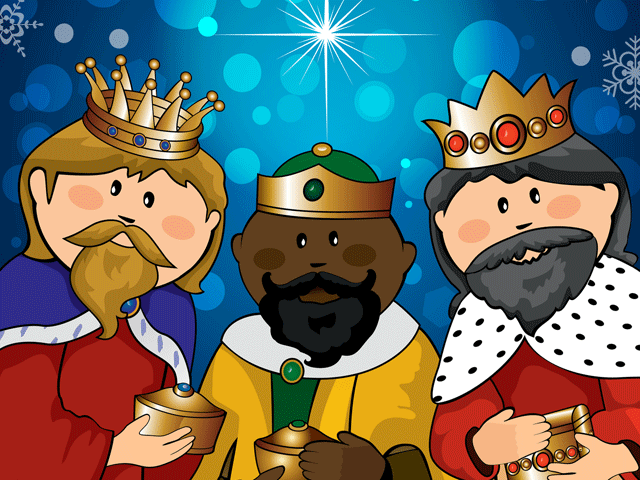 PIC
When Jesus was born, the shepherds of Bethlehem, announced
by angels, they were the first to adore him, they were those
Jewish pastors, but not only Jesus was born to save the
Jews but for all the Gentiles, that is why he wanted
adore the Magi of the East, Melchior, Gaspar and Baltasar,
which are believed to be illustrious wise men, kings or chiefs
of tribes of Persia or Arabia located east of Palestine. A star or meteor was announced to the magicians
resplendent, and God made them know that it was
the sign of the coming of the Messiah, or perhaps they had news
of the prophecy of Balaam, who was called by the king of
marabouts to curse the Israelites by order of the
Lord blessed them by announcing that a star of
Jacob, by which is understood Jesus Christ who enlightens
every man descendant of Jacob
However the Magi left their palaces, luxuries
and amenities and followed the star by long sleepers
we are exposed to thousands of dangers and upon arriving in Jerusalem
They lost the star and asked: Where is he who
Has he been born king of Jews? We have seen his star in the East and we come to worship him. Heard this, Herod the king was troubled,
for he was afraid that Jesus was a rival to his throne, and
with him all Jerusalem was troubled. And calling cough princes
The priests asked them where they were to be born
according to the Scriptures the Messiah and they answered him: In Bethlehem
of Judah, as the prophet wrote it. «You are not Bethlehem
the youngest of Judah because the king will be born of you
will rule a town ».
Then Herod called the Magi and told them that
they went to adore the Child and when they returned they told him
where I was that he wanted to love him too. They marchedthe Magicians and again saw the star, which cough accompanied to the humble stable; they entered and found the divine Infant and his Mother and bowing they adored him, offering him presents of: incense as to God, gold as
to king and myrrh (which was a substance then employed
to embalm corpses) as a mortal man. Y
having an angel said to them in dreams that they would not return
with Herod, they returned to their country by another path.
In addition to a religious festival, it is a great celebration for
children, because if we could see their hearts writing their letters for the Kings, we would see how they ask them
girls, dolls, kitchens and books that make you cry, is
the instinct of all girls, to be future housewives
and good moms. Gluttonous children ask for sweets and
candies. Others, fans of wars and fights, ask
Shotguns, pistols, tanks, swords and war things
Also the parents are agitated, some make cough
Reyes bring to their children what they are most excited and yearned for,
others look first if it can be harmful or profitable and they are restrained from the bad inclinations that even
When it's for toys, in the morning it can be harmful. But the essential thing is to have the kings bring
to cough children toys and books that do not exalt, few
toys for coughs to appreciate more and not get tired of
them shortly after having them: and books, especially
books that is the basis of the formation of man. books
of stories that both young people like so much and excite the older ones. Stories books of Santos or
instructional books Books! Many books!