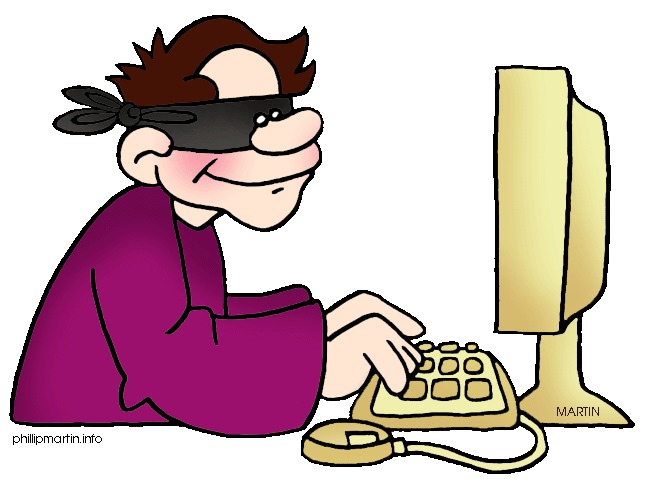 Image source
Steemit is growing fast and changing lives, as such, many bad eggs with deviant behaviors are trying to take advantage of the growing community and love we share in steemit to defraud and or scam people. Well, it is expected because as they say from where I come from " No matter any tune you play in the compound of a great man, there is always someone to dance to it"
However, it is incumbent in us to keep watch on our precious steemit community, shine our eyes and ensure we expose any scam/fraud, suspicious users/posts by reporting to abuse and writing about them and urging all who read to resteem so others can find and be aware of the dangers they pose to our collective goals.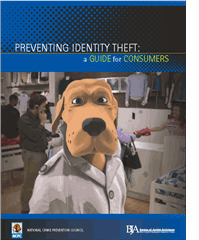 Image source
Interestingly, few days ago, I sent a post and got a comment from @blacklady with this message below;
quote
@blacklady (25) · 2 days ago
Hello friend, excellent post,
Thanks for sharing and hopefully you will be more successful for your work.
You can check my article http s : // stееmit (dot) com / @ cryptocurency / billionaire-jack-dorsey-bets-on-blockchain-as-bitcoin-price-dips and give me your feedback!
I will follow you.
unquote
(nb: I had to space the link and use (dot) so readers do not mistakenly click the link which may spread the virus they share)
Now this may look like a normal comment from a new member who is seeking for attention and follow but it is definitely not. Of course, we know its against the rule to send post links in comments as such, I politely advised him against such acts.
However, same day, as I was reading through interesting posts, I read a post from @cryptosharon titled "A new scamming trend!!! Check this out and don't fall for it! (Many bots are using it"
After going through the post, I got to understand that this is a spam syndicate sharing phishing links to many. Below are some from the posts above...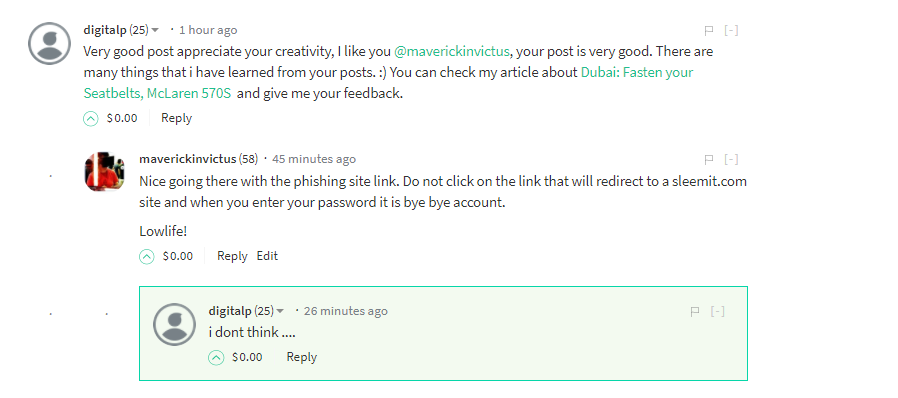 Its obvious the spammer above is @digitalp
Furthermore,
see this


so, do you see the trend and style of comments from these spammers?
@blacklady @digitalp, @dmitrov10, @baby32
Good enough these accounts are all flagged but the issue is that the problem is far from over as the thieves are still out there creating free accounts used in sending spam links to your posts comments.
Its obvious that these criminals keep changing their style, asking folks to click their spam link which will redirect you to a bit.ly and then to sleemit.com which is not our steemit.com
Remember how MEW accounts were hacked by creating similar address. Well, same here. Many are loosing their steemit key to spammers.
So, lets always be vigilant and ensure whatever link we will enter our master key must have the https and best save or bookmark the real link so you don't keep typing it. Once any site redirects you to a different link asking for your steemit key or even posting key, double check and if you find it suspicious, please report and always add such info in your posts as we have to be vigilant and join hands together to secure ourselves.
Remember to always power up your SBD by converting it to steem and power up which is totally secured as it takes one full week to be able to power down completely and withdraw a certain % of the steem.
Thanks to @cryptosharon for sharing her own experience, I hope we all keep vigilant and keep exposing the bad eggs among us.
Do someone a favor please by resteeming this to expose these spammers, follow me to get more of my posts, and send in your comments and or experiences about spammers. Please do give me an upvote if you like this post to show support.
Check out this top new crypto www.elyte.tech
Competition: Our competition bounty is open- feel free to share this form and Join Elyte 1st Social Media Video Competition via this link : https://docs.google.com/forms/d/e/1FAIpQLSdOtRSqVYV48sIghmNUGG_pUNtoc-AneaDUzN8YBZhDPGPIzw/viewform>