Today I will share with you the true story of a scam occurred to my brother's friend, I want to thank @swissclive for this wonderful opportunity to write about the scammers.
---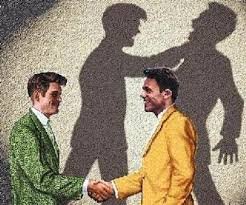 source image
After more than 40 people, including my brother's friend, spent a whole week at sea and dreamed that they had managed to get to one of the beaches in Greece (because this is a way to get to Germany); They discovered that this time spent traveling was nothing but an illusion It cost each of them 15,000 Moroccan dirhams and the beach on which the boat settled is a beach in the southern city of Morocco And that they had fallen victim to a professional quorum ,
The dramatic scene was revealed when pedestrians in the Sidi Avni beach area saw about 40 people who were very tired and all in complete amazement and their clothes wet with water when they discovered they were inside the Moroccan border ; They were cursing their luck and telling their stories ,Strangely, there are people who sold gold , The victims were told in their report to the city security chief that they had met with someone named Ahmed He lives in the city of Tetouan and has received 15,000 dirhams from each of them in exchange for their travel to work in Germany ,
They handed over the agreed amounts The date of travel was set and they boarded a boat from Tetouan and spent a whole week at sea The commander then told them that they had arrived and that they should swim for a small distance ,But they eventually discovered that they had bought the illusion .
                      Thanks for reading through..

Contest link here https://steemit.com/scammers/@swissclive/writing-competition-write-about-scammers-a-scam-you-saw-or-a-scam-you-suffered-first-prize-25-steem