Most of us probably have heard the term 'Black Hole' before, either through one of the many favourites in the SCI-FI genre, or through physics comedies such as 'The Big Bang Theory', however interestingly enough what you all probably think you know about a 'Black Hole' Is wrong.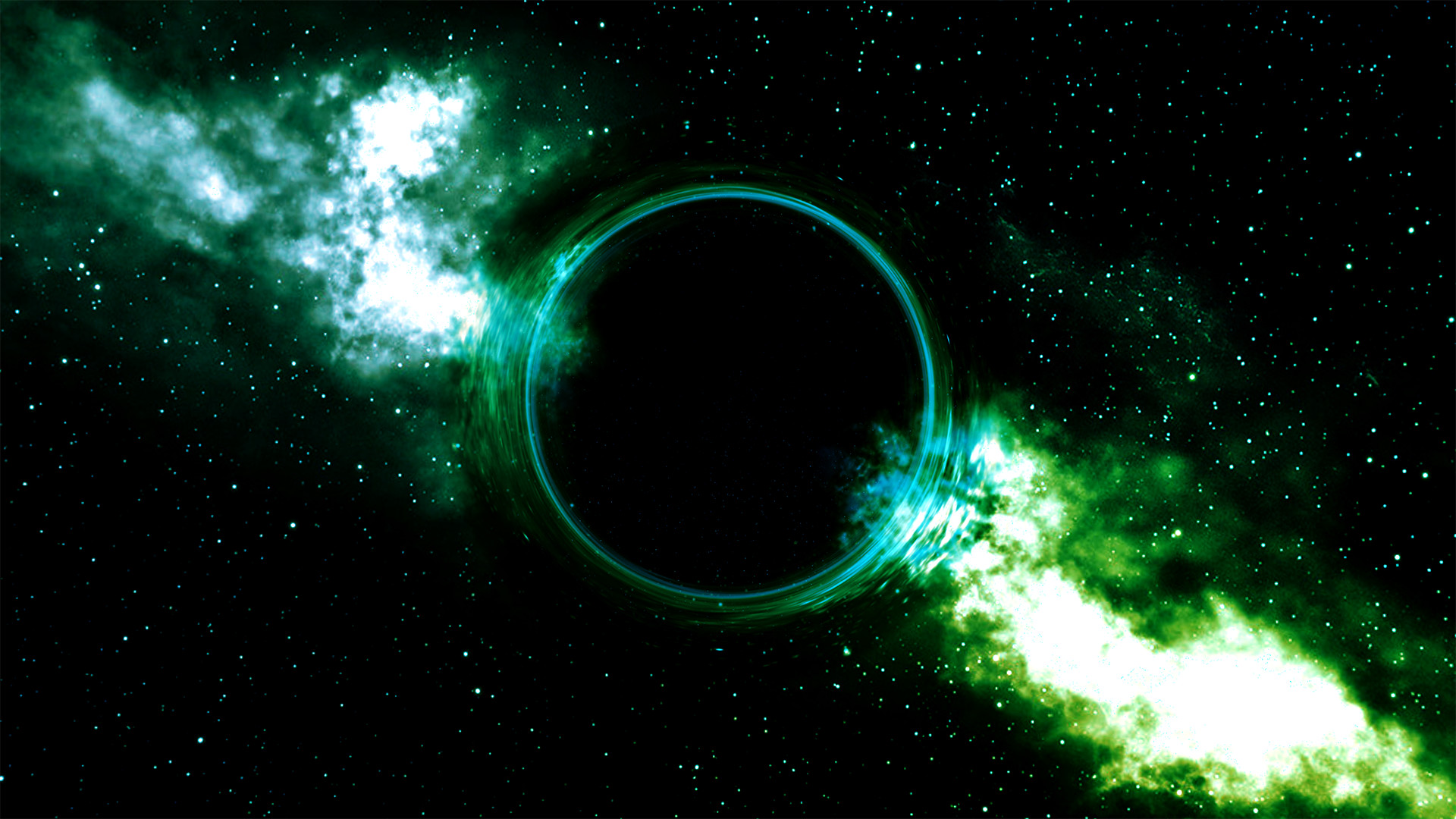 Source
Take this image above for example, now this is probably one of the closest images I could find to explain how whilst you can get some things 'right' about your understanding of Black Holes, there are still incredibly strong misconceptions that need to be addressed and in explaining how we detect them will allow you to understand explicitly what a Black Hole is (more or less).
So first of all; How is this image right and how is this image wrong?
Well first of all Black Holes are not really 'Black', in fact to actually visibly see a color would require an object to be in some way partially opaque and to actually interact with light in scattering and refraction, a Black Hole causes such a strong curvature in space time (as the singularity, which is the 'center' of the Black Hole has a density diverging to infinity as it's volume approaches 'infinitesimally' small with a large mass), the gravitational force between the singularity and the 'Boundary' ( commonly called the 'Event Horizon') is strong enough such that even light which travels at about 300 million meters per second cannot escape! The image above shows a large black circle with nothing inside, which is contrary to what we actually observe, in fact we cannot directly observe Black Holes we can only observe their affect on Space-Time around them (Macroscopic or 'Strong' Gravitational Lensing) and the X-Ray radiation emitted by heated materials falling into them.
Whilst the image above has the 'Newton rings' sort of correct around the Black Hole, due to gravitational lensing we would still see the light from stars behind the black hole as being in front of the Black Hole and hence we should not see an seemingly 'Empty Black Circle' as depicted in the image.
So what do we observe then, and how can we determine if this is caused by a 'Black Hole'?
1.) First Method, Gravitational Lensing:
What we observe is something that more or less looks similar to this:
Source
The two individual stars are shown on the left part of the image and are observed by the Hubble telescope to be further apart, the right part of the image is the affect caused by Gravitational lensing (as a result of a strong gravitational field warping space-time) and observed by it's microlensing affects which cause a shift in angle and intensity of the lensed stars, this intensity and angular shift are both observed and due to the relative intensity gain (and the fact that there were no perturbations of the intensity peak) we would conclude that this affect would be caused by a Black Hole, as if it were caused by any other object such as a planet, or star the affect would be weaker and would cause spectral lines / perturbations to arise in our measured intensity.
2.) Second Method, X-Ray Telescopes/Spectroscopy:
Another method we use to detect Black Holes is using high frequency X-Ray telescopes such as the Chandra Telescope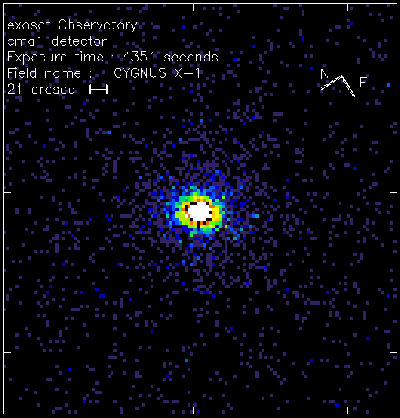 Source
This is an 'image' taken with CCD cameras which shows the immense X-Ray radiation emitted by matter falling into a Black Hole. X-Ray Telescopes and Spectroscopy are used in order to discern the approximate size and locations of Black Holes once they are discovered through Gravitational Microlensing. A recorded 'Spectral Wind' Event is of quite some interest as it details their methods of spectroscopy and what types of spectral lines are commonly observed, this can be found in full Here. The observed Spectra from this event is also below;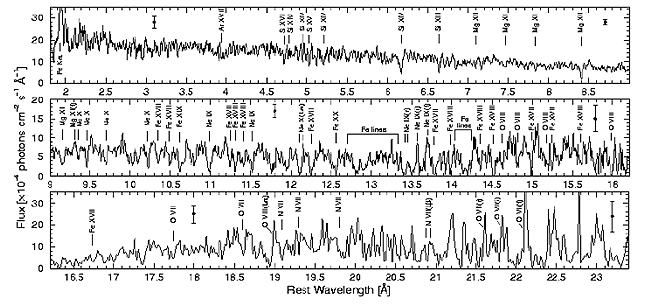 Source
This spectra is measured in the X-Ray and is completely different to the Intensity measurement of the Gravitational microlensing as before. We can see from the image that there are significant amounts of spectral lines and perturbations, this is due to the sheer amount of radiation emitted in the different wavelengths of what we call 'X-Ray'; which in itself is really a wavelength range between 0.1 and 10 nano meters.
Conclusion
Well that just about sums up this article, I hope that you found it interesting more or less to discover how we actually 'detect' something we cannot in itself observe. Black Holes are an incredibly interesting 'thing' as a lot of the 'Laws of Physics' as we know them break down at the singularity, However many physicists have a few theories about how Quantum information and Relativity 'may' work in a Black Hole, for example Hawking Radiation where information is conserved as being emitted and 'scrambled/encrypted', unfortunately it's one of those things where the idea of the 'nature of infinity' makes everything a whole lot more complicated, and I will leave you with a question;
If I have a boat of infinite length in 3 dimensions, and I fill this boat half way with water, How much water is in the boat?