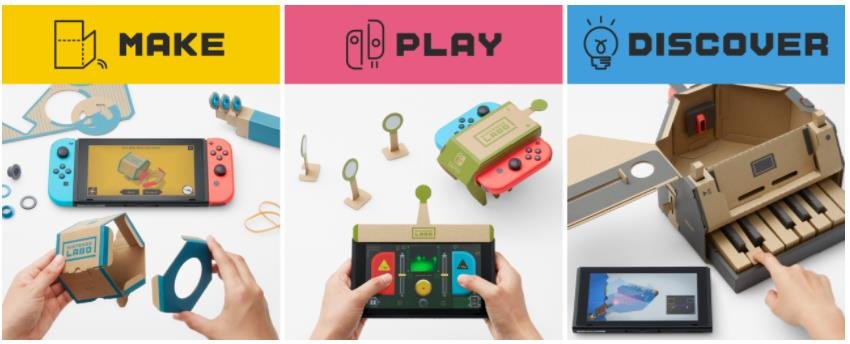 A while back Nintendo recently unveiled its latest innovation for the Nintendo Switch. In the past I have spoken about immersive gaming and STEM related applications using AR and VR. Nintendo however have decided to take a more literal learning path. Get out the safety scissors because arts and crafts are coming to the Nintendo switch to bring about some of the most unique educational experiences I have witnessed in recent times.
 
Science Labo
 
Labo, as in 'laboratory' is a DIY and gaming mashup in which carefully engineered cardboard is used to create a number of homebrew peripherals. The project shows off being able to transform the Switch into a piano, a fishing rod and even a full site robot suit! At the time of announcement, I had heard Nintendo was expecting to announce 'something' tonight. I like to keep an eye on the latest gaming ventures and this really could have been anything. A new Pokémon game, a new event, VR …I was pretty curious.
 
So on rolled an evening and I randomly remembered the announcement was about to air online. I loaded up the announcement page and watched the reveal:
 
The opening scene starts out in what looks like a factory and some panels being produced. I instantly thought of Mario VS Donkey Kong. This would have been a rather boring announcement for me but what came next kind of perplexed me as it went on.
 
Cardboard. Lots of cardboard. With pop out cuts and folding, sticking and just general crafting. Not sure what to think at this point. I mean for a moment it was like watching an episode of 'Art Attack'. Modular pieces seemed to join together until a cardboard piano was produced. At this point I was completely lost but what eventually rolled out was a very interesting and engaging concept. They wanted to turn this portable tablet gaming system into a more experimental and science driven experience for kids.
 
Release the Labo
A few months have gone by since then and I have to say, I am impressed with Nintendo for being true to their vision. Being an innovator isn't always easy for business. While some of the prices quoted for having this experience is pretty extortionate ($70+), it is encouraging to see the gaming giant launch this product. The 'Toy-Con Variety Kit' is selling like hot cakes (pre orders). You get the following from said kit:
 
· Nintendo Switch game card containing software for use with Variety Kit
· Cardboard sheet x28 (includes an extra sheet for customisation)
· Reflective sheet x3
· Sponge sheet x3
· String (orange) x1 · String (blue) x1
· Eyelet set (grey) x1
· Eyelet set (blue) x4
· Rubber band (large) x2 + spares
· Rubber band (small) x6 + spares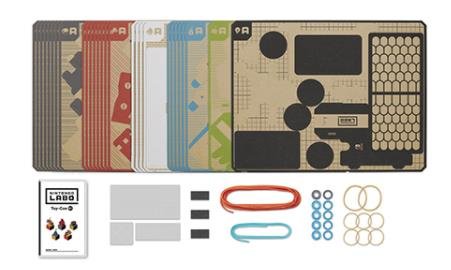 Source and Read more at https://store.nintendo.co.uk/nintendo-labo/nintendo-labo-toy-con-01-variety-kit/11668902.html#QHKmlQ548C5duYTq.99
 
So, what exactly can we do with all these arts and crafts? Well, in short – Many things! Nintendo want to exercise creativity here and have given standard kits/coding templates to help kids build their own projects. Each kit gives a unique playing experience and the player is expected to construct, code and play. From remote controlled cars to a digital piano, this is certainly one of the most unique projects I have seen in a long time. Using infrared sensors, magnetic tape and other clever methods is a little mind blowing and really shows the magic that Nintendo can bring to the table (at times).
 
While most games today may have a learning curve, the Labo experience bring about a sandbox type experience where the user is able to have fun at their own leisurely pace. Beyond the prescribed games and uses though, the kit allows exploration of all kinds. It is very much a gateway that encourages exploration and creation in its physical form, blurring the line between practical and theory based experience. One major downside I can see here though is wear and tear of the accessories. Repeated folding, mistakes, rips and tears. There is a lot that can instantly go wrong but I think post release we will see many interesting projects emerge. It would be great to take this into a school and see how kids interact with unique design tasks.
 
I foresee a new market coming from third party vendors who will be making cheaper alternatives and perhaps their own games based on the sandbox kit. For now, I applaud what Nintendo are looking to achieve with this project and as I have mentioned previously in a few of my posts, there is a growing trend of sandbox games that are leaning and encouraging STEM engagement. Perhaps for my next post I will discuss a little about what I observed in recent gaming trends such as 'Fortnite' that may be doing this in a more subtle approach.
 
Thanks for reading
 
Momosan