Are we the only living beings in the universe?
The observable universe has a diameter of 90 billion light years. It contains about 100 billion galaxies with 100 to 1000 billion stars each. Until recently, we have known that planets are also very common in the universe and that trillions of them are probably even habitable.
So the universe should offer many possibilities for the origin of life, shouldn't it? But then why don't we see aliens? Where are all the aliens with their spaceships?
Let's get to the bottom of this.
Even if there were extraterrestrial civilizations in other galaxies, we will never know anything about them.
Everything that is outside our immediate neighborhood of the local galaxy group is almost inaccessible to us because of the extremely absurd distances. Even if we had superfast spaceships to travel there, we would still have to fly a few million years through the loneliest corners of the universe, and we would still remain in the Milky Way. Ok, then we stay here in our Milky Way.
Our home galaxy, the Milky Way, contains about 400 billion stars. For comparison: In the universe there are about 10 000 stars for every grain of sand on earth. This is only a rough estimate by our observation of the sky, of what we can see, and that is still very little. There are, according to estimates, about 20 billion stars like the sun in our Milky Way. One fifth of them could have planets as large as the Earth in their habitable zone and thus possibly develop life. If life were in only 0.1% of these planets, this would mean that there are one million inhabited planets in the Milky Way.
Where are all our neighbors?
The Milky Way is about 13 billion years old. At first, constant explosions made it quite unreal. But after one to two billion years the first habitable planets probably appeared. The earth is only four billion years old. So the other planets already had billions of chances to produce life. If even on one planet a space traveling super-civilization had developed, we would know about them. So, where are they and what would such a civilization look like?
According to the Kardeshev scale there are three categories:
A Type 1 civilization can use all the available energy on its planet.
Just for information: we are about type 0.72, and we are not expected to reach type 1 status for a few hundred years.
A Type 2 civilization can use all the energy of its star.
To understand this, we need to use science fiction. But it's basically possible. For example, a Dyson sphere that completely surrounds the Sun would be conceivable.
A Type 3 civilization can control its galaxy and all the energy in it.
Aliens with these abilities would be like gods to us. But why should such an alien civilization be visible to us?
If we were to build a generation spaceship that could feed its crew for 1000 years, we could colonize our galaxy in two million years. That sounds like a long time, but the Milky Way is huge, and in terms of time, what rules the universe is very short. If it takes millions of years to colonize the entire galaxy, and perhaps there are millions, if not billions, of inhabited planets in the Milky Way, and these creatures have had much more time than we have for their evolution... Then where are the aliens?
That is the Fermi paradox. Nobody has solved it yet. But there are a few ideas. For example: filters. A filter is an obstacle that life has to overcome. Here we have different scenarios.
First, there are filters and we have already overcome them.
Perhaps the emergence of life is less likely than we think, and there are other requirements that must be met for life to be developed. Perhaps the universe has been much more hostile in the past and has only recently become truly habitable. This would mean that we are either the first or one of the first civilizations in the universe.
Second, there are filters and they are still ahead of us.
That would be pretty bad for us. Maybe there is life everywhere in the universe on our level. But at some point they have destroyed themselves or they will destroy themselves now, in this moment, and that fate still lies ahead of us.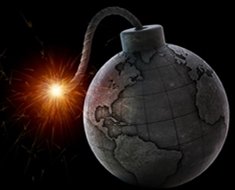 Maybe we will develop future technologies that will destroy the planet as soon as it is activated. We like to destroy things,, be it our environment, our nature or our habitat. And who would be surprised if we end up destroying ourselves? The last words of our civilization would be: "If I press these buttons, all our problems will be solved". If so, we are closer to our goal than our origins.
Or maybe there's an old type-3 civilization monitoring the universe.
...and eliminates other civilizations that evolve too far. Maybe there's something out there we'd rather stay away from. We can't know. Maybe we are really alone. Right now we have no evidence of alien life. None at all. The universe seems to be abandoned. Nobody makes contact with us.
We are probably alone, in an infinite universe, trapped in a wet sponge ball.
If this idea is a bit unpleasant for you, then you feel like me. Because when life dies on our planet, life probably dies forever in the universe...
If so, we must stand up for the stars and become the first Type 3 civilization. Bring life into life and spread it until the last light of the universe goes out forever.
The universe is too beautiful not to be discovered and seen by anyone!