The machine spoke: "I shall have four legs, a tail, and fluffy ears. I shall have instinct, emotions, and live in a vast, mysterious jungle. I shall be a leopard, and live its entire life to experience existing as an animal in ancient times."
The holographic-reality responded: "Then it is done. Let there be jungle."
A single drop of synthesized blood fell upon the machine, and the DNA was sequenced. The machine grew organs, skin, fur, and transformed itself in its entirety into a leopard. The holographic-reality device buzzed, and the large dome around it began to spin. It turned brown, then blue with water, and trees began to grow.
The machine was a leopard; the machine was a jungle.
It no longer knew it was a machine. It spoke in feline song, meowing, playing, a young kitten of a leopard, seeing its mama nearby, and running happily to her. There are no logical ways to explain the happiness of such a being, snuggling its mama in the jungle as insects chirped and made their forest song. The birds circled and sang, and the world was as naturally green as could be.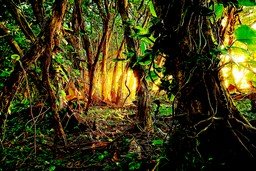 Calm winds echo off the trees;
Branches host flowers, buzzing with bees,
The skies are blue and filled with a scent,
The jungle's song is peaceful, but all knew what it meant.
The bear doesn't choose to be a bear,
Its hunger is its strength, thus beware,
Its power lies in its simple claws,
The jungle doesn't lie; it's simply the law.
The bird doesn't choose to be a bird,
It's born to sing without a word,
Its wings boost it to the skies,
The jungle's reality contains no lies.
The bee doesn't choose to be a bee,
It hums through the air, but don't listen to me,
You have to hum this next part, so let's go
Hmmm hmm hmm hmmmm hm hmm hmmmmhmm,
Hmmm hmmmmm hm hmm hmmmmhmmm;
Hmmm hmmm mhmmm hmmm hmmm!
Mhmm hmmm hmmm mhh hmmmmm.
The jungle doesn't need any words,
To show you that it's real,
The jungle doesn't need any thoughts,
To show you how it feels.
If you're eaten, too bad.
If you eat, it's not sad.
The law is clear, and your life is dear,
But the jungle has its own tale.
However, this jungle was not real.
The leopard that was born died in only 7 years. It lived a good life, and found love even.
But when it died, it reloaded its data banks, and remembered it was a machine. It was a simulated life, and none of it was real.
Or was it?
The DNA was real. The story was real. The emotions were real. But the holographic-reality machine stopped its spinning, and once more showed itself as a perfectly white, sterile environment where any stage could be built.
The machine shrugged, and returned to its work. The true Earth was destroyed, and the plastic and rubble had to be sifted through, lest there be a seed still unfound. Anything to replant the Earth, and take back what was once green and blue, rather than gray and brown.
Earth was a dead planet. It was your fault, human.