FamilyMart Co., Ltd., a Japanese convenience store chain, has started a new service that will improve accessibility for people in wheelchairs. The company will provide information on accessible toilets to WheeLog!, an accessibility app created by a general incorporated association aiming to improve the well-being of people with disabilities.
FamilyMart began to install accessible toilets in its stores in 2013, and now over 4,500 FamilyMart stores across the country have wheelchair accessible restrooms. Since it is difficult for wheelchair users to find accessible toilets straight away, having to know where accessible toilets are in advance can give peace of mind. That is why FamilyMart has been providing locations of their accessible toilets on their website since 2017.
WheeLog! has created an accessible app to provide barrier-free information on maps. The service began in 2017, and the app has been downloaded more than 26,000 times since its start.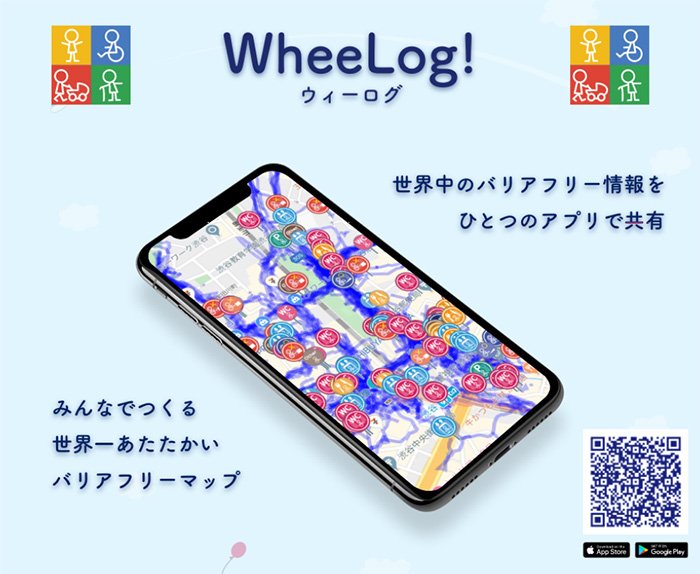 Excerpt from WheeLog! flyer. (Image: WheeLog! flyer)
The app has several functions to help improve accessibility. 'Tracklog' allows users to record the travel route on the map, so that other users can tell which route is accessible in wheelchairs. 'Chirp' is a unique feature that helps users to share messages, photos, videos and positional information using the app. This allows users to communicate with others with ease. Users can even request information on spots or routes which will help wheelchair users to collect information on how and where to travel in advance.
WheeLog! aims to promote this app to not only for people with disabilities, but also for parents going out with strollers, tourists travelling with luggage and the elderly who may want to avoid obstacles. And of course, people without disabilities can use the app to provide useful information and help other users. The app is currently available in 9 languages: Japanese, English, Chinese, Korean, Spanish, Portuguese, German, French and Russian.
FamilyMart is the first enterprise to join and provide accessible information for this app. The company is also willing to strengthen its collaboration with WheeLog! to improve accessibility for wheelchair users for the upcoming Tokyo 2020 Games this summer.
The number of accessible facilities and services available in Japan is increasing, but it is hard to find such information because they are not aggregated. Hopefully many more businesses will begin to participate in improving apps like WheeLog! in the future, where accessibility information is shared easily. This app will improve the well-being of people with disabilities and help them to enjoy going out.
[Reference] FamilyMart Press Release
[Reference] WheeLog! Homepage
(This article was originally published on Zenbird Media.)
Additional Resources
Zenbird Media Homepage
More on accessibility
More on enabling disability