Takunan Shoji (herein after Takunan), an enterprise based in Okinawa, specializes in recycling various materials. Takunan scraps over 6,600 discarded vehicles every month, but had trouble concerning the windows of these vehicles. They could not recycle the window glass, thus sending them to landfill sites. The resulting disposal cost is as high as 7 million yen per month.
That was when Takunan came up with the idea of upcycling these windows by collaborating with Ryukyu Glass Village, a glass making factory in Okinawa. The cooperation produced a new line of Ryukyu glass products called 'mado'―meaning 'windows'― made of side windows taken from the discarded vehicles.
Okinawa is one of the 47 prefectures of Japan. Located more than 1500 kilometers away from Tokyo and 640 kilometers south of Kyushu island, it is Japan's southernmost prefecture. Okinawa consists of 160 islands and is Japan's most popular beach resort. Looking back at the history, the islands were an independent nation called 'Ryukyu Kingdom' until the 19th century.
Thus, Okinawa has a unique regional culture based on the Ryukyu background, and many products that are from Okinawa are branded with the word 'Ryukyu.' And so are the beautiful hand-blown Ryukyu glass, which is a traditional artisan craft. Many products such as dishes, drinking glasses, accessories, and even interior items like lamps and picture frames are made of this bubble glass in various vivid colors. These hand-made glasses are one of the most popular souvenirs to take home from the islands.
Ryukyu glass products became popular in Okinawa in the post WWII era. Craftsmen in Okinawa collected discarded drinking bottles such as coke and beer from the U.S. military bases, then melted and upcycled them into Ryukyu glass. The vivid colors and unique shape became extremely popular among the U.S. military forces and their families in the 1950s, and is still Okinawa's traditional artisan craft, popular among both domestic and foreign travelers. This glass is drawing attention once again in the field of upcycling.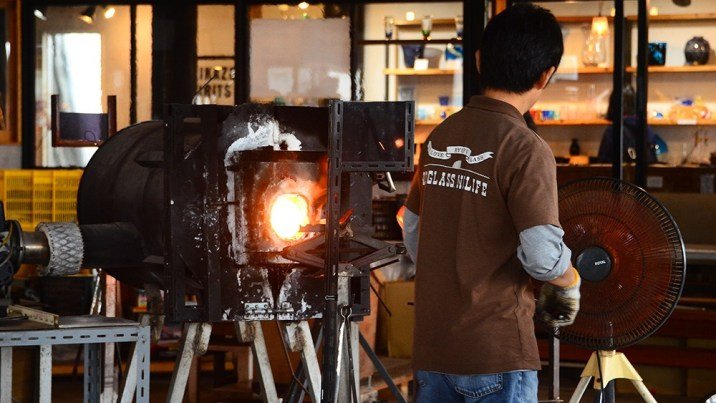 At Ryukyu Glass Village. (Image: Shutterstock)
Although the recycling technology is growing rapidly, it is still hard to recycle glasses that were used for car windows because they are often combined with other substances. Therefore, a great number of them are discarded in landfills each year. Reusing these glasses are not just eco-friendly, but also benefits the companies. Ryukyu Glass Village can purchase waste glass at half of its previous purchase price, while Takunan cuts its disposal cost. With an additional source for upcycling (apart from empty bottles), Ryukyu glass is now starting a new phase of upcycling that is sustainable and business friendly at the same time.
[Reference] Transforming discarded glass into Ryukyu glass
[Reference] Ryukyu Shimpo We News
[Reference] Low carbon 3R technology report
[Reference] Design development of Ryukyu glass
(This article was originally published on Zenbird Media.)
Additional Resources
Zenbird Media Homepage
More on upcycling
More on circular economy