SEAPHOTOGRAPHY CONTEST
#76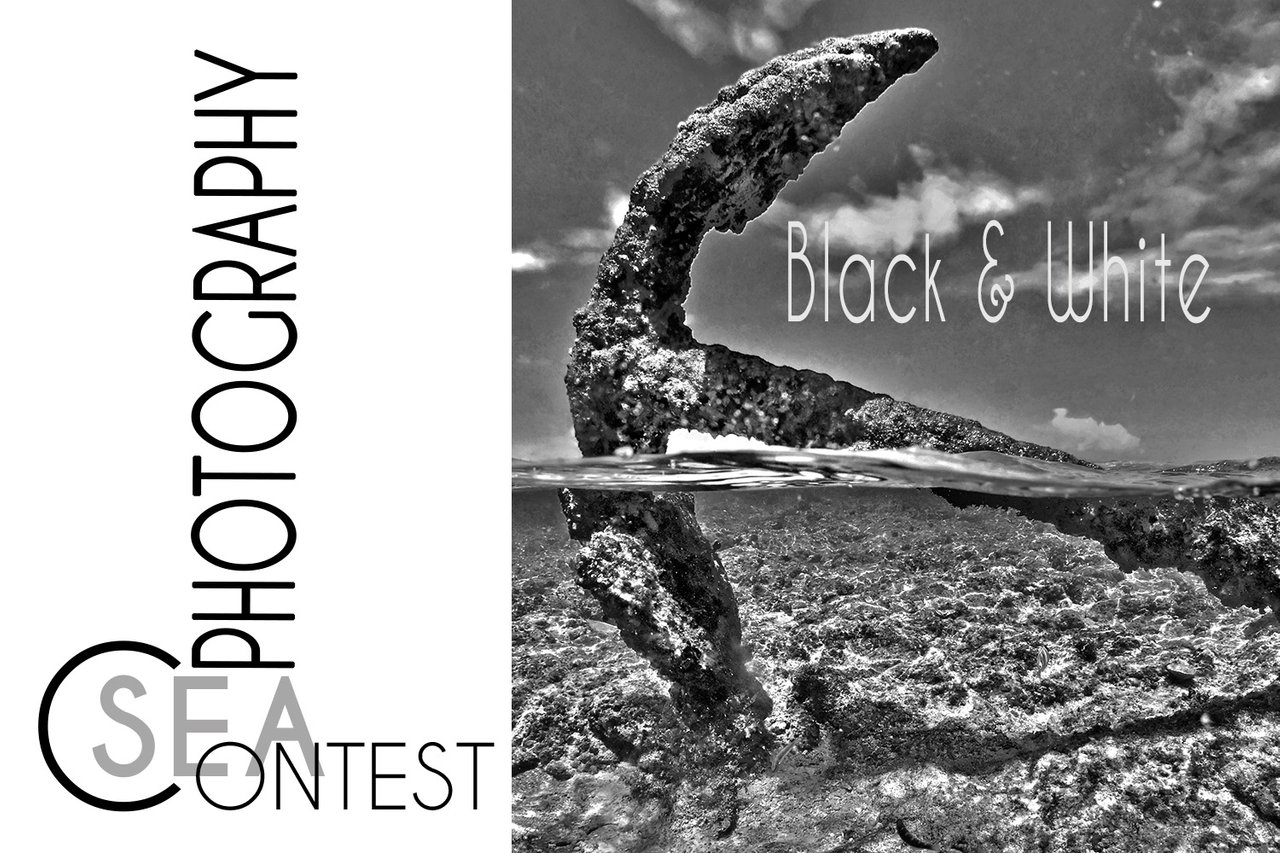 This Week the of the #seaphotography contest theme is:
"BLACK AND WHITE !!!"
.
---
---
This post is the post of submission of your photographs. This week is the 76th of the #seaphotography contest. The sea is often photographed in color, so far, she finds all her nostalgia when immortalized in Black and White. That's what this week is about. Offer us your best shots in Black and White Sea, and return to the sea all his poetry!
Ce post est le post de soumission de vos photographies. Cette semaine est la 76e du #seaphotography contest. La mer est souvent photographiée en couleur, pour autant, elle retrouve aussitôt toute sa nostalgie lorsqu'on l'immortalise en Noir et Blanc. C'est de cela qu'il s'agit cette semaine. Offrez nous vos meilleurs clichés en Noir et Blanc de la mer, et rendez à la mer toute sa poésie !
---
---
---
---
RULES
1- Post your photography on the monday submission post announcing the contest of the week (Below this post!)
2- Upvote this post announcing the contest (% of upvote will be noted to calculate prize).
3- The photographer must be the author of the photography presented to the contest. Any attempt at plagiarism will be denounced and its author blacklisted of the contest. NO PLAGIARISM!
4- Write a few words about your photography indicating the place, the exif, or any others informations that the photographer will judge useful. English, French, Spanish, Turkish, Arabic, Marsian, all languages ​​are accepted. However, an English translation in a parallel column could be usefull for everyone ...
5- The photography can be submitted from Monday to Saturday midnight. Only one photography per contest and per author.
***THAT'S ALL !!!***
---
---
WINNER AND HONORABLE MENTION
The winner will be announced this weekend and will earn
*** 1 Steem + your %upvote * 1 Steem + 20 PHOTOS***
Honorable mentions will be also announced this weekend and will earn
*** 0,5 Steem + your %upvote * 0,5 Steem + 10 PHOTOS***
So now, THE PERCENTAGE OF OUR UPVOTE HAS VALUE !!
---
---
On the other hand, if you publish on your blog photography highlighting the sea whatever the theme choiced, and using the tag
#seaphotography
as first tag, you can have a chance to see your work upvoted and presented on my blog.
---
---
I will annonce the winner of WEEK76, and will present my favorite
#seaphotography
, this week end...! I can not wait to enjoy your photographs. Thank you for participating and resteem this post !
VOTE FOR YOUR FAVORITE !
---
---
@axeman,@afroray,@fotostef,@moniroy,@itchyfeetdonica,@photoquest,@emotionalsea,@lightcaptured,@scottdphoto,@norwegiansteem,@intrepidphotos,@bluebottlefilms,@richee,@guchtere,@caveman,@harveyword,@harkar,@davedavis91,@johannpiber,@barbarabezina,@bluemoon,@pradeepdee6,@bigsambucca,@fotogruppemunich,@chrisaiki,@artofwisdom,@boddhisattva,@himalayanwomb,@davewuk,@fivealive55,@bear8photo,@melinda010100,@hangin,@keithboone,@sawyn,@bdmillergallery,@redheadpei,@mikitaly,@cetb2008,@ajanphoto,@gabeboy,@vcclothing,@muffoni,@grizzabella,@pardinus,@chiminguito,@vcclothing,@slowwalker,@ackhoo,@oldmans,@cinderz,@barbarabezina,@yujomar,@bigsambucca,@steemlandia,@phortun,@jayclar,@sawyn,@fotogruppemunich,@ikrahch,@dkkarolien,@javiersebastian,@afarina46,@stevejhuggett,@mariusfebruar,@dmytrokorol,@chrismadcboy2016,@steemflow,@angelro,@cam.mcfarlane,@mariusfebruary,@vannour,@sazerac,@javiersebastian,@creativecrypto,@craigfrank,@ansharphoto,@mirla33,@dzoji,@manoldonchev,@gingbabida,@maxili63,@orjantomarcelo,@lighteye,@zanetaviz,@patschwork,@guchtere,@keithboone,@greddyforce,@charnie,@philpotg,@davidgermano,@lighteye,@tixinhacapitinha,@ninahaskin,@onze,@jan.kretschmer,@nelinoeva,@davidgermano,@evagavilan,@biggypauls,@anderson69,@scubahead
---
---
YOU WANT TO SPONSOR THIS CONTEST ?
Contact me on discord #4302 or in this comment section
---
---
HOW TO FOLLOW ME ?
---
---