'You will never speak to anyone more than you speak to yourself in your head, be kind to yourself.'- Anonymous
This quote, I wish knew who said it, is 100% true. We talk to ourselves all the time. The minute we start doing something or even when we aren't doing something, we have a dialogue with ourselves. 'How should I do this?', 'Am I doing it right?', 'Is this the right move for me?', 'Am I on the right track?', 'Will this look good on me?' 'What did I do wrong?' are only a few of the things we say to ourselves whenever we start any task. When we speak to ourselves, we are likely to hear our own voice back. This voice is what psychologists refer to as self-talk and this voice is a big contributor to the way you feel about yourself and whether you nurture self-love or self-hate.


In this post, my Steemian friends, I'll be elaborating on why your self-talk needs to be positive and how important it is be kind to yourself.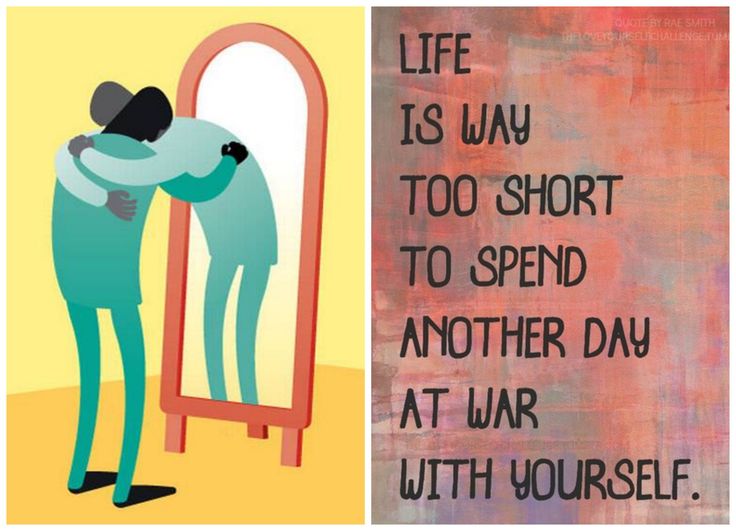 image credits
---
How Your Self-Talk Shapes Your Attitude towards Yourself


Just say 'I love myself' a few times. Go on, just do it and see how you feel about yourself. You're likely to feel quite positive about yourself in a matter of seconds. This is the power of positive self-talk. When you say kind, polite things to yourself, you change the course of your thoughts in that direction. Talking nicely to yourself helps you forgive yourself, get past the painful times and move on. For instance, if you lose a good client and say, 'It's okay. Such things happen. What's important is I learn from my mistakes', you'll instantly start to feel better. Instead of lamenting over your loss and losing yourself to negative thoughts, you'll become more motivated to make amends and see how you can improve yourself the next time.
No matter what the situation and circumstance is, if you're nice to yourself and lift up your spirits instead of belittling yourself, you'll get yourself out of even the worst case scenarios. My husband had a bad habit of belittling himself and blaming himself for everything unfortunate that happened to him. Whether he made a tiny mistake himself or an undesirable event took place, he made sure to criticize himself for it. Did that do him any good? Absolutely, not. Instead, it made him succumb to his negative thought and slowly fall in the deep pit of depression.
Fortunately, he is now better and a lot more positive than before. This became only possible because one fine day, he decided to stop letting his thoughts get the better of him and change his negative self-talk to a more positive one. It took him a while to turn this occasional exercise into a habit but once he achieved that, he started moving on the road to recovery.
The way you talk to yourself shapes your perception of yourself and everything around you. If you are unkind to yourself, you make sure you see things under negative light and see the worst in even normal, happy situations. However, if you choose to think for the better especially when it comes to yourself, you make certain to see light even when there is none. Moreover, instead of blaming yourself for even times when you were wronged by others, you accept different changes and situations as they are and focus more on how you can live a better life.
When I made a commitment to myself to always focus on the moment and be kind to myself no matter what, I stopped thinking about stuff that had happened. For instance, when I started my online clothing business (which I closed after a year because I found out my talent was in the writing field), I lost a big client partly due to my mistake. At that time, first I started off with criticizing myself and for not being good enough. After doing that for a few hours, I realized it wasn't getting me anywhere so I tried another thing. I began encouraging myself and when I did it for about an hour, I became a lot more optimistic than before. In a few hours, I was more motivated than before and was determined to improve on my mistakes, learn from the current setback and bag better clients and in about 2 months, I made more sales than before.
Since then, positive self-talk has been a constant in my life and I make sure to advise everyone around me to be kind to themselves too. Now, let me give you a few effective tips to talk politely to yourself.
---
How to Turn Your Negative Self-talk into Positive Self-talk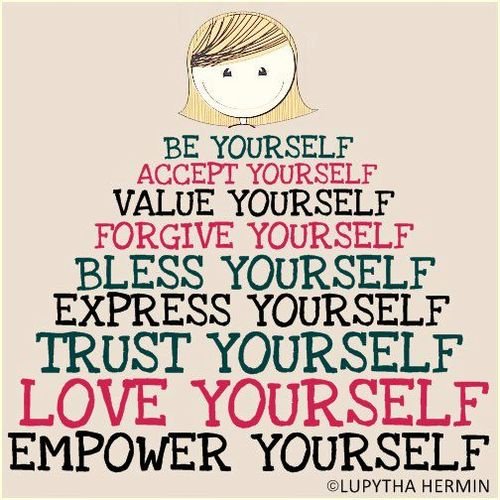 image credits
Be Aware of the Way You Talk to Yourself: The key to improving your self-talk and your behavior with yourself is self-awareness. Start becoming more mindful of the way you talk to yourself. How can you do that; by simply paying attention to the different thoughts that enter and leave your mind. Start off by doing it for just 5 minutes daily. Just observe your thoughts gently and if you observe a negative one, don't be critical of it. Thank your mind for bringing your attention to it.

Rephrase that Thought into Something More Realistic and Positive: Then slowly change that negative thought into a positive but most importantly a realistic one. If you just said, 'You're such a loser', change it to, 'It's alright if I made a fool of myself in public. Unfortunate things happen but I'll make sure that never happens again.' Similarly, change all your not-so-healthy thoughts to comparatively healthier ones and you'll start feeling good from within.

Surround Yourself with Positive People: The way you think about yourself and life in general is largely dependent on the people you surround yourself with. As Jim Rohn once said, 'You're the average of the 5 people you spend the most time with.' So if you hang out with people with sinking self-esteem and those who see everything from a negative perspective, you're likely to do the same. Your goal should be to spend more time with positive, like-minded and happy people who encourage you to be yourself, be proud of your uniqueness and embrace your individuality so you can be happy with yourself, improve on your weaknesses and uncover your unique talent.
---


Just work on these tips and you'll see a massive improvement in how you feel about yourself. Good luck with that and thank you for reading this post. Please do upvote it if it benefitted you in any way and follow me. I'll be obliged to you for this lovely favor.