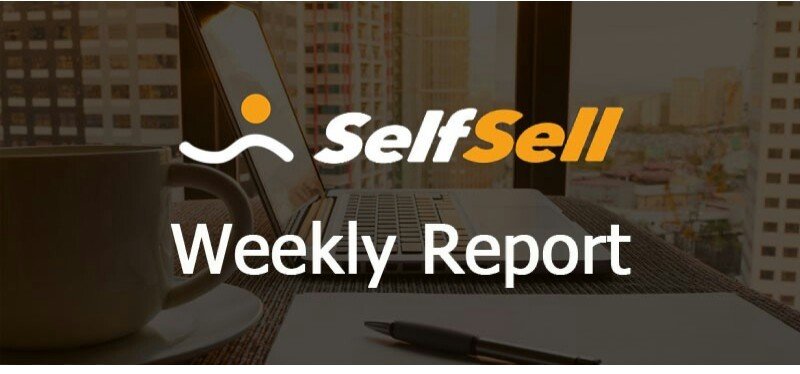 September 23, 2018 by SelfSell
Welcome to the SelfSell weekly report.
This report provides an update from the Selfsell team on tech progresses as well as business advances and community activities.
Product Development Progress
JR10 Token trading function development and testing were completed. JR10 token deposit and withdrawal on SelfDax.com will be available on September 26th, and trading will be available in both of the exchange and App on September 27th.
SelfSell App JR10 auction function development and testing, completed 90%.
SelfDax promotion event UI interface development, completed 90%.
SSC locked amount: 164552897.76513 SSC ↑722445.2488 SSC
Diamond plan: 124544280.24509SSC
Gold Plan: 22262740.64994 SSC
Market Development
SelfSell CEO and Founder Mr Li Yuan will attend the Preheating Meet-up for the 4th World Industrial Blockchain Forum in Seoul, South Korea. Blockchain experts from Kcash, DIPNET, Ambr, NAUS and other pioneer enterprises will also attend the meet-up to have a deep communication on the blockchain industrial revolution.
Community Activities
Survey for auction items of James Rodriguez's Personal Belongings
Cooperated with James Rodriguez's team, SelfSell is going to hold an auction for James' PERSONAL BELONGINGS in middle October. Now we are holding a poll to figure out the most popular auction items. What do you mostly want? A pair of James' sneakers he wore to shoot goals? A jersey he wore to fight in the football match? Please kindly share with us your options here https://twitter.com/self_sell/status/1042327551299837952.
SelfSell Weeky Bounty Quiz Round 2018/9/21_2018/9/24
SelfSell is going to hold a big event to celebrate the listing of JR10 token. This week's bounty quiz is a warm-up for the coming celebrations for JR10 token launch.
Please kindly find the bounty rules as below:
Step1: Win 10 SSC
*Follow SelfSell official twitter https://twitter.com/self_sell
*Retweet the pinned post and write your option number in the retweet.
Step2: Win 20 JR10 tokens
*Join #JR10 token discussing group https://t.me/JR10Token_Official
Drop any question about JR10 token in the JR10 telegram group.
Step3: Win 10 JR10 tokens
*Answer the question "What function and utility do you want the JR10 token to have? " and drop the answer to JR10 token group.
Step4: Fill in google form https://goo.gl/pV2Xia to receive reward.
⚠️Event starts from September 21th and ends on Monday, September 24th.
You will be able to get the rewards after you complete all above steps.
SelfSell App downloading links:
(Android version):
https://play.google.com/store/search?q=selfsell
(iOS and Android version):
https://www.selfsell.com/app-download.html
Trading Exchange
You can now trade SSC at the exchanges below:
• SelfDax: www.selfdax.com
• OKEX:www.okex.com
• LBank:www.lbank.io
• CoinToBe:https://www.cointobe.vip
• BitInka: www.bitinka.pe
• GAEX:www.gaex.com