Hello to all of my friends, family and followers - my steemians, dtubers, #seven77 family and all those builders on STEEM who see the potential that we are sitting on here with some of the best and fastest infrastructure in the blockchain world.
I have been meeting with a number of people and projects behind the scenes, and I am convinced that now is the time to organize our outreach and build bridges between our projects. I will be using the Steem United Discord Server for discussions of my efforts, if you have any questions, suggestions or comments for me about this outreach program, contact me there!

If you are in the #seven77 movement, you know that we are gaining traction on twitter. Maybe you have used twitter before or maybe not, but the more we get the hang of talking about STEEM on twitter the better. There are many project being built on STEEM right now that also want to use twitter to create presence, reach new customers and unboard new users to STEEM through their platform, app/d.app or program.
It is good for all of us to work together, to the extent that we can. I'm not saying we should all get involved in every project, but it makes sense to talk about, tweet about, comment about and participate with projects that interest you. And that is what we want to incentivize.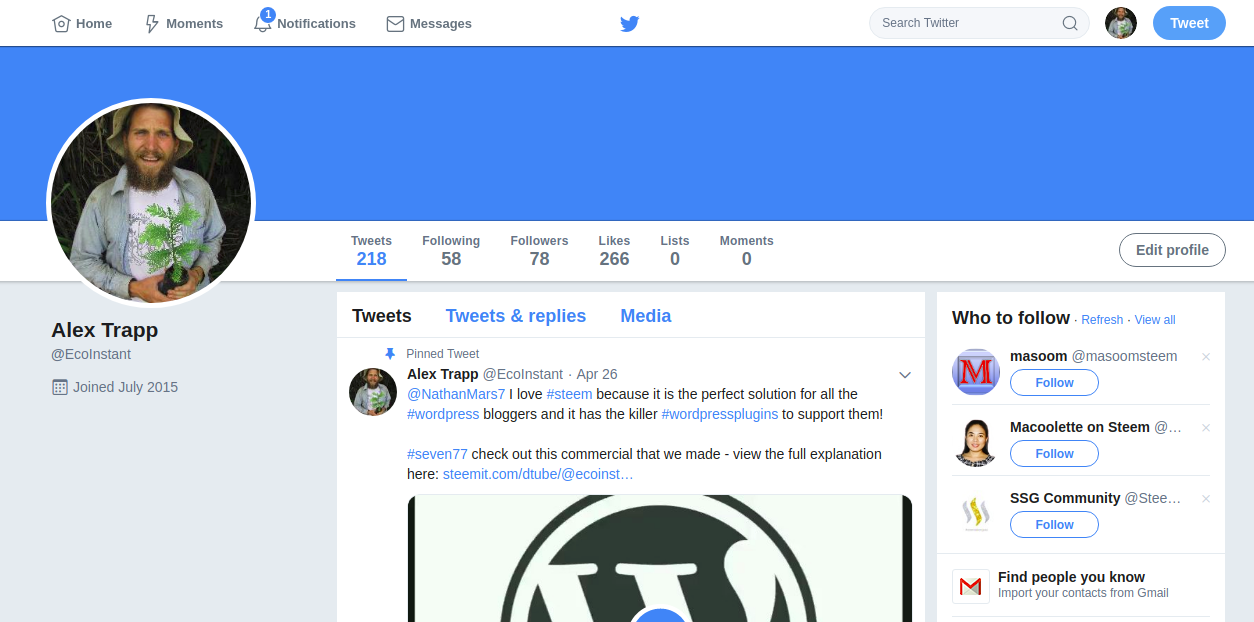 My twitter profile
Now, first and foremost, we must make sure we are being effective on twitter. Based on my research, there are a few very simple ways we can be getting better at our outreach, and that is where this contest/bounty comes in.
If you look at my current profile above, you can see that I have a profile picture, but not a banner or an about me section. Twitter's algorithms favor users who have all three. So that is our first step to make sure our twitter accounts have:
Profile Picture of a Person (ourselves)
Banner Image (bonus if it is relevant to our interests)
About me section filled out.
We can do this by clicking the "Edit Profile" button shown above, which will take us to the screen shown below.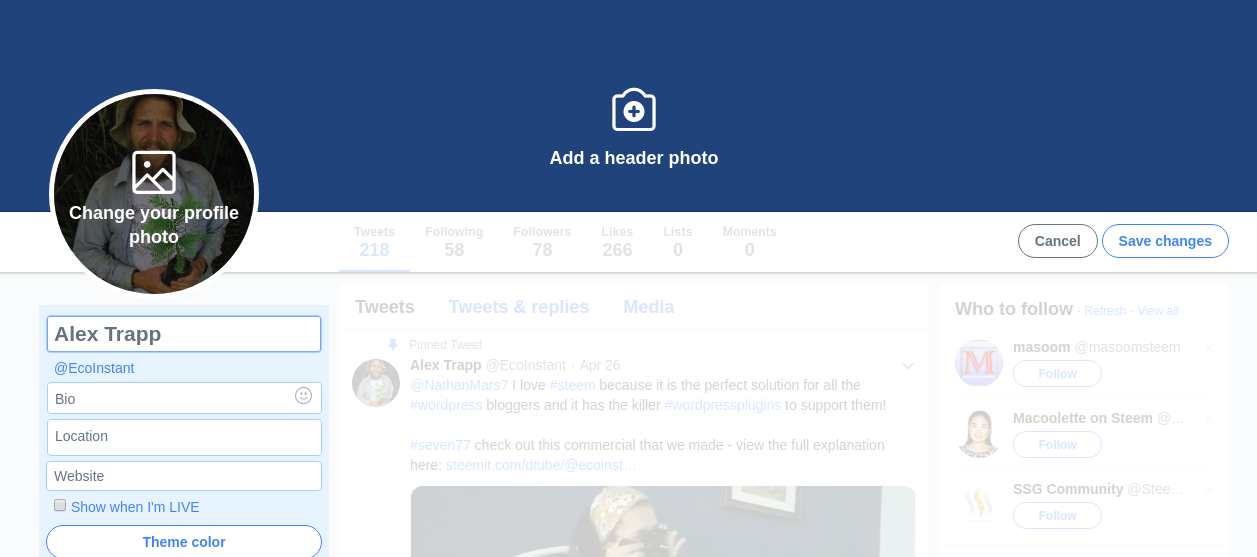 Edit Profile Page
Every #seven77 participant that shows me that they have these three steps complete will earn 1 SBI share. I will be looking into steembounty and steem-taskr for future. There will be a lot more bounties in the future - but only those who have completed this first step will be eligible for future bounties.

If you are visiting this article in the future - don't worry, reply with screen shots of your completed twitter profile and a link to your twitter profile - its never too late!
Again - to be eligible for 1 SBI and for future bounties in this program, reply here with:
1.Screen Shot of your completed Twitter Profile
and
2.Link to your Twitter Profile
Keep up the great work - let's let the world know about STEEM!