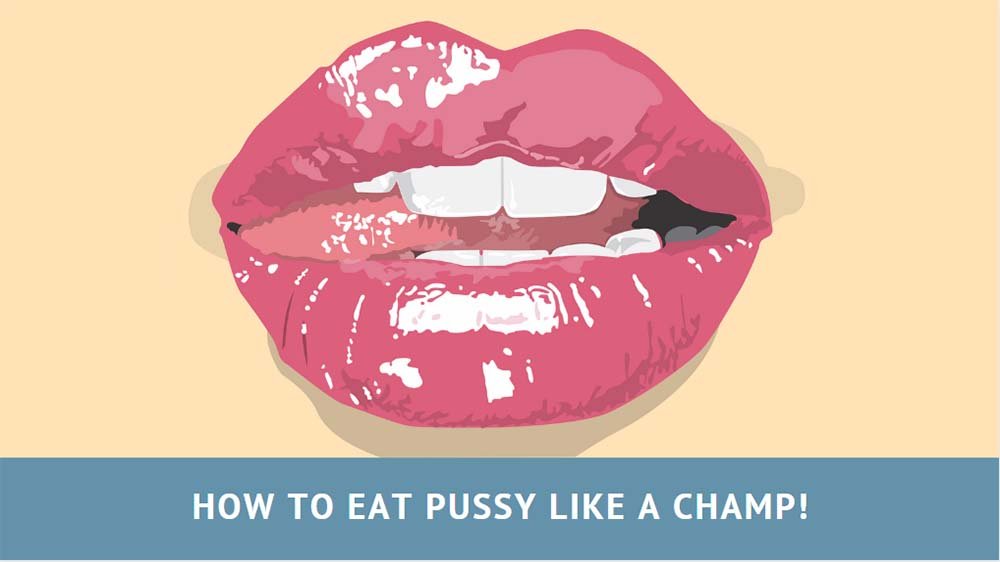 Sandra has her own style when it comes to sucking my cock, and that's why I tried to learn the best techniques on how to eat pussy. I simply wanted to give her the same satisfaction and pleasure that I experience whenever she gives me head. And that's why I decided to do my little research on cunnilingus.
The truth of the matter is, a lot of men aren't very good when it comes to eating pussy. They think licking, sucking, and kissing the vagina and clitoris are enough. But I realized that it takes more than these to be able to make my woman cum through cunnilingus.
Luckily, Sandra has been very helpful when I started eating her pussy. And she guided me through the whole process, not because I didn't know how to do it, but somehow my lack of experience made me feel a bit insecure and uncomfortable. I so wanted to please her, that back then, asking for her guidance was the most practical thing to do. I was rewarded by her ear-piercing scream as her body trembled with pleasure.
In this article, I will be breaking down some important things how to eat pussy, from a quick discussion about a woman's vaginal anatomy to sharing some tips and tricks on how to eat pussy the right way. Read on!
Do Women Like Their Pussies Being Licked?
Perhaps you're wondering if women like their pussies being licked. The truth is most of them do. For instance, Sandra loves having her pussy licked as part of our foreplay. It always gets her in the mood for our lovemaking. According to what I've learned and experienced, women enjoy cunnilingus because it's easier for them to reach orgasm when men stimulate their clit using with their tongue and lips. In fact, Sandra said that sometimes her climax is more intense when I lick her pussy, specifically her clit.
Women love having their pussy licked the same way that men enjoy having their cock sucked. That's why Sandra and I often give each other oral sex through 69. This way we get to satisfy each other together. Eating pussy can be a standalone sexual activity or as what I've said earlier, a prelude to something greater.
However, not all women enjoy having their pussies licked. There are still conservative women out there who think that couples should stick to the "traditional" ways of fulfilling each other's sexual needs. Others simply find it disgusting or taboo. Also, there are women who only want to have their pussies licked for a few minutes because the act itself is too ticklish for them.
Remember: You should never force your woman to experience cunnilingus if she doesn't want to in the first place. You can still satisfy her sexual desires in other ways.
Quick Vagina Anatomy
In order to learn how to eat pussy, I needed to first know the different parts of a woman's vagina, especially those that are considered the most erogenous.
What I did was to look for some articles on the internet with corresponding illustration about the woman's vaginal anatomy. And below you'll find the essential parts of a woman's vagina that I learnt are the most important ones:
1. Clitoral Hood
Located on top of the vagina, the clitoral hood looks like a little flap of skin that serves as a covering for the clitoris. It protects the clit from being hurt just like a man's foreskin protects his cock.
2. Clitoris
Considered as the most sensitive and important part of a woman's vulva, the clitoris is actually 9 to 11 centimetres long. It's a very small nub of flesh that contains tons of nerve endings, and that's why you have to focus most of your licking and sucking on this part.
3. Labia Majora
The woman's labia majora is like the scrotum in a man's sexual anatomy, and is actually composed of two folds of skin that extend from the mons pubis down to the perineum. The outer surface has pubic hair while the inner has a smooth surface that contains sebaceous glands.
4. Labia Minora
The labia minora is also composed of two smaller folds of skin that extend backward into the vulva's opening. They're situated inside the labia majora and are approximately 4 cm long.
5. Urethral Opening
When it comes to eating pussy, the urethral opening is the least of your concerns because it's not exactly a very erogenous part. This is where a woman's urine passes through so better steer clear from it.
6. Vulva Vestibula
The vulva is the outer part of a female's genitalia. It is responsible for protecting her sexual organs including the urethral opening, vestibule, and vagina with the labia majora and labia minora serving as its inner and outer "lips".
7. Vaginal Opening
The vaginal opening is a very sensitive part of a woman's body aside from her clit. You can use your finger, lips, tongue or penis to stimulate this part to create vaginal juices.
8. Anus
Just like with the clitoris, the anus contains tons of nerve endings, making it one of the most erogenous zones in a woman's body. Licking this part when eating her pussy can be very pleasurable.
9. G-spot
The G-spot is considered a part of a woman's clitoral network, thus you can pretty much say this is one spot you need to stimulate in order for her to achieve that mind-blowing orgasm. Many believed that stimulating the G-spot can result to female ejaculation.
How To Eat Pussy Like a Pro!
Do you want to learn how to eat pussy like a pro? I've had my fair share of woman whom I had oral sex with, and I'm telling you, it takes a lot of studying and practicing to be a guru when it comes to eating a pussy. I had some trial and error moments myself but I swear by the tips listed below.
1. Make her feel comfortable and secure
Women need to feel comfortable and secure before you start eating their pussy. Many of them are still hesitant about having a man go down there and start exploring their most private part.
You can start by playing some soft music to help calm her down. You can even have a nice warm shower together before doing the deed.
Most importantly, don't immediately lick her pussy without stimulating her whole body first. Start by kissing her lips, neck, and breast before settling yourself between her thighs. Don't forget to whisper sweet and comforting words to her as well.
2. Start with foreplay
Did you know that foreplay is very important not only during intercourse but also when performing cunnilingus? Foreplay doesn't only involve kissing and touching but you can start setting your girl in the mood by texting her some dirty messages especially if you're still at work. Sexting is a fun way to tease and seduce each other. You can even call her up and exchange some dirty talks with each other.
Foreplay can also be done when you're both alone in the bedroom right before you eat her pussy. Again, start kissing and caressing different parts of her body. You can give her a lingering French kiss then run your lips down her neck and breasts. Pay homage to her twin peaks by sucking and moulding them in your hands. Then let your finger play with her pussy to make her wetter and hornier. Her sexual hunger will make her beg for more and before you know it she'll be spreading her legs wide for better access.
3. Start with kissing other erogenous zones
You should know by now that women respond better to your sexual advances if they're properly stimulated. Aside from familiarizing yourself with her vaginal anatomy, it helps to know her erogenous spots, too. '
Sandra likes having her neck kissed and having my hands caresses the inside of her thighs. Other women like having their ears licked while some prefer if men play with their nipples. You can explore your woman's body and discover which parts are most sensitive and what actions you need to do to stimulate them properly.
4. Then focus on the area around the vagina: Labia Minora, Majora and Clitoral Hood
Once you sensed that your woman is ready, time to move to the most awaited part. Firstly, spread her legs apart so you can have a better access to her pussy. Some women shave while others have hairy pussies. Regardless, they all have the same vaginal anatomy so if you've done your research, you'll know which parts to attack first.
You can start by exploring around the vagina itself. Let your tongue explore her labia minora and majora and her clitoral hood without really focusing on her clit. This can get very wet as your saliva mixes with her vaginal juices. Think of it as if you're eating an oyster. In fact, some men say pussies look and taste like them!
5. Then focus on the clitoris
By now your woman is eagerly anticipating when you'll start licking her clit and you don't want to keep her waiting. Fuel her excitement by blowing on her clit. This alone will send some tingling sensations from her clit to different parts of her body. Then slowly run your tongue on her clit. Wiggle your tongue on this tiny part of her womanhood. And don't be surprised if she would moan, groan, and even pull your head closer to her pussy.
6. Change rhythm and pay attention to her moaning, breathing and body language to know if you are doing it right or wrong
Women have different reactions to cunnilingus. So be aware of how your woman reacts to your every action.
Does she moan loudly when you flick your tongue on her clit? Does she gasp whenever you suck on her clit? Or does she whisper dirty words and encourage you to do whatever you doing by scratching your back or pulling you closer? These signs will tell you that you're doing a wonderful job!
7. Slowly use a finger to stimulate her g-spot
Stimulating her clit can make her climax, but if you really want your woman to experience an earth-shattering orgasm, you should also stimulate her G-spot.
In order to do this, you need to insert a finger or two inside her vagina, and stimulate here G-spot by making the "come here" finger signal. You can also finger fuck her if you want. But remember, you must continue licking that clit.
8. When she is close to orgasm, keep the same rhythm until she cums!
If you had sexual intercourse with your partner several times before, you probably can tell when she's about to climax. Some women would even tell you when they're about to come.
If you think she is close to orgasm, continue doing the same rhythm until she climaxes. Changing your rhythm can cause delayed orgasm and though many women like this too, it's better to just let her orgasm right away so you can have your turn.
How To Eat Pussy: What NOT To Do
Oral sex should be pleasurable to your partner, and at the same time something you can enjoy doing yourself.
So whether you're a beginner or pro, you should be aware of these common no-nos.
1. Don't be too rough
Many men believe that porn is a good guide to learn how to eat pussy. In my opinion this is wrong. Porn is simply an over exaggerated fantasy.
For example, if you see a male porn star smothering his partner's pussy with lots of wet kisses and hard finger fucking, you should know this isn't the way to do it. Your woman is no porn star, she deserves better treatment, and this involves not being too rough on her.
Instead, take things slowly. Make love to her pussy the way you also make love to her body.
2. Don't make orgasm the goal
It's a misconception that whenever you eat your woman's pussy, you only have one goal and that is for her to reach orgasm. This shouldn't be the case at all because there are women who find it hard to climax through oral sex.
There are those who still prefer sexual intercourse though they also enjoy it if you "worship" their pussy. Orgasm shouldn't be your end goal.
What's important to know is that oral sex doesn't always end with her climaxing. Sometimes, cunnilingus is a just another way of expressing your love and can be considered as a part of foreplay.
3. You need to listen to her feedback
I'm very grateful to Sandra whenever I eat her pussy because she always gives me pointers. She knows her body more than I do, and that's why I listen to her feedback.
For instance, when I'm licking her clit she tells me if she wants me to move my tongue from left to right or in a circular motion. You and your woman can do the same.
In case you're not comfortable talking while down there, you can ask for her feedback after giving her oral sex. Ask her what she thinks of your performance and how you can do better next time.
How To Eat Pussy: Advanced Techniques
Now that were done with the how to eat pussy basics, you should also know that there are some advanced techniques you can apply during oral sex. That's one great thing about it because you can always improve your strategy.
Below you'll find some advanced techniques which I also learned from my little research as well as from experience.
1. Try sucking her clitoris
The clitoris is a tiny sensitive nub of flesh that many believe can't be sucked. Well, the truth is you can do more than just licking it. You can actually suck this itty bitty thing with your lips.
However, do it gently. Don't suck too hard to avoid hurting your girl.
2. Edging
You have total control during cunnilingus. Your woman would simply spread her legs and let you do all the hard and dirty work. This means you can do whatever you want including edging which is the process of bringing her close to having an orgasm then suddenly backing off.
I simply love doing this to Sandra because she does the same thing with me too whenever she's giving me a deep throat blowjob. What I normally do is just when she's about to climax; I would pause for a few seconds. She gets frustrated with me sometimes, but I know deep down she likes delaying her climax, too. She said this results in a more explosive orgasm.
3. Add a toy to the mix
We also enjoy experimenting with different sex toys we can use for oral sex. In her case, I like using a G-spot vibrator instead of my fingers to stimulate her G-spot.
Sometimes, we also use some anal sex toys like anal beads and butt plugs to give her that feeling of having double penetration.
4. Add in a rimjob or a finger in the butt
You can also add more spice to cunnilingus by giving your woman a rimjob during oral sex. However, you need to ask her permission first since some women don't like this sexual act
Important: Avoid going from anus to vagina to prevent infection.
5. Play around with different pussy eating positions
Your imagination is the limit when it comes to ideal positions for oral sex.
One of the most comfortable is the missionary. Another is 69 which is the ideal choice among couples who want to give each other oral sex. And if you're up for it, facesitting and doggy style (Licking pussy from behind) are also common positions to consider.
6. Include household items to spice things up
Interested in taking cunnilingus to the next level? You can include some common household items like ice cubes, whipped cream, mint, and many more.
I've tried putting ice cube in my mouth while giving Sandra oral sex and she loved it. I like licking her with my cold tongue which she said makes her more ticklish.
7. Go Kinky With Some BDSM Toys
Sandra and I love experimenting when it comes to sex. We've done so many exciting things in the bedroom and using BDSM toys is something we both enjoy.
Sometimes when I give her oral sex, we try to think out of the box. One favorite is to blindfold her to add mystery to what I will do with her. And there are times when I tie her hands and legs to the bed posts. I also like running a feather over her naked body.
We also like role play sex. I especially love giving her oral sex when she's dressed like a sexy and horny cheerleader.
Any Risks With Eating Pussy?
Eating pussy is fun and pleasurable but you should be aware that it's not 100% safe. The act itself involves licking and sucking your partner's pussy which means you are exposed to genital fluids and this makes you prone to having STDs.
Some of the health problems you can have from giving oral sex are genital warts and herpes, gonorrhoea, hepatitis A, B, and C, syphilis, and pubic lice. You are also more exposed to STIs if you have ulcers, sores or cuts in your mouth.
Meanwhile, menstrual blood can also cause hepatitis. This happens when you're giving your partner oral sex a few days before or after her period. It's gross but sadly some men can't stop the urge. In order to avoid hepatitis, give her oral sex during her fertile days. Sandra and I monitor her period that way we can have oral sex during the days when she's not having or expecting her red days.
Our Pussy Licking Story
Sandra and I have been very open about our sexual experiences and I'm here to share with you one of the most unforgettable pussy licking stories we ever had.
One day, I went home very tired after working overtime at the office. I already called Sandra that I would be late, and she could have dinner without me.
I arrived home at around 9 in the evening, took a quick shower and lay on the bed.
As it happens, Sandra loves teasing me. She knows for a fact that I'm too tired to "perform", and yet she came inside the room naked with a naughty glint in her eye.
Despite my being too tired, I felt my cock harden at the sight of her. She always has that effect on me. But today, I told her that I was too tired and wanted to get some rest.
She answered it was okay.
Now, I thought she would just lay there on the bed beside me but to my surprise, she started kissing me hungrily. She whispered in my ear that I didn't need to do anything at all because she was there to make me happy.
To make the long story short, she gave me an incredibly deep throat blowjob that left me senseless. In fact, I got even more tired that I eventually fell asleep.
The next morning, I got out of bed early and prepared our breakfast. When Sandra came to the kitchen, I was already done. I gave her a quick kiss on the lips and promised to make it up to her later.
That evening I came home earlier and I took her to a nice restaurant for dinner. We were having oysters and as I was eating, I licked the salty flesh with my tongue while looking at her seductively. Her eyes became round and she giggled. We talked dirty for a while and I felt my cock hardened. And after a while, I told her we should go home and have desert.
She already knew what I was talking about.
When we arrived home, I prepared the tub for us. I lit some of her favourite aromatherapy candles and dimmed the light. I also had some nice music in the background to set the mood.
After a while she joined me in the bathroom and I took off her clothes as she took mine off in return. I went into the tub and she followed after. She was leaning on my body as I gently rub her skin with a towel. Then she faced me and took the towel from my hand so she could do the same to my naked body. We were kissing and petting each other but soon the water was starting to feel cold so I told her we should continue in the bedroom.
By the time I was done drying myself, Sandra was already lying in bed. I joined her and started to kiss her lips. We were sharing a steamy French kiss as I slowly ran my hands up and down her thigh. I moved my lips to her ear and started nibbling at her earlobe. Then I trailed kisses down to her neck until my mouth caught one nipple. I was kneading her other breast while sucking the other one like a hungry baby.
She was moaning loudly and wrapped her legs around my waist tightly.
After a few minutes, I went down to her belly and started licking her navel as my hands continued to knead her breasts. She was purring like a kitten and it only made me more aroused. I went down her pussy and started to lick it with my tongue. She hasn't shaved for a while and I can feel the soft hair. I started licking her labia while my hands nudged her to spread her legs wider.
She was a sight to behold. I could see her whole anatomy and it was beautiful. And I didn't wait long before I started licking her clitoris which made her moan even louder. I used my fingers to spread her labia so I can have better access to her clit. Then I started sucking at the tiny nub gently. Sandra was pulling my hair while spreading her legs wider. Just when she was about come, I stopped and she almost slapped my face from frustration while I grinned naughtily at her.
This time she was begging for it. I started licking her pussy once again but this time I also finger fucked her so I could also stimulate her G-spot. I licked and sucked her clit while my middle and index fingers were going in and out of her pussy. Sandra was so wet my fingers were dripping with her juices.
She was gasping for air while moaning at the same time. And she pulled at my hair and I felt her shuddered as her pussy tightened around my fingers. She screamed so loud I swore the neighbors heard her. I slipped my fingers out of her vagina and her body tensed. She said it tickled a lot.
I gave her a few seconds to relax and just when I thought she was spent and ready to call it a night, she was on top of me and insisted that she should return the favor. I was feeling horny myself so who am I to refuse such offer? Soon, the room was filled with our moans and groans once more.
How To Eat Pussy: Final Words
How to lick pussy is one thing every man should know. It took me a lot of practice before I was finally able to master what Sandra likes. I also did my own research and learn from other men. It hit me that one of the most important things to do was to familiarize myself with the different parts of her pussy. After that, I experimented with licking, sucking, and touching these parts with my lips and tongue. Every moan that came out of her lips was a sign I was doing it right.
Eating pussy will eventually come naturally, but you should also take time to learn some tips and tricks to make the whole experience more pleasurable for you and your woman. It's one of the many things that Sandra and I love doing as a couple. You too will find it very rewarding!
/Tim and Sandra
Originally published on https://www.mysextoyguide.com/how-to-eat-pussy/