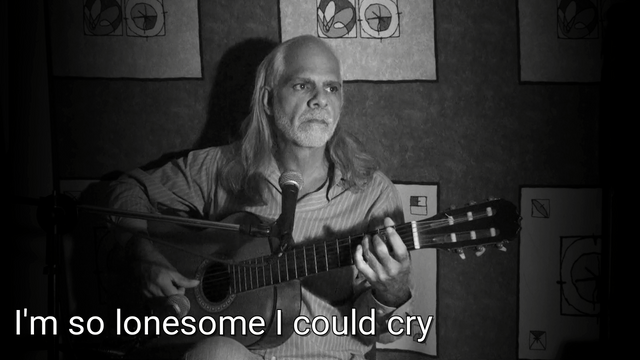 One of the things I like most about this platform is that every day new challenges are posed to you and the fun thing is to assume them.
I think it never occurred to me to sing a country song. However, speaking a few days ago about the beautiful interpretation that @paintingangels made of "I'm so lonesome I could cry" (the greatest success of Hank Williams), she commented that she imagined that song in my voice. I told her I wasn't sure, but she claimed she was...
So without further ado, I decided to make the attempt. I liked how it turned out, I hope not to disappoint her. And I hope you can enjoy it too.
This is my entry for Sonic Groove Live, week 6 and is dedicated with great love to Serena.

Una de las cosas que más me gusta de esta plataforma es que todos los días se le plantean a uno nuevos retos y lo divertido es asumirlos.
Creo que a mí nunca se me hubiera ocurrido cantar una canción country. Sin embargo, hablando hace algunos días acerca de la bella interpretación que hizo @paintingangels de "I'm so lonesome I could cry" (el más grande éxito de Hank Williams), ella comentó que se imaginaba esa canción en mi voz. Yo le dije a ella que no estaba seguro, pero ella afirmó que ella sí...
Así que sin más, decidí hacer el intento. A mí me gustó como resultó, espero no decepcionarla a ella. Y espero que ustedes también la puedan disfrutar.
Esta es mi entrada para el Sonic Groove Live, semana 6 y va dedicado con mucho cariño para Serena.

The lyrics / La letra
Hear that lonesome whippoorwill
He sounds too blue to fly
The midnight train is whining low
I'm so lonesome I could cry

I've never seen a night so long
When time goes crawling by
The moon just went behind the clouds
To hide its face and cry

Did you ever see a robin weep
When leaves begin to die
That means he's lost the will to live
I'm so lonesome I could cry

The silence of a falling star
Lights up a purple sky
And as I wonder where you are
I'm so lonesome I could cry
---
My entry / Mi participación

---

@ylich
http://ylich.com
https://sptfy.com/ylich
---
Posted from my blog with SteemPress : http://ylich.com/blog/sonic-groove-live-week-6-im-so-lonesome-i-could-cry-cover/
---