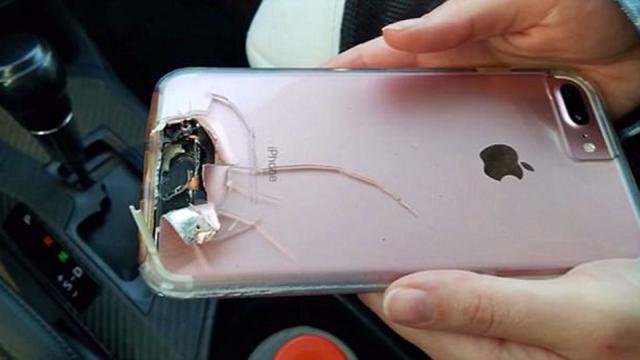 Stephen Pedak killed 59 people in a US Open Las Vegas concert, but one of them survived because of his iPhone. More than 500 people were injured in firing on people participating in the Padak Music Festival from their room at Mandalai Bay Hotel.
Daily Mail reported that on Sunday night, the 'Rose Nine One One Harvest Concert' in an open square beside the Mandalai Bay Hotel has saved the life of a woman in her Rose Gold-colored iPhone. It was not possible to identify the woman. However, he showed the affected iPhone to his taxicab driver and said that his life survived because of the phone.
The photo shows that the iPhone's cover was broken by bullets. And during this major attack in the history of the United States, it is not known where the woman's iPhone was placed. Apart from this, the picture shows that the iPhone was Rose Gold, but there was no model of the iPhone but it was not mentioned in the report.
Meanwhile, the woman believed to be a girlfriend of gunman Stephen Paddock reached the United States of America Marilu Danley. The police were looking for him to investigate.
According to the US media news, when he arrived in Los Angeles from the Philippines, he met with federal agents on Tuesday night. US authorities consider him as 'important person' for the investigation.
Paddock shot 58 people dead on Sunday in an open concert in Las Vegas. More than 500 people were injured. He fired at people from his room at Mandalai Bay Hotel, who participated in the music festival. It is believed that after this he committed suicide.
There is no record of involvement in the criminal activity of Paddock to the police, from which it can be found in the worst case of US history.
US police say they are in contact with Marilou after the gun attack. They were looking for information about Padak. Filipino media says that Marilou was in the Philippines from the end of September.
Padak Mandalai Bay took place on September 28th at the hotel. He used the identities of Marilu Daniel in different papers. A day before the gun attack, a US official told Reuters, on condition of anonymity that Paddock sent him $ 1 million.
Pedic's younger brother Eric Paddock told The New York Times that he loved his brother, Marillou. In his words, 'He is probably the only man, for which he used to go out to do a little brother.'