I have been ordering stuff from Asia for the past 10 years so here's a little guide for those of you that havent already explored that part of the web!
The sites that I mainly use are the following:
(click on the names to open up their sites)
Aliexpress www.aliexpress.com

Dhgate www.dhgate.com


These sites have more or less anything that you can imagine, clothes, houseware, car parts/accessories, etc. etc.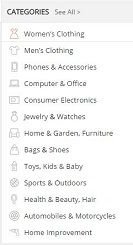 These sites are basically like the Ebay's of Asia so you purchase the items from the sellers and not the sites themselves.
When an item has been purchased the money stays with the site untill the item has arrived and you have marked it as recieved (it automatically gets marked as arrived after a certain time).
If the item that you have recieved is faulty or if it never came then you can open up a dispute where in the end the sites step in to mediate. Most of the times you can just message the sellers and they will sort it out.
What you need to keep in mind is that the same item is being sold from several sellers so always check for the best price (and a seller with good rep).
Before I place an order with a new seller I always go and check their feedback, that will usually give you a hint on how serious the seller is.


Keep in mind that if you purchase clothes the sizes are usually 2-3 times smaller than standard european sizes but most of the sellers will mention that in their listings (along with measurements).
Also be sure to read through the whole listings.
In most the cases the sellers will also mark the value as lower than what it is on the package incase it gets caught by the customs, which makes the potential fees from the import taxes lower.
The shipping from Asia is very cheap or in most cases free but you can always choose to have it express delivered with for example DHL,UPS,FedEx. The free shipping takes about 20-30 days for it to reach me here in Sweden.
Dhgate tend to have more strange items like knife clones, lockpicks, defense sprays etc.
So if you are on the hunt for some cheap items that you don't need straight away (in those cases it's better to buy it in a local store) then the mentioned sites are great. Barely had any issues with the sellers and in those cases the sites have stepped in and helped me. As the sellers depend on getting good feedback they try to help you out in any way they can.
If anyone wants me to do some quick reviews on items that I have acquired from these sites then please let me know.
Enjoy your weekend!
Best Regards,
Glenn