When you come to meet someone, it's probably for reasons of new friendship, seeking a soulmate or even just someone to talk to every now and then. Allow me now to tell you a story that sisterly and brotherly love has formed.
When I was in tenth grade, I was looking forward to branching out with new people. Of course, as you know, I am a very political person, which also accounts for my love of making new connections. Every day came and went for the first month and a half. It was all stale, no new friends.
But one day, during our free time, I was looking around the murals that students were creating on the building cement. I happened to approach two girls painting on the wall, one with a tall build wearing a jacket, and another girl with her, painting but not wearing a jacket. I was able to get hold of their identities and their classes. I talked equally to both girls, but I felt myself being fixated to talking with this tall girl (I'm slightly taller than she is).
We found each other talking about our daily lives, getting to know each other. We felt as if our friendship was starting to spark. It was a great feeling, honestly speaking. I felt as if a new person was entering my life, a new ray of sunshine. For the first time, I felt quite attached to someone that I just knew over a few weeks. It was like "Wow, the magic of friendships!".
Our friendship intensified when we sent each other our own New Year's messages. She told me how grateful she was for knowing me and being friends with me. She called me a name that I will never forget. "Kuyang Lodi (reverse of idol)", it was. I, too, called her a name that she'll never forget. It was "Sister Lodi". How magical, right?
For the first time in the 17 years of my existence, I never truly felt the real virtue of siblinghood until I met her. She was that person that I knew I'd make a very indelible bond with. After that, I got to know her better and got even closer to her. We were like real siblings. Opening up to each other and being there for each other. We both felt that nothing could ever break our sibling-ship together.
Our friendship may have gone through some rocky patches; in fact, I almost lost her. But that doesn't matter anymore because we have forgiven each other and I vowed that I'll make it up to her sometime in the future, if time allows.
Oh, and if you shall want to know her, her name is Sydney Banog, and she's my sister lodi. I'm Jose Barbasa, and I'm her kuyang lodi.
BTW, here's a snippet of her New Year's message to me: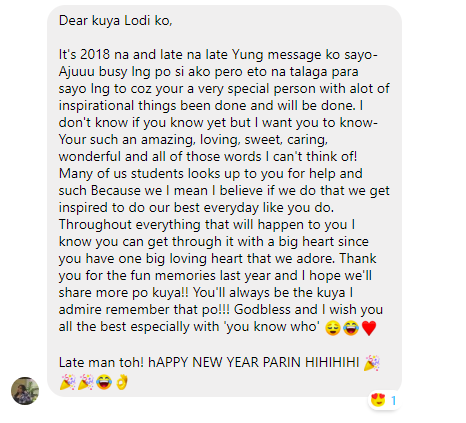 Syd,
If you're still reading this, I just want you to know that I'm always here for you no matter what the circumstance. I'm always praying for you and frankly, there isn't a day that I'm not thinking of you. You are one of the best sisters that I have, and I'm very grateful, thankful and happy to have known someone like you. Thank you for everything. I love you always... from the bottom of my heart and my stomach (HAHAHA).
Love,
Your kuyang lodi xoxoxo