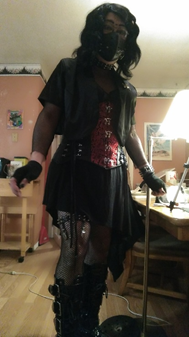 1

P
"Blackbirds tend to like shiny objects" ~ The Bloody Raven
As mentioned last week I had the opportunity to go to a well-known local Coin Club show put on at the Nikkei Japanese Cultural Center. I planned to get there with a friend right after my Night Shift work and I had some great finds as well as take in a few of the Cultural exhibits. No, I didn't go in this Goth outfit.
The #silverpornsaturday tag as initiated by @silverd510 and I'm just following my Sista @silversaver888's footsteps here.
Here's my first item from the Show.
10 T. oz Vintage Johnson Matthey Bar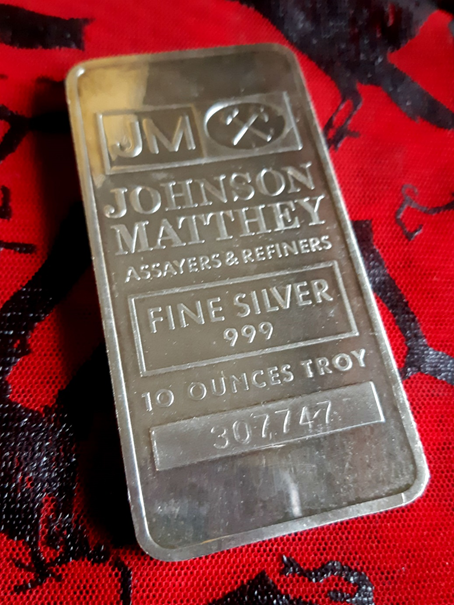 1
Front
But the story is in the Back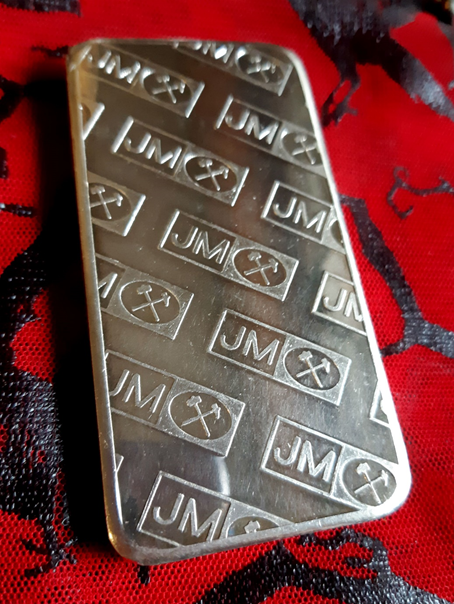 1
Back
The JM ✖ logo pattern determines the bar type, as in Allengelhard.com
The Crossed Hammers logo is repeated Three Full times therefore this bar type has a known mintage of less than 5000 bars.Considering the final price, I'm sure this will fit nice in the Investment aspect of my overall Stacking Portfolio Strategy.
I'm so happy to get his bar, the rest of the story is that I got this bar as a gratuity for my Nursing services I voluntarily provided for Punky's Dad's wife who required monthly Diabetic Foot care. I'm not a fully qualified Podiatrist but I picked up the skills in my past nursing experiences. For a referred professional usually can charge $150 CAD per maintenance session which its not usually covered by the Social health basic Insurance plan.
My service includes nail trimming, Epsom salt foot bath, callous removal, assessment for swelling, cuts, and signs of circulatory issues, bacterial or Fungal infections and identifying other potential disorders associated with diabetic feet. I'll even throw in the nail polish job too.
The beauty of our arrangement is my voluntary service is a grey area and I need not be paid or even tipped. So, in saving him the Professional fee Punky's Dad will Tip me in Silver! According to Bartering laws in BC, Bartering is not a taxable exchange. Therefore, my receiving a commodity for a service is considered a barter. What a WIN – WIN arrangement! No Income Tax.
One 10 oz Vintage Johnson Matthey bar for five foot care sessions.
This sexy JM 10 oz bar now joins my 5 oz and 1 oz Johnson Matthey Bar family.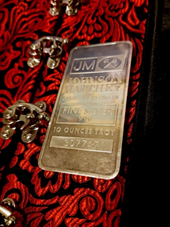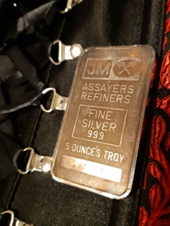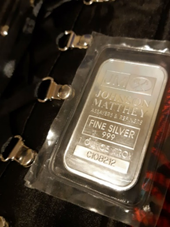 1
Steel Boned Red Brocade Battle Corset from Fashion & Trendy Club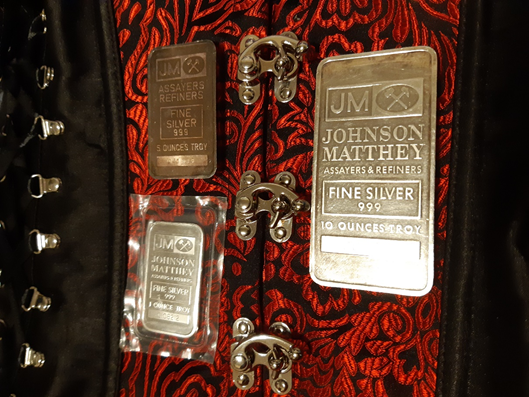 R
I hope you enjoyed this #silverpornsaturday feature, thank you for stopping by for a read.
More Show goodies to come!
References:
1. My own pictures shot with a Samsung SM-A530W
P. Image under Pixabay
R. Clip art from 123RF
W. Wiki Commons

P
I work in a Health Unit. I am a Gothic Nurse. - Salutem laboro in Unit. Nonne ego sum Antiqua.