??? It is a supply mechanism. When prices were x10 the mechanism stays the same. We would have a median of 4.015. Maybe I don't understand what you are trying to say.
The SBD debt ratio is capped @ 10% of steem market cap.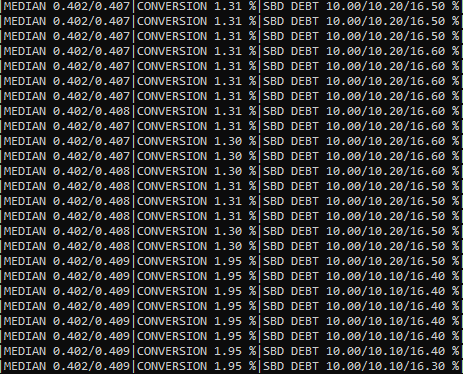 After the crypto crash the blockchain triggered the 10% SBD debt ratio Hair Cut Rule, the steem price crashed and the blockchain is now in a recovery period.
As you can see the blockchain creates an incentive to convert sbd to steem.
There is a bug that's the reason we are still printing 1% sbd... that's not a big deal, with every conversion the SBD debt will go down and so will the median. However, it takes time...
This way the steem price and the median will find each other again, and that would be the end of this Hair Cut recovery period and the SBD / 1 USD peg will be restored.
Of course when the steem price recovers, it has the same effect, market cap would rise, and the debt ratio would go down. Steem price and median will find each other, and from that point, the SBD Peg will be restored.
PS: Market Cap Debt Ratio @ 1 SBD = 1 USD was 18.xx % as you can see we are now down to @ 16.xx %.
We will be fine, tshtf in cryptoland, and we are recovering and we did survive. Hurray