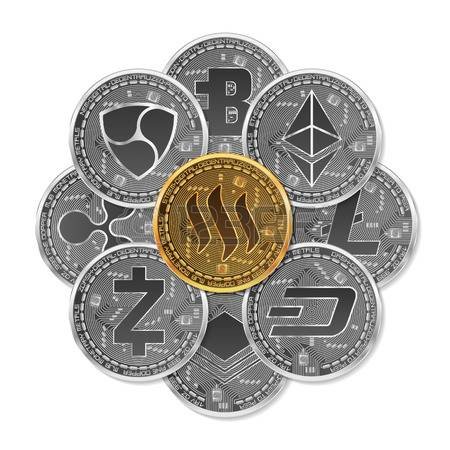 The advent of SMT's will undoubtably disrupt the current paradigm. The role of STEEM within the ecosystem will grow considerably and it will increasingly resemble a reserve currency.
What is a reserve currency? a strong currency widely used in international trade that a central bank is prepared to hold as part of its foreign exchange reserves.
Essentially it's a strong currency that people are prepared to hold. So this leads me to my next questions:
Is STEEM currently a currency that people are prepared to hold? Will SMT's make STEEM a currency that people are prepared to hold?
The answer to the first question is obviously no but what about the second question?
While SMT's will certainely create more demand for STEEM, I don't think people would want to hold it as a reserve currency. The reason for that is that STEEM has permanent inflation, even if this inflation gradually goes down and will be very low in the future it will still be there. People want to hold something with a limited supply which is why bitcoin is so popular eventhough no one actually uses it, it's a holder currency.
This brings me to the main question:
Could STEEM be a real reserve currency with a limited supply coin?
The answer that first came to my mind was no. Blockchains that uses bandwith rate limiting can't pay witnesses/miners with transaction fees so they are condemned to inflate supply indefinetely at least to pay for network running cost.
But what if STEEM witnesses were paid in SMT's. Say for example each SMT have to allocate 1% of their newly created tokens to STEEM witnesses. This to me makes total sense because the STEEM witnesses are the ones running the SMT infrastructure and it is also logical from a scaling point of view that the more SMT's are using the STEEM blockchain the more money witnesses should earn.
The current SMT whitepaper assumes that the price of STEEM will increase due to demand for bandwith but we don't know exactly to what extent. In my opinion it is entirely possible that the price of STEEM remains pretty low while SMT's grow wild, ( especially if STEEM becomes the SMT cash out currency instead of the one people want to hold), this could become problematic scaling wise.
Back to the initial question. Yes STEEM could become a real limited supply reserve currency, Steemit.com will have to create it's own SMT's ( this could be a chance to do a new fairer distribution so that the haters can shut up and the whale drama can be left behind), all existing apps like dtube,dlive,busy,etc..will have to create their own SMT's ( most had the intention to do it anyway).
All SMT users could have a current account ( SBD ) and a REAL savings account ( STEEM with limited supply).
I think it's really important for the future of this ecosystem to position STEEM as a strong currency with a limited supply ( which could take effect immediately). Unlike most on this platform I don't necessarily believe SMT's are going to increase the price of STEEM significantly, we've had a lot of new users lately yet the price has taken a nose dive so bandwith and price doesn't seem correlated. One reason people don't invest in STEEM is because they don't want to lock their funds in a contract , if people can hold STEEM like a normal currency and that currency is useful and limited in supply then speculators will jump on it. There is also some complexity issue, the wallet is way too complicated for the average person to understand.
I want to hear you guys's opinions on this. Are SMT's going to reverse the steem price trend or is the issue of STEEM deeper than that?