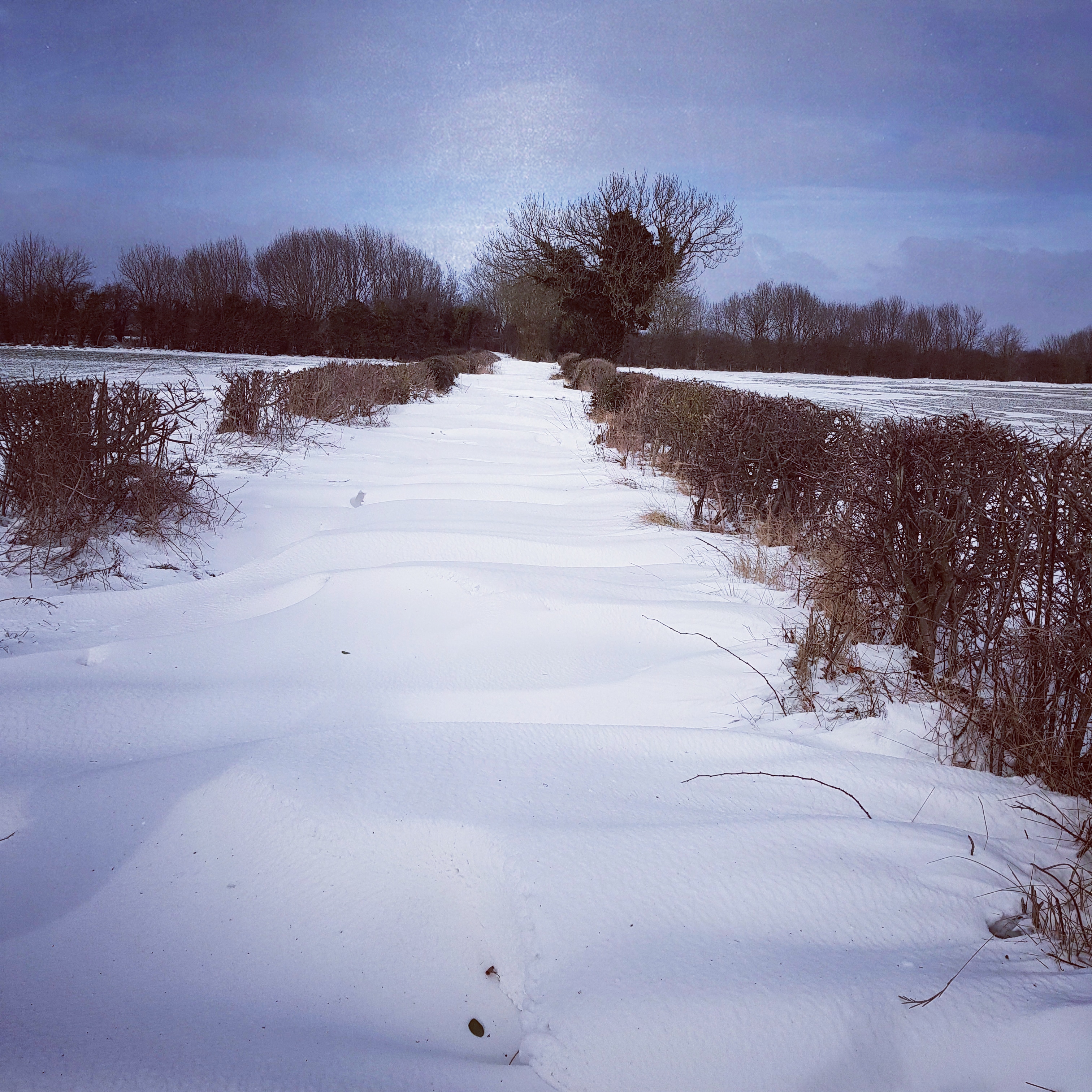 So this week, the UK was hit by some of the worst winter weather in many years. Dubbed 'The Beast From The East' temperatures plummeted to minus 10°C and snow covered the country.
I drove to work on Wednesday morning, a usually short journey of half an hour was more than doubled against the weather conditions combined with drivers who panic and become unable to drive in it!
By midday the snow storm swept in over Chesterfield and soon enough the tannoy was heard around the office stating anybody who is unable to walk home can leave immediately. Hurrah! Snow day!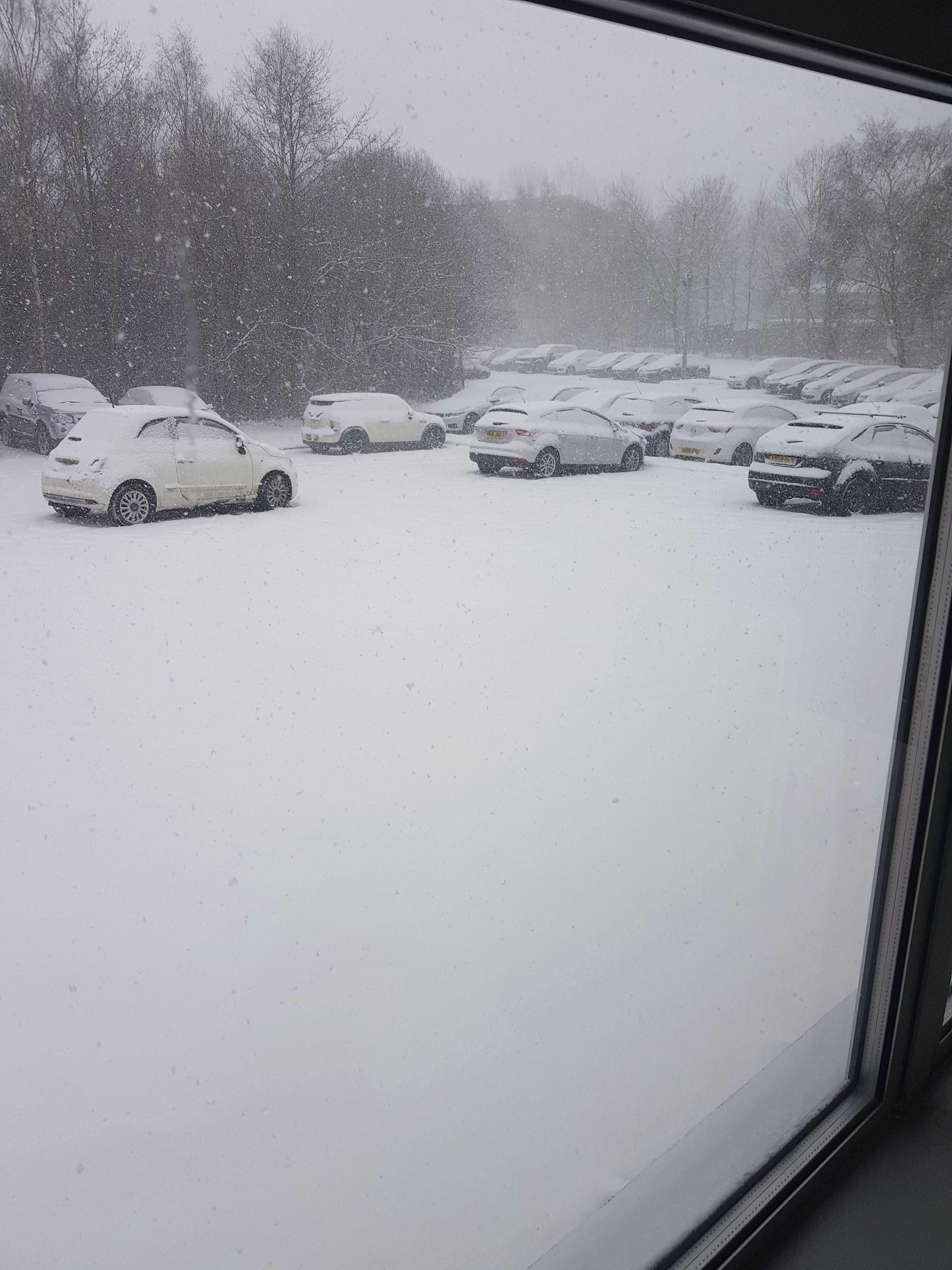 I left the office and began my adventure home, excited by the snow and sideways blizzards. The excitement soon wore off. No further than a few hundred yards off the industrial estate I work on, carnage began. It became clear that a lot of the cars on the road were not prepared for the weather, BMWs, Lexus and all the usual rear wheeled culprits were stuck on every slight gradient, the slip road to the A617 quickly became an downwards ice ramp and the traffic halted to a very slow crawl.
My trusty Ford Focus kept on plowing through, around the rear wheeled cars stuck, I felt little guilt as I plodded past them, regularly mocking other cars with my cheap get around vehicle becoming an unstoppable force in the arctic like weather conditions.
I received a call from a friend who was in the town centre with his girlfriend and mother and they had saw I was leaving early from a rather excited Snapchat I sent out as I was leaving the office a short while before. He asked if I could give them all a lift back to my hometown of Tibshelf in which I agreed although I wasn't actually heading that way!
The snow kept on coming.
Once finally back at Tibshelf a good hour and half later I dropped my grateful friend and his family at home before venturing towards Mansfield to the safety of my girlfriend's house with the dogs and an untouched snow haven on the back garden.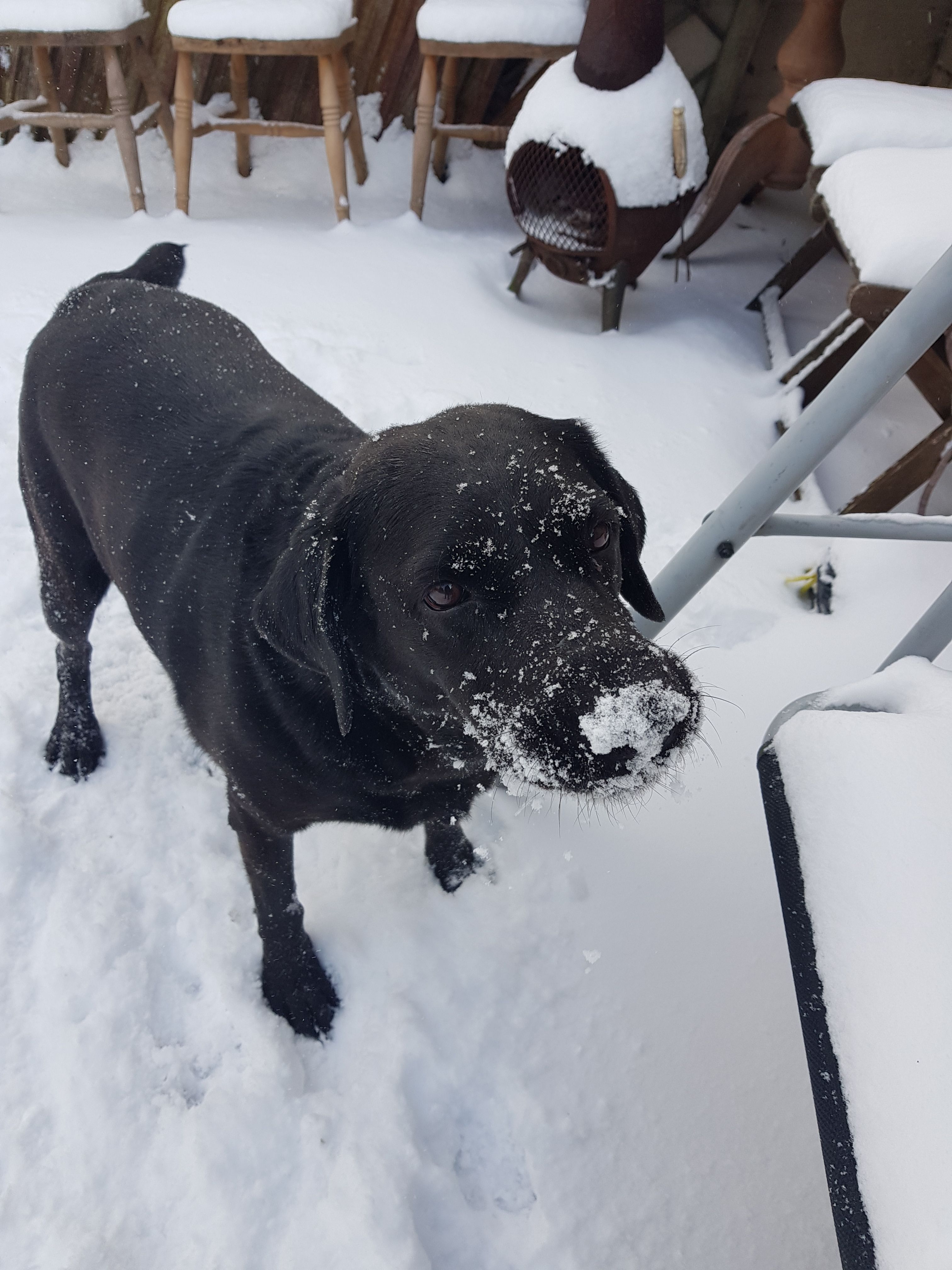 The next day I was due to be at university but the weather had continued it's deep freeze over night. I rang in work and said I would work from home that day.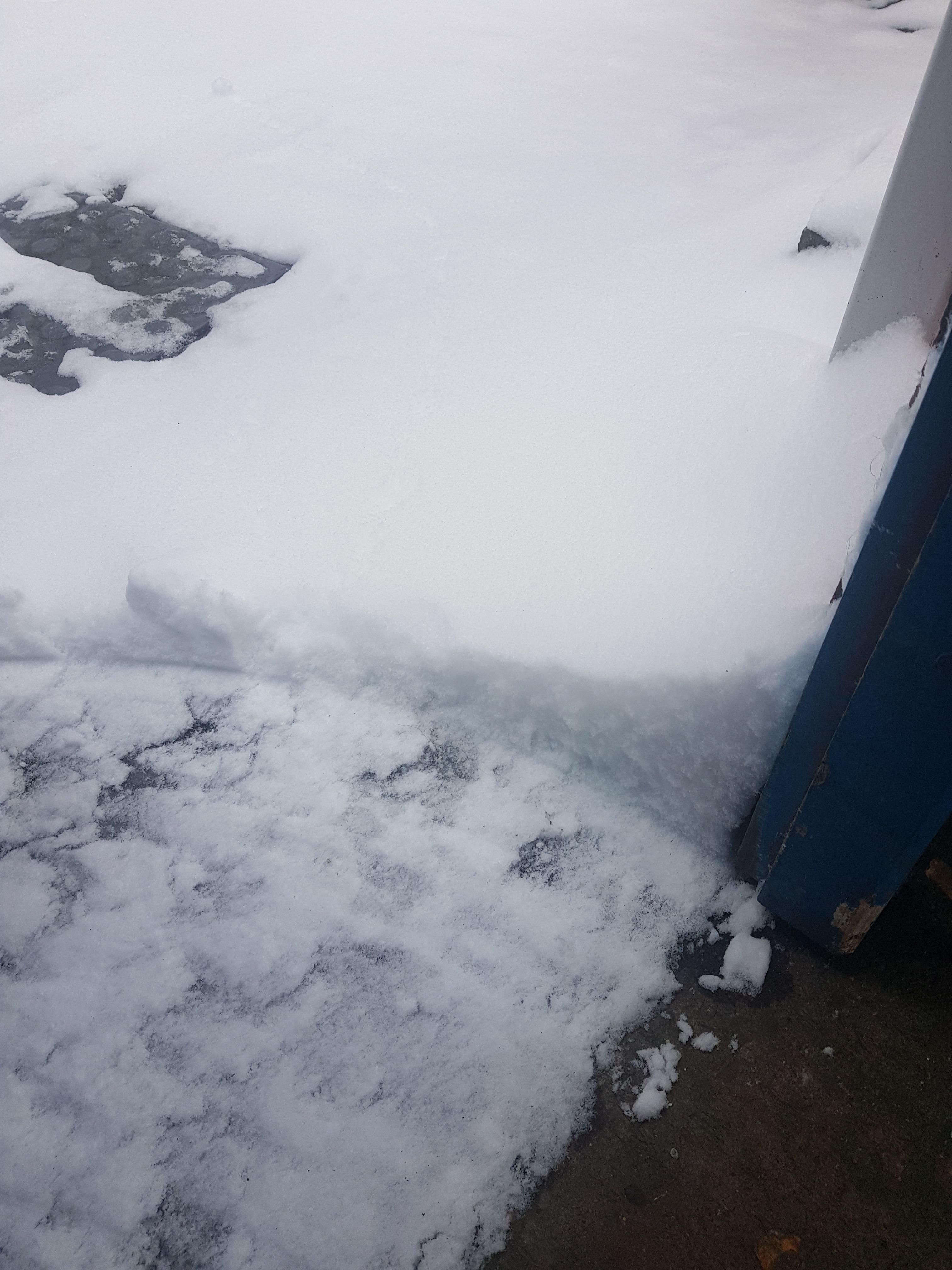 I worked for a few hours and did a fair chunk of my university final year project before the snow came again. I received numerous calls from friends, all as enthusiastic about the snow as myself. "Coming for an adventure in the snow?" "Silly question, mate, where are we going?"
An hour later I found myself battling through the snow from Mansfield to Teversal where we had agreed to meet at a large hillside field near the driving range. We geared up and grabbed the snowboard and sledge from Marcs garage and proceeded to ascend the hill for the first run back down.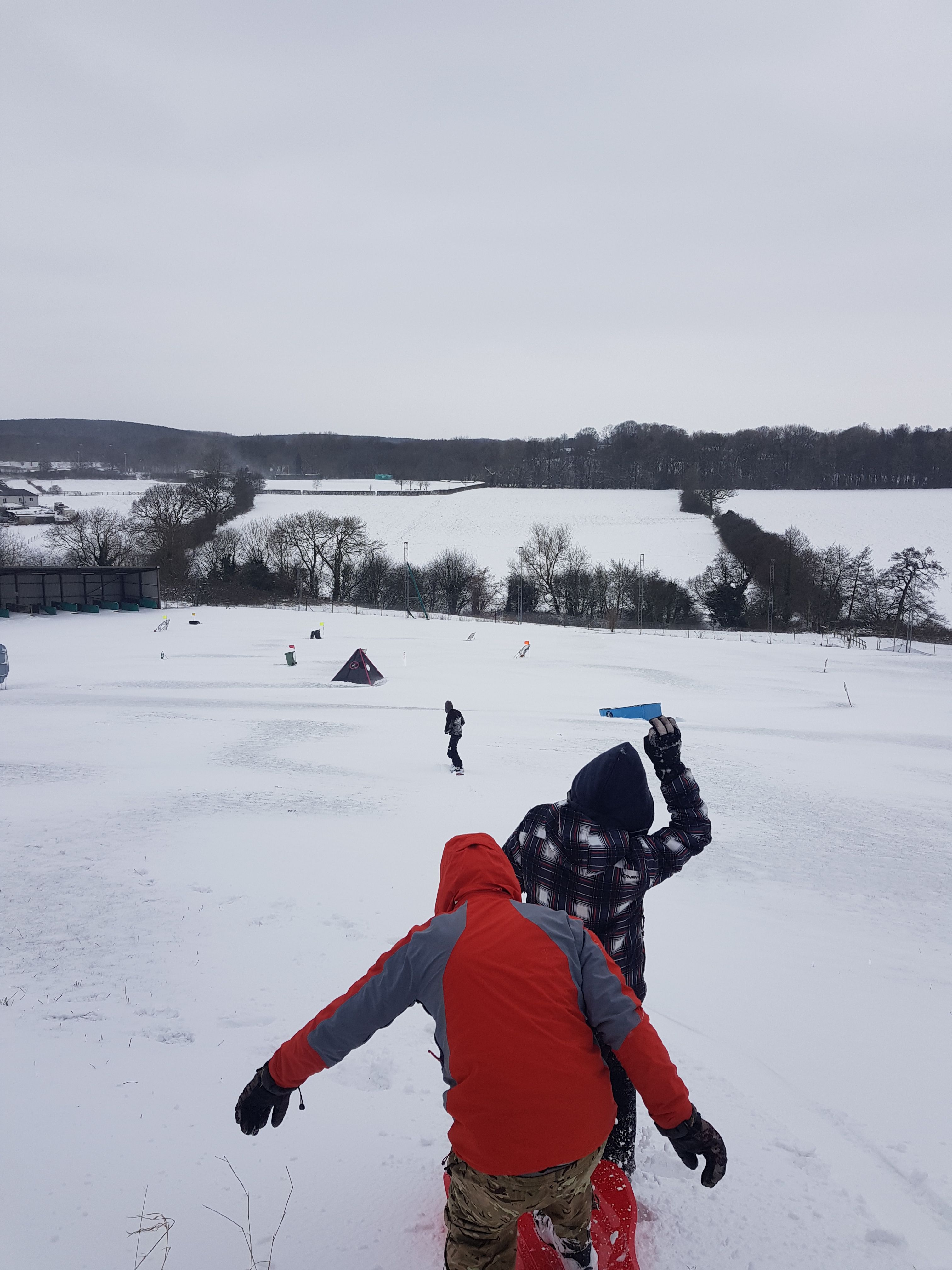 The wind picked up and before long we had to call off our fun before hypothermia settled in! The wind was so cold, it took the fun out of everything and sapped the life from our exposed hands and skin. We retreated back to the garage and warmed by the heaters for half an hour before I decided to pack up and go and collect my girlfriend from her place of work. "Have you seen my keys anywhere?" I asked the lads. "No mate, you had them in your pocket before we went up the field". "Oh shit!"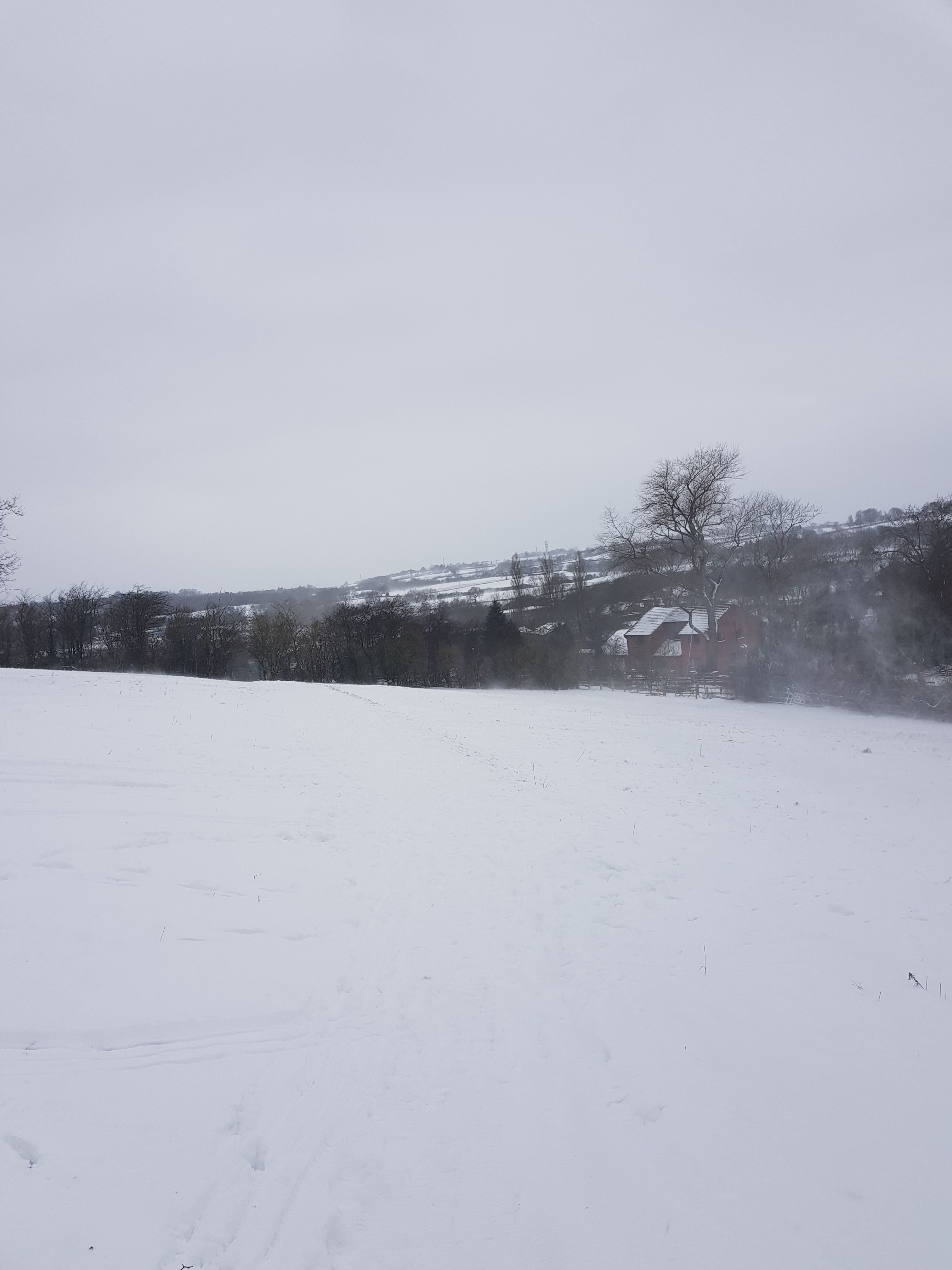 I'd lost my keys somewhere in a vast field of white snow, it had been a good half hour and as we returned to the field, we quickly saw that our footprints and sledge run scours were rapidly disappearing under the drifting snow. "I think they're long gone boys" I sighed. We hunted around where we thought we had been from memory and the vague markings in the snow. 1 lap, 2 lap, 3 laps and still no joy. I rang my girlfriend and explained that I couldn't pick her up due to losing my keys. NOT HAPPY! MY 6 month pregnant girlfriend, hormonal at the best of times, was being told I wouldn't be picking her up and oh was she not happy! I managed to get her a lift and in the meantime I needed get a lift from Marcs to go get my spare key and return to take my car home.
The next morning, the weather had struck again overnight and the roads where diabolical in our rural town of Nottinghamshire. I rang in work and explained that I had lost my keys the previous afternoon, and wished to book an emergency holiday in order to go on a hunt for them. I soon found out that Will, had also lost his 3 sets of keys and his phone the day before I lost mine whilst taking his dogs a walk with the family around the back lanes of Hardwick Hall.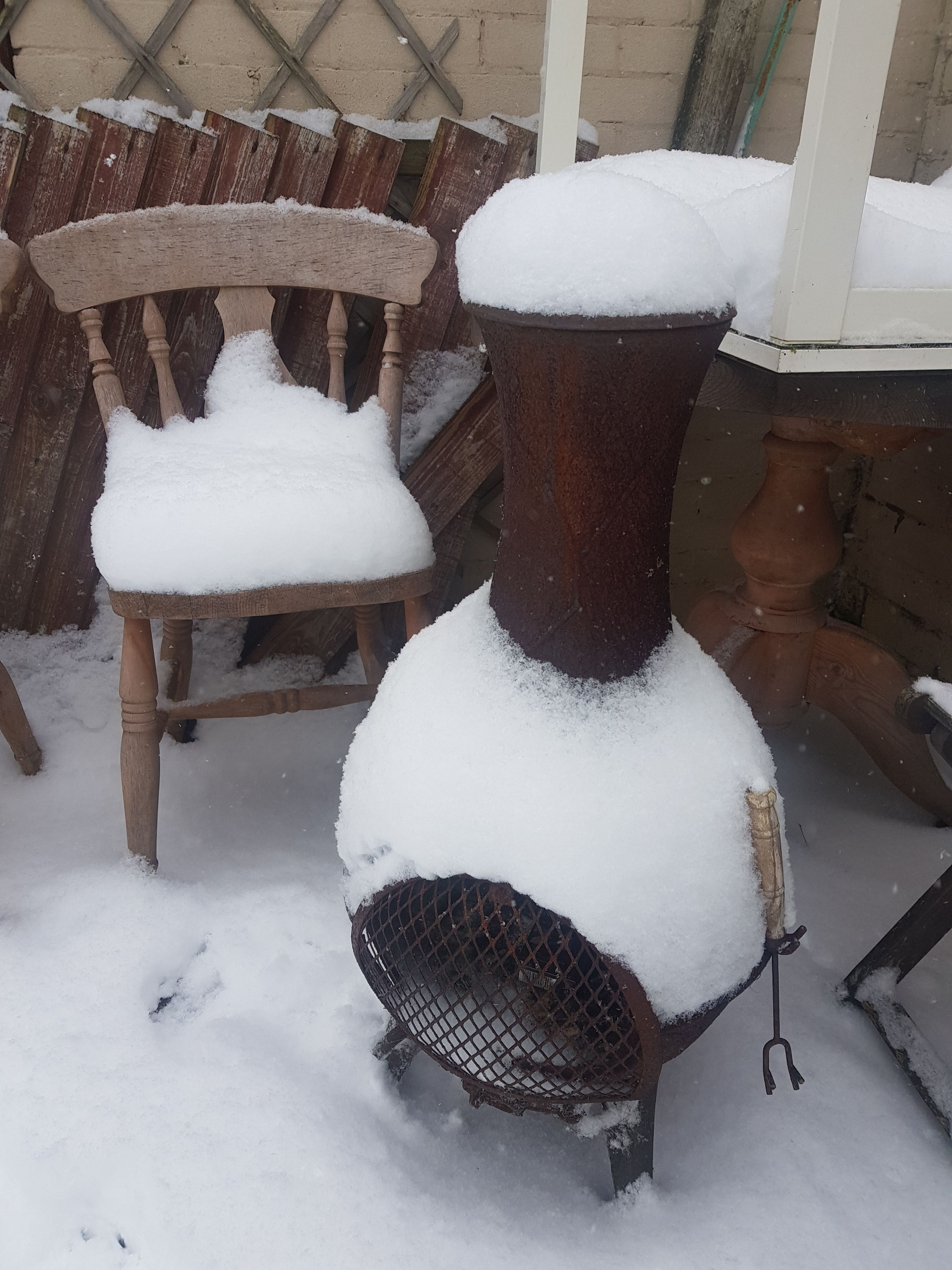 We set a plan of obtaining a metal detector whilst eating our McDonald's breakfast outside the ASDA supermarket in Sutton in Ashfield. We rang a few people on gumtree and after a few unsuccessful calls we made the decision to head over the Maplins and buy the cheapest they had available. £50 later we were set and headed back to Wills for a quick brew whilst we set up and assembled the metal detector.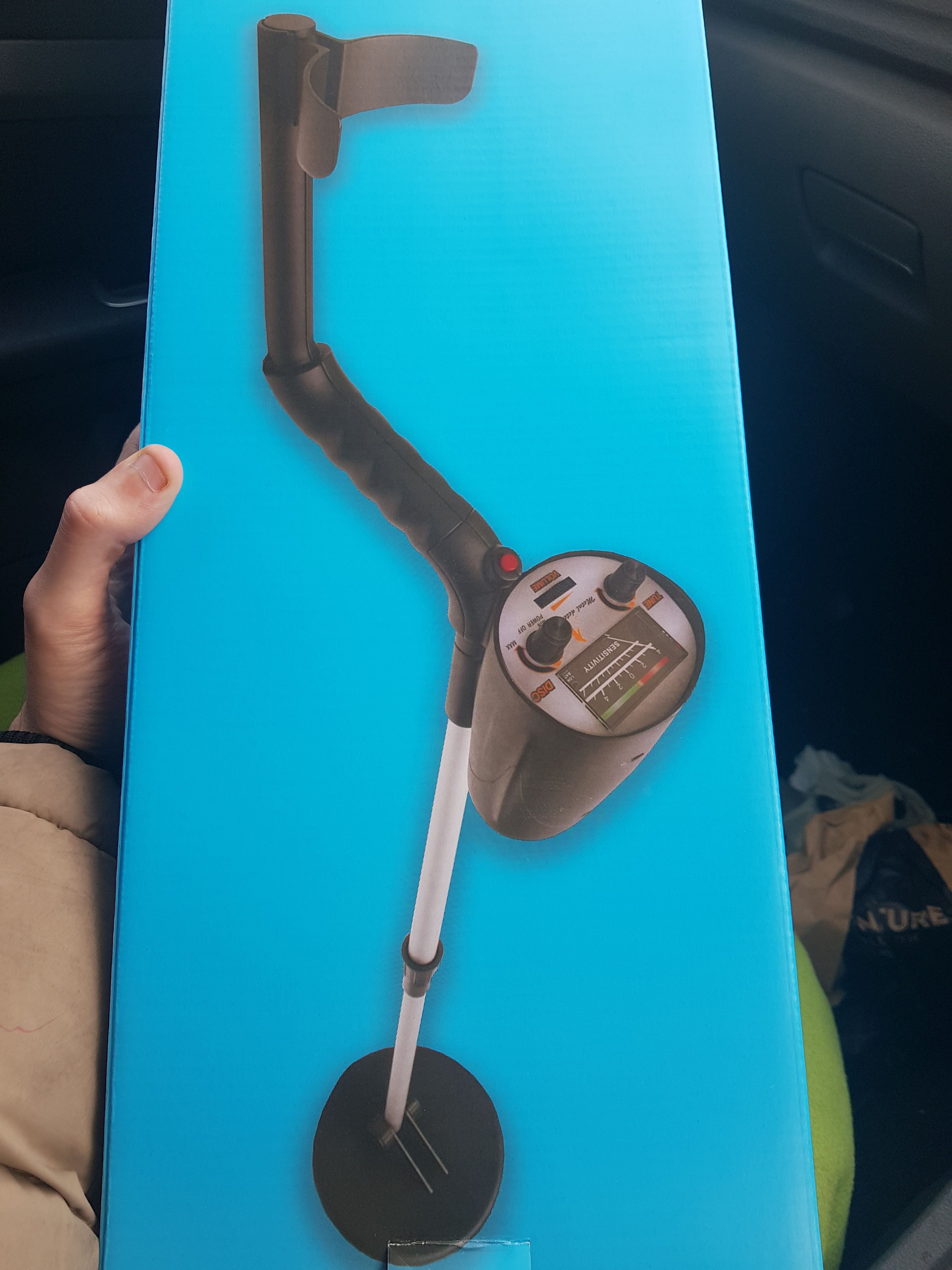 We headed to the field I lost my keys in first. Over night the winds had taken a lot of the snow and blew it into the hedgebottoms causing huge drifts of snow and the large area of the fields to become exposed dirt. This was going to be a serious task! With nothing to reference to from the previous day, we set about the same loop we had done the day before. Will raking the path we had taken, as I followed with the metal detector.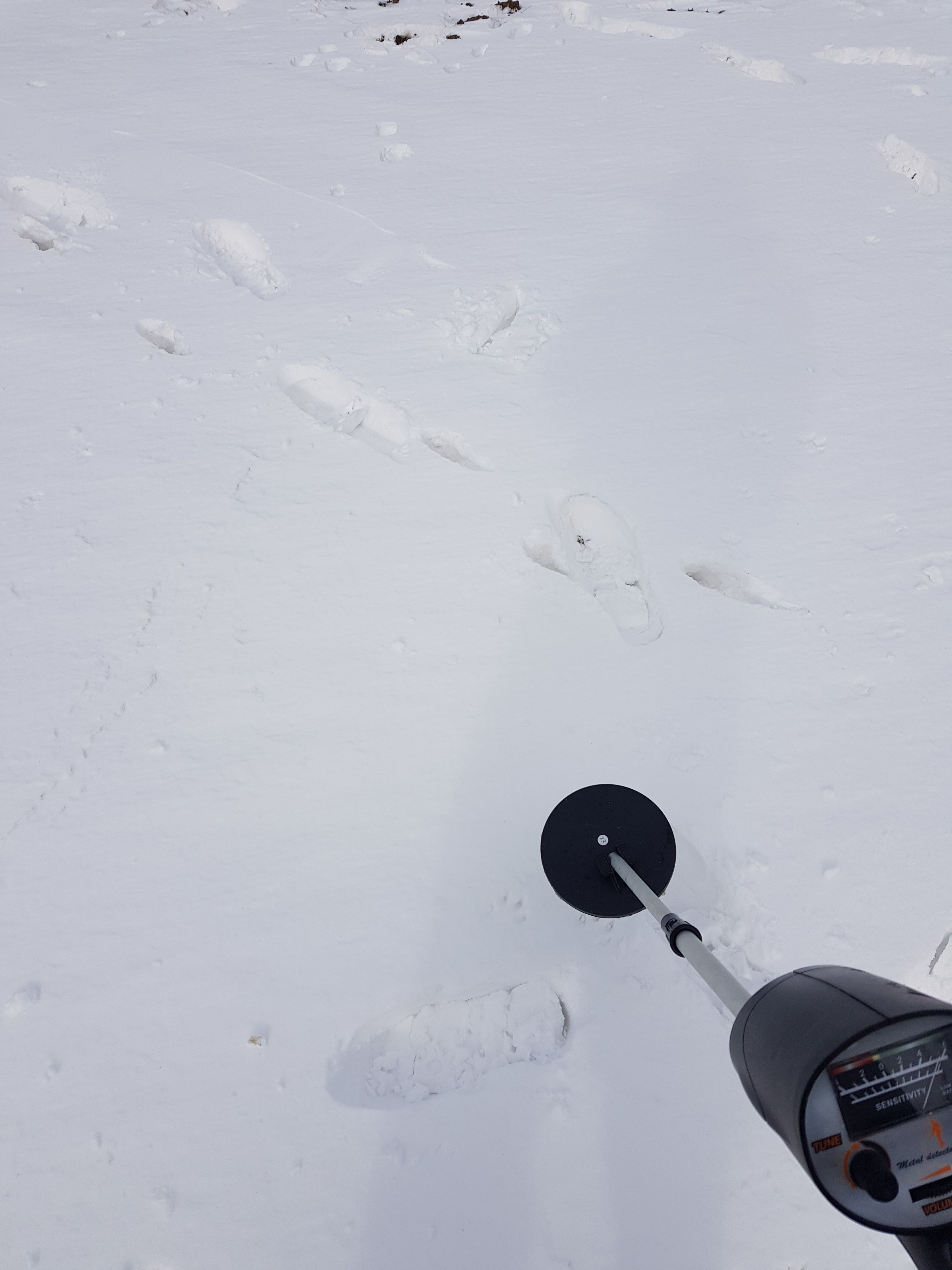 We spent over an hour doing the same lap around the field with no joy. Time was pressing on, I had to collect my girlfriend from work again at 3pm so I took the executive decision to call off the search and head over to Hardwick to hopefully find Wills lost items.
We jumped in my car and headed down into Teversal and took the lane behind the Canarvon Arms heading towards Shirebrook. The roads seemed fine until we got up into the little village of Old Teversal and snow drifts had completely consumed the road. I stopped dead in the road and we spent a few minutes debating the possibility of making it through, we reminded ourselves that we love snow and have a shovel and I pressed on forwards down the icey hill and into the deep snow drift tracks the 4x4s had made throughout the morning.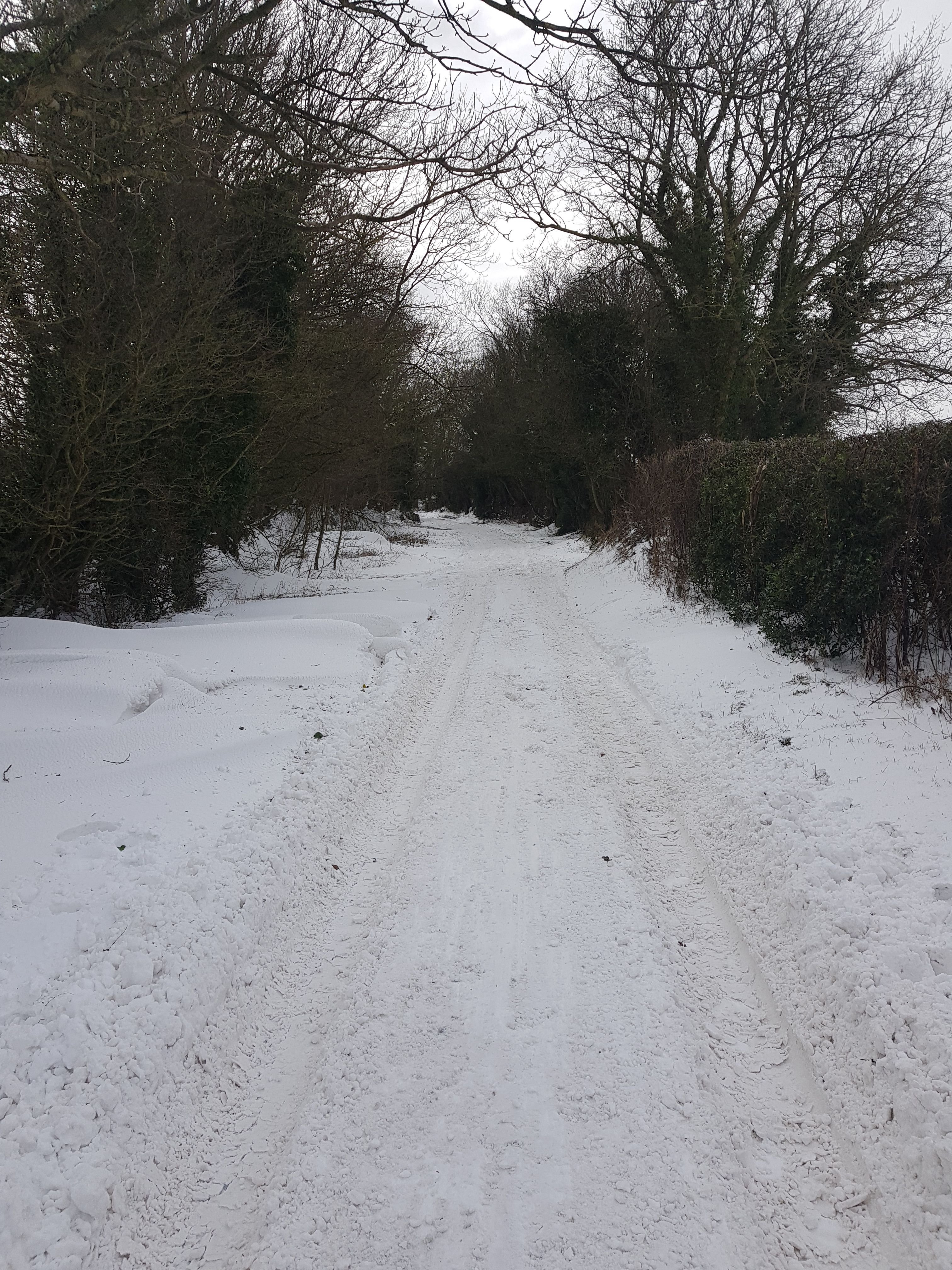 We made it through!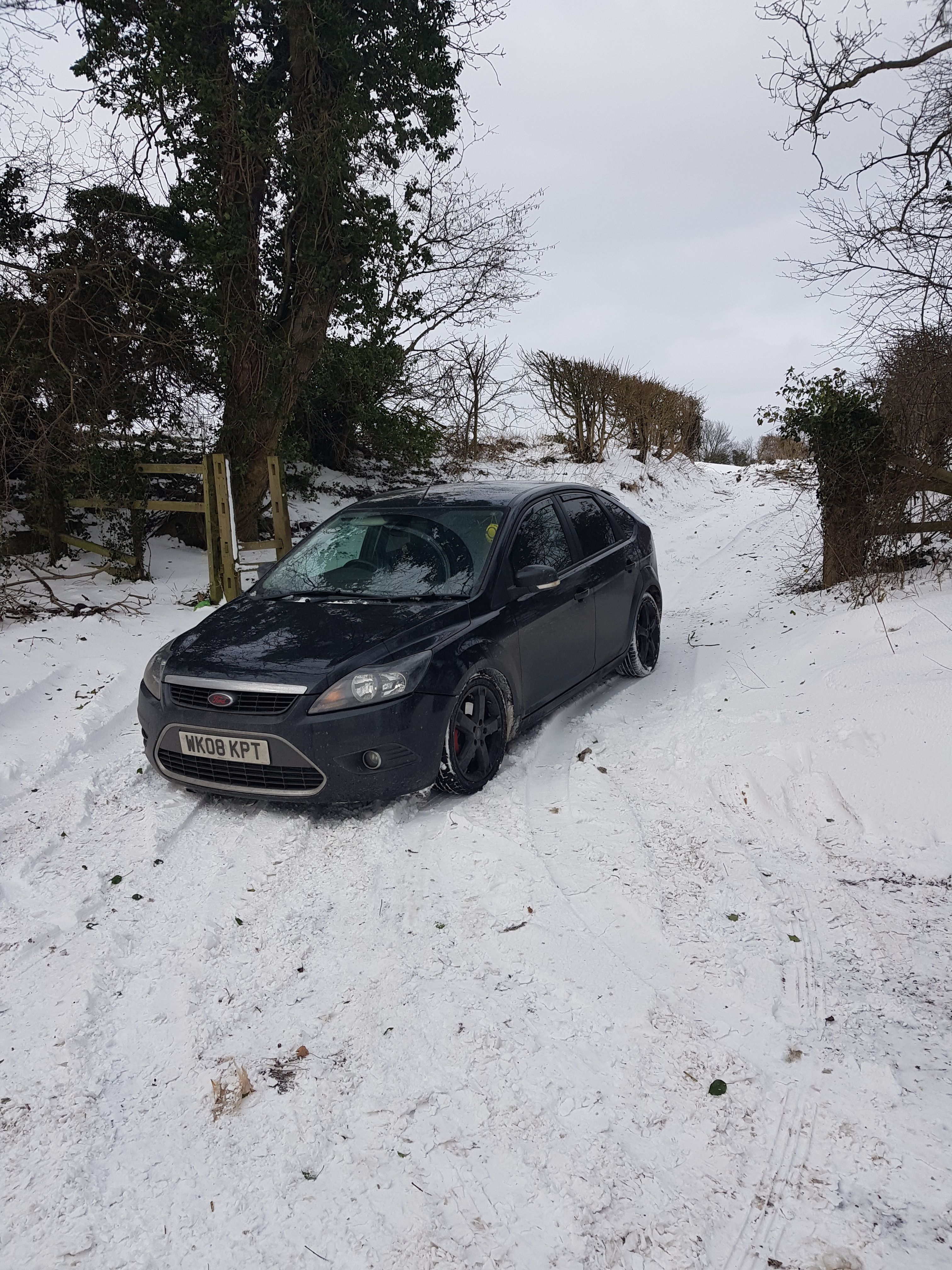 But at the next drift I spun the car around and pulled into the start of a green lane, blocked off with bricks and rubble, no doubt by the local farmer to stop unwanted 4x4s using his lanes.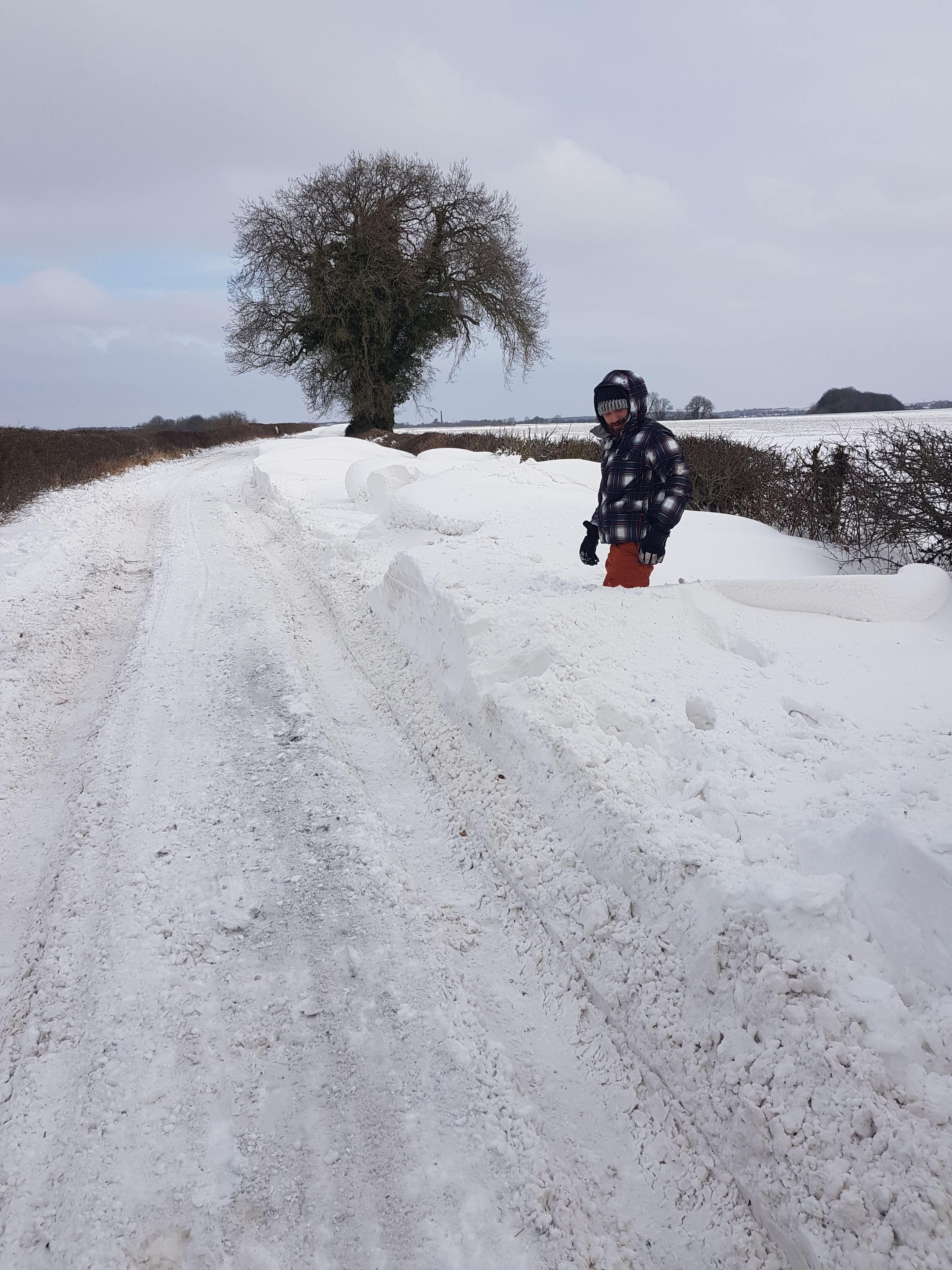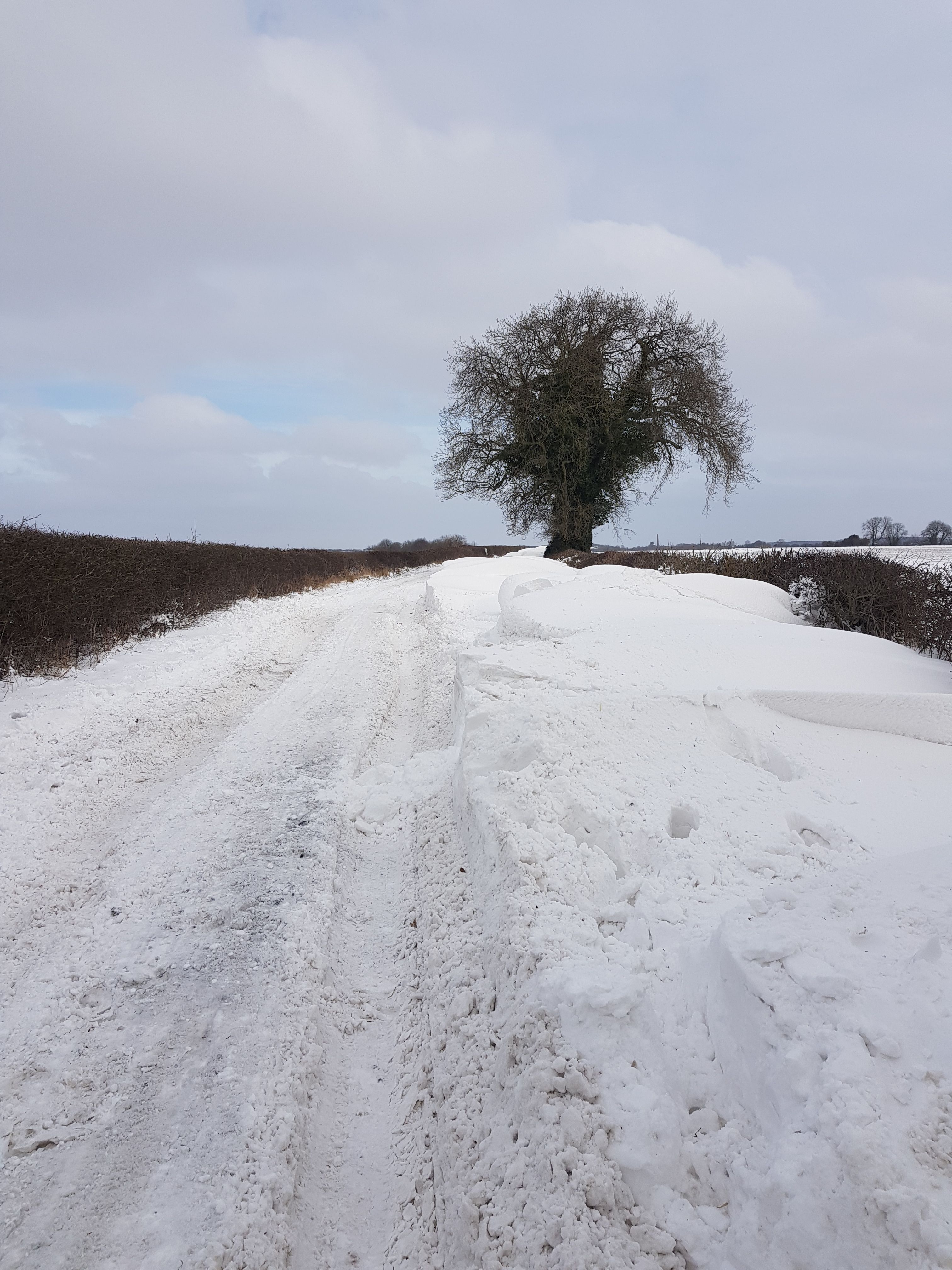 We unpacked the rake and metal detector and headed up the same lane, retracing Wills steps from 2 days previous. We soon met our first obstacle. The snow drift assault course of doom! About 100m of soft drifted snow about 1m high in places, blocked our route through!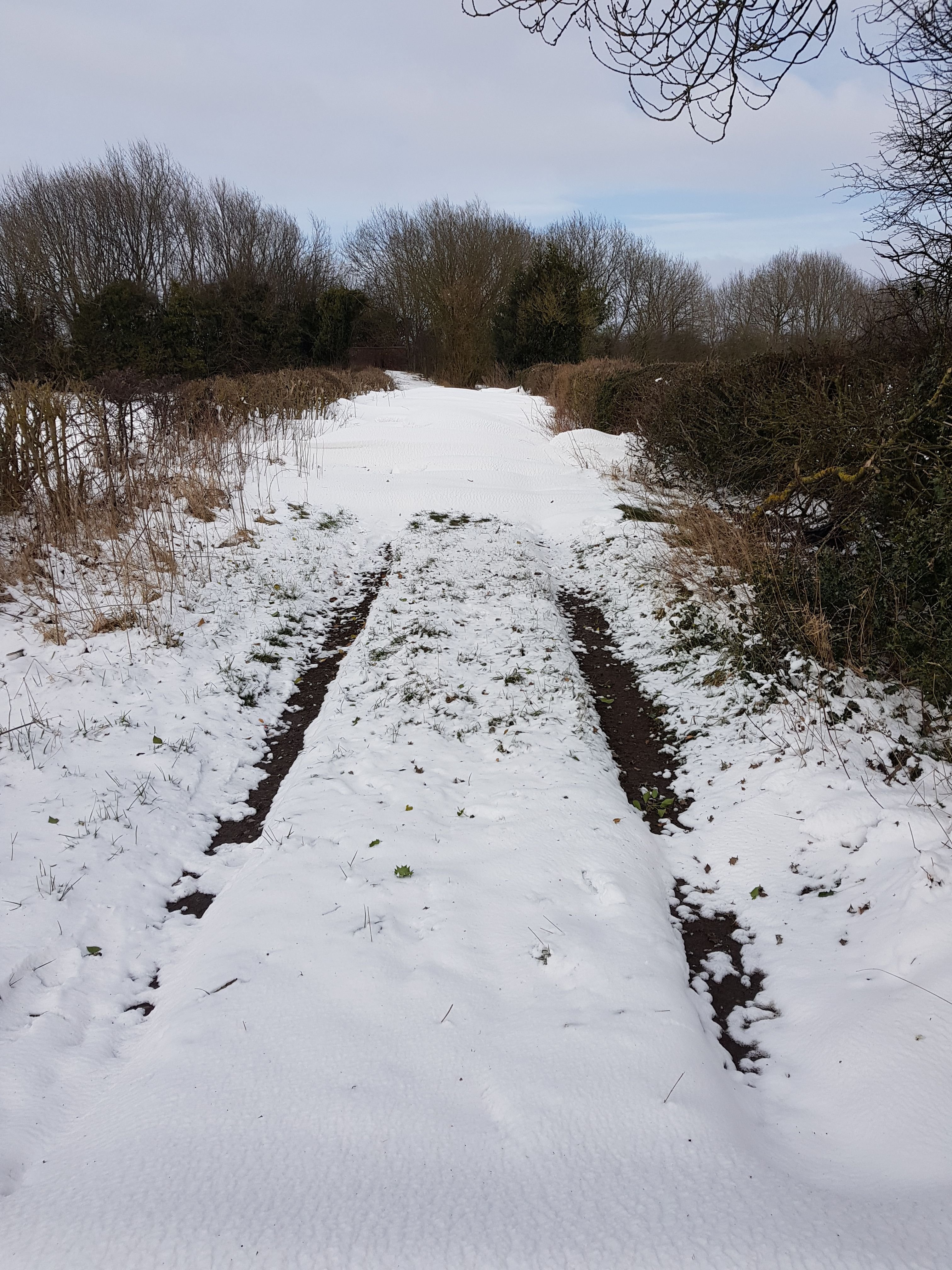 We battled our way through, legs lifting high as we navigated our way down the lane using the shallower parts when possible.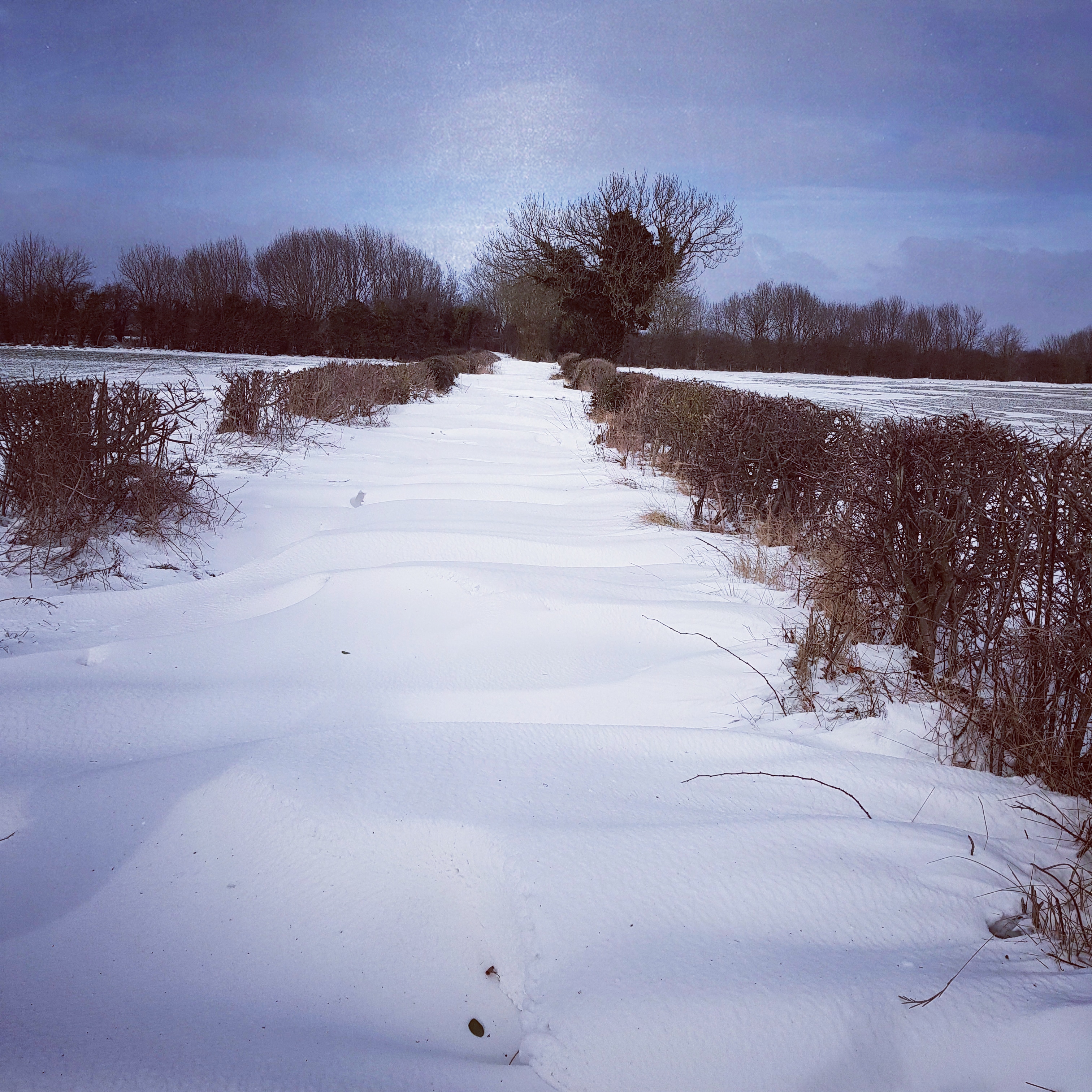 "Jesus, mate, this is way worse than my field!" I said worryingly to Will. "I know mate not got my hopes up for this one!" He replied both of us red in the face from the difficult walk.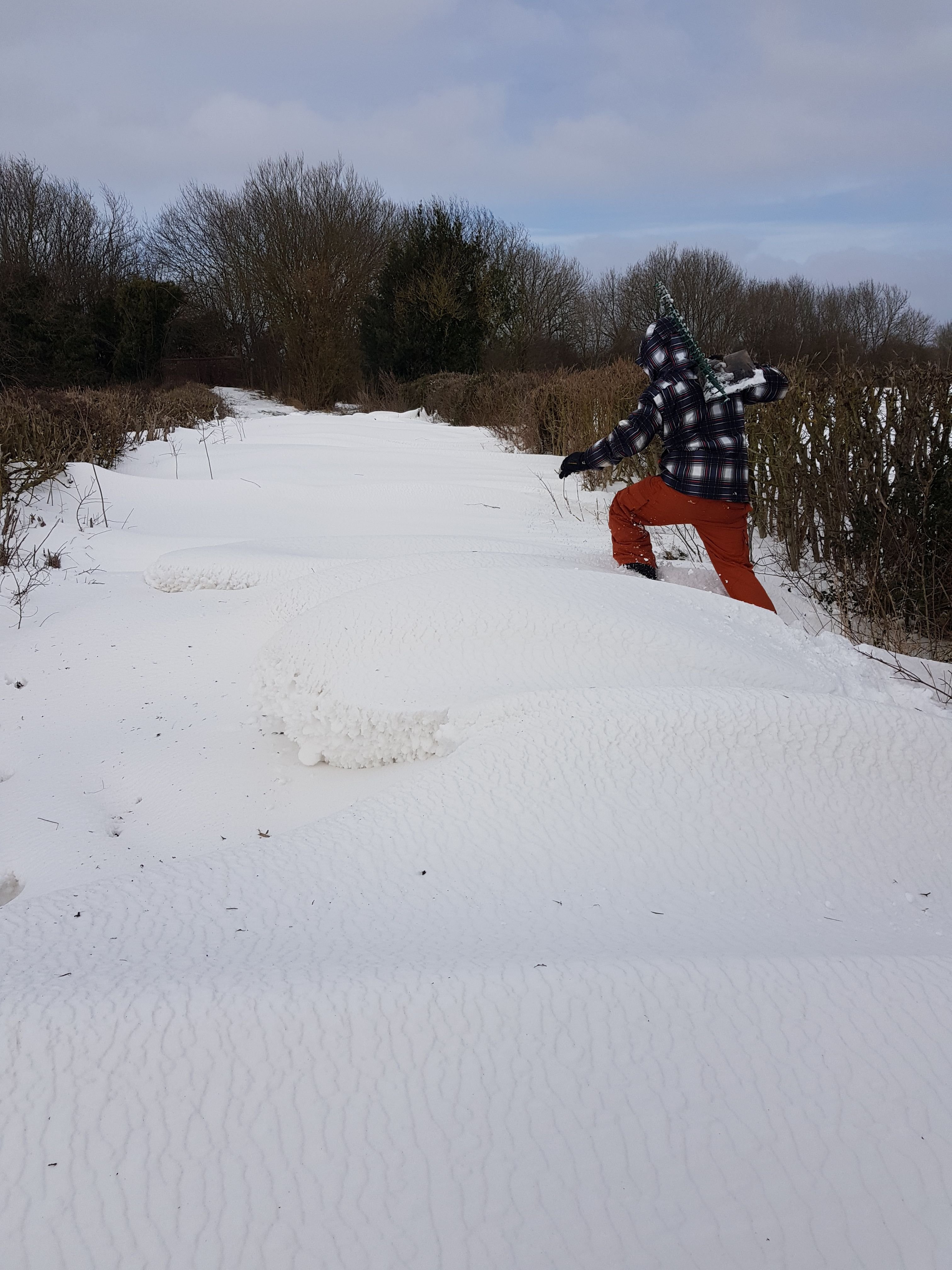 "I did a snow Angel in this next field somewhere, I just can't remember where!" Will warned, as we approached an opening in the hedge at the end of the lane.
"Could be anywhere along this hedge bottom" he said as I looked at a hedgerow running as far as we could see. The snow had drifted up against the hedge like a sand beach, 3 or 4 metres until reaching the soil of the field where the wind had blew it away.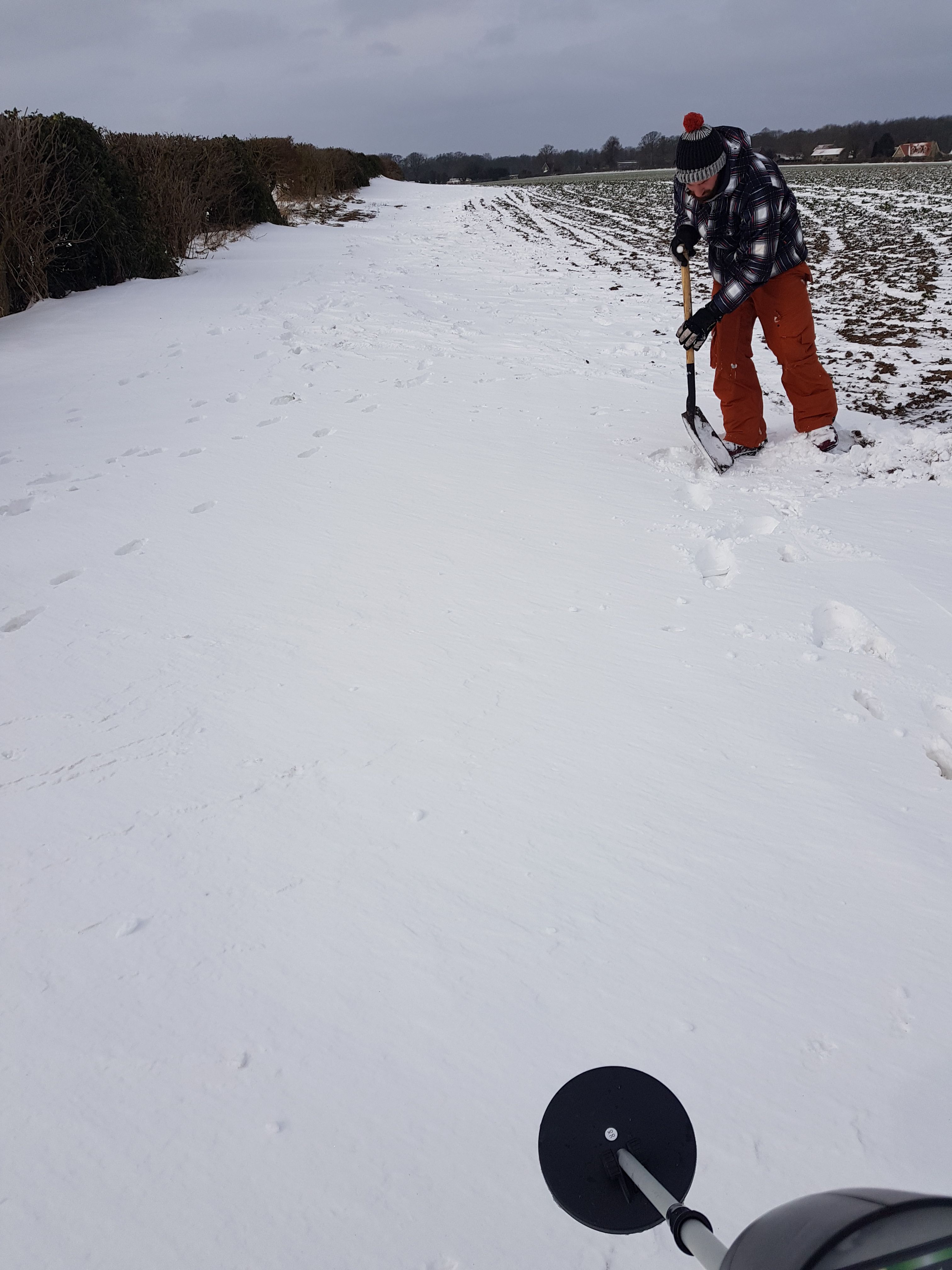 Will began to shovel the deeper snow near the hedge bottom and I scouted the more shallow snow ith the metal detector. This truly was a needle in a haystack situation!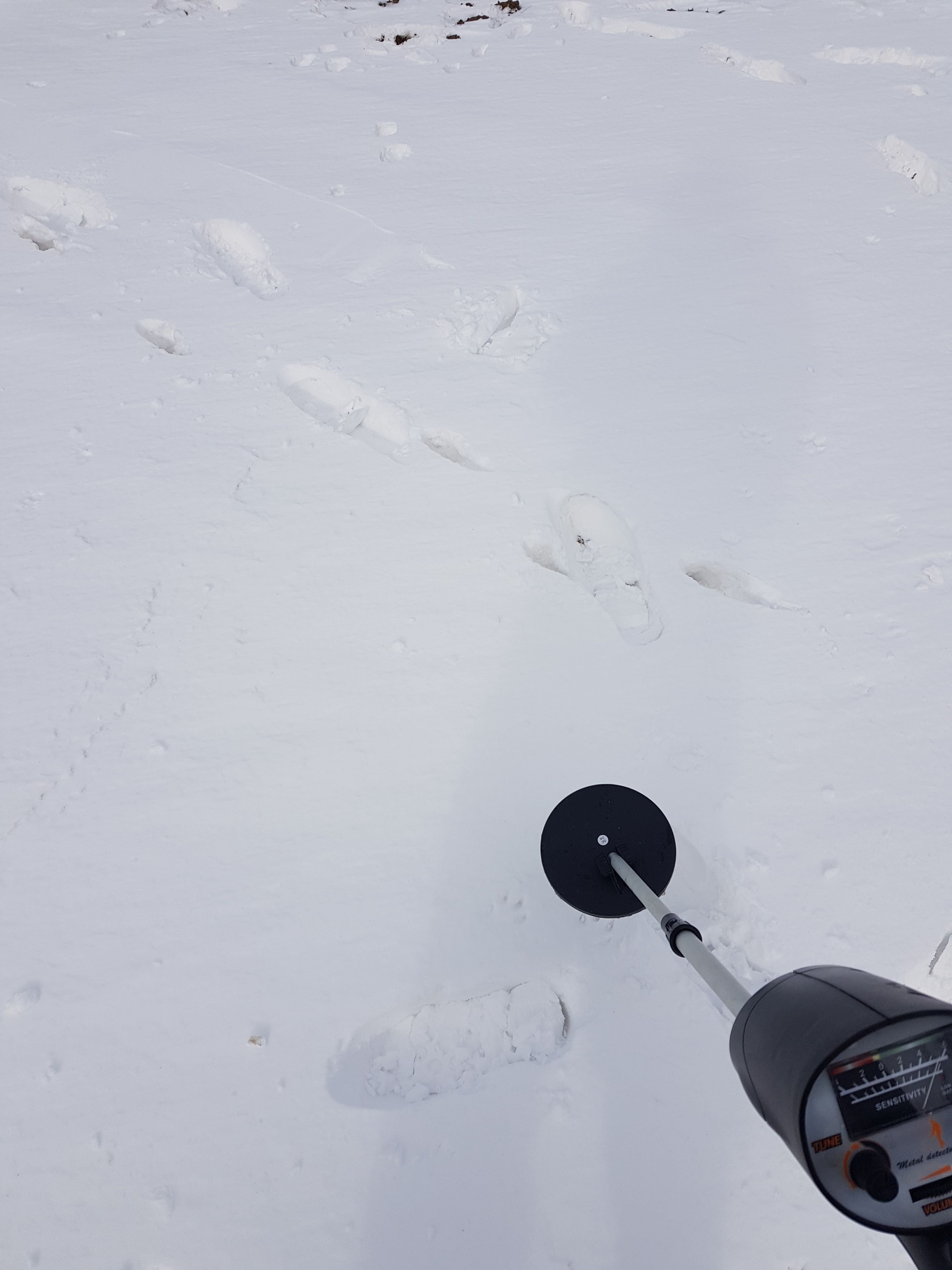 20 minutes or so pass, Will is blowing from all the shovelling and he's a good 10 metres behind me, when I spot a bit of drift which looks fresh and disturbed underneath. It looked nothing like a snow Angel anymore but I scanned around with the metal detector, loud ringing constantly telling me there is no metal when all of a sudden... SILENCE! The tone stopped dead and excitement rushed over me. I began to dig a little into the snow and sure enough I see keys! Lots of keys and a Samsung smartphone too!
"I've got them Will, Will they're here mate!" He ran over and grabbed them and we both jumped around laughing in absolute disbelief and wonder. Such a buzz finding what we set out for.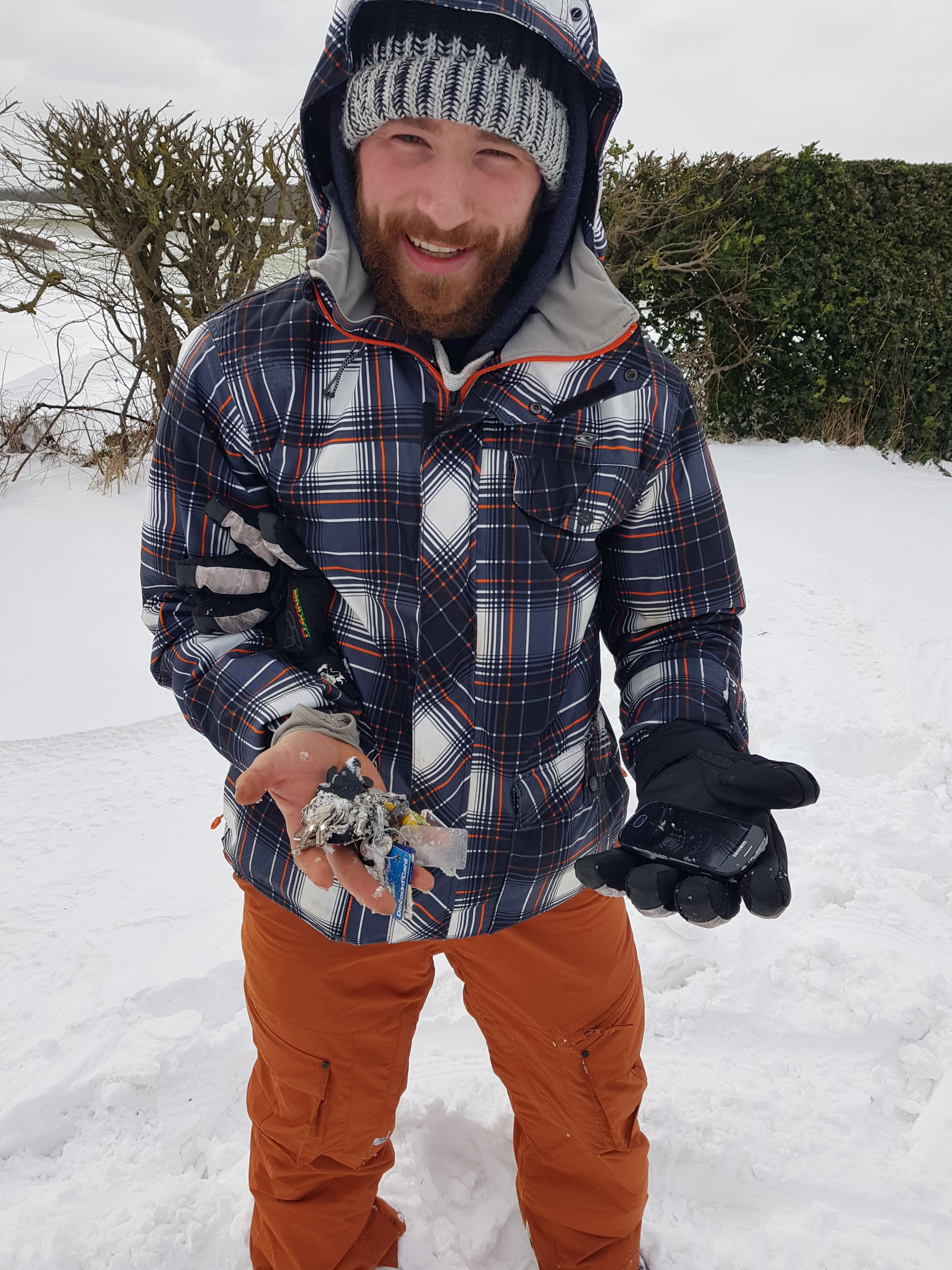 It turned out that Will had lost his van and house keys, his work pick-up keys and his mother's garage keys, which he didn't even realise he had lost until finding them! And of the course the Samsung was unfortunately dead as a dodo.
You may be thinking at this point that were incredibly lucky? Well we certainly were and we decided to try again at the hill I had lost my keys on.
We hiked back through the snow drifts to the trusty Ford Focus, the return journey made easier by our first pathway we'd battled through previously. As we approached roadway we saw a queue of vans and trucks at the otherside of the snow drift to which we were parked. A group of lads were out pushing their mate in his car which had tried what I stopped at and beached itself in the snow drift. Myself and Will emerged from the green lane like guardian angels armed with the shovel! The lads couldn't believe their luck, and soon they were out and the traffic cleared.
"I bet those lads thought, what are the chances of a couple of blokes and a shovel popping out that late when we needed help." I thought out loud to Will as we warmed on the car.
"We've got to find your keys mate, everything about today had got luck on our side." Will replied confidently, with the buzz from finding his keys still very apparent in his eyes.
I put the car in gear and a few minutes later we were back where the morning had started.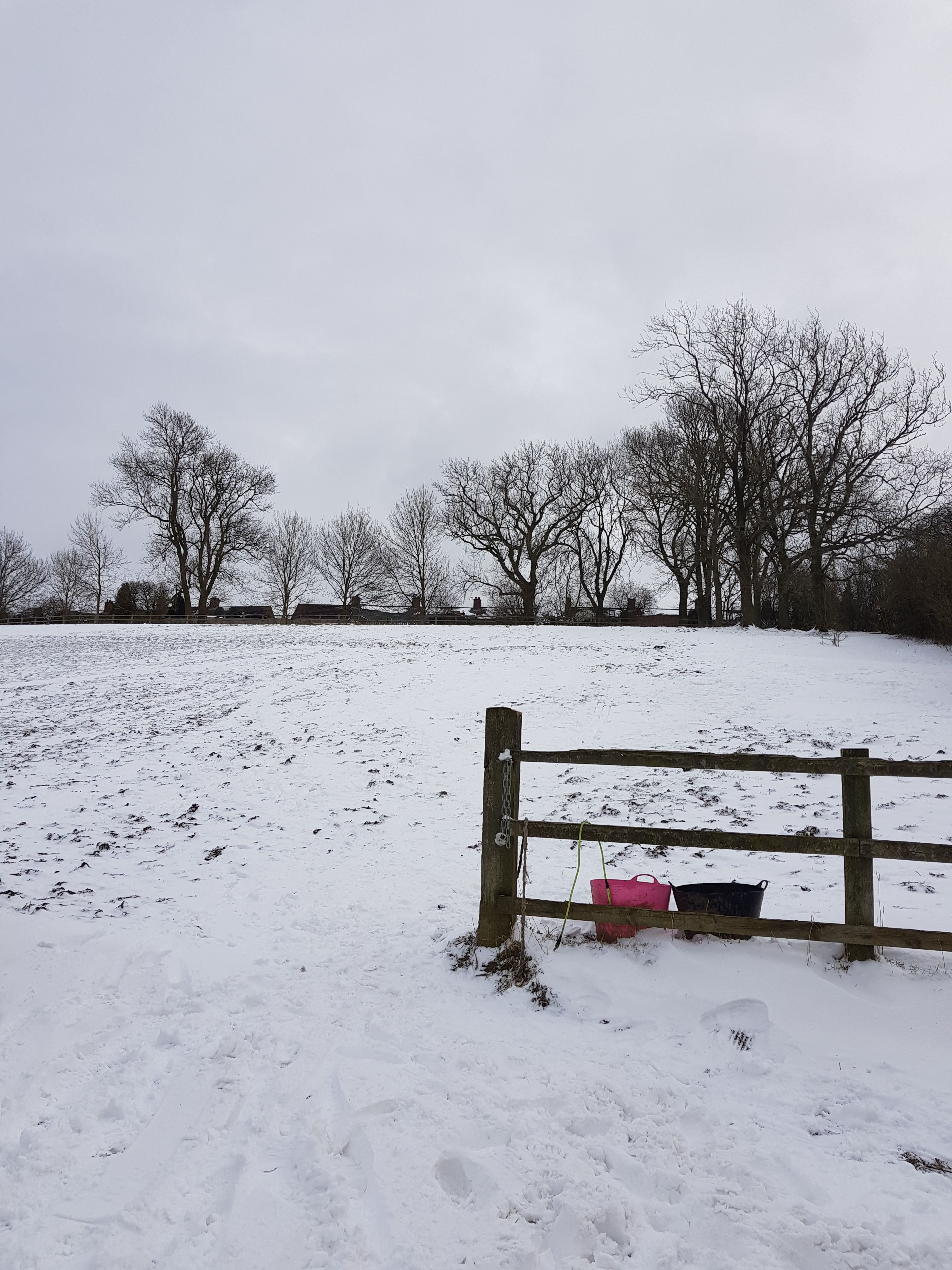 We sat in the car looking up the hillside field in which I was certain my keys lay. I began to rack my memory, thinking of where I did the most activity and when the keys could of most likely fell out my pocket. I came up with a starting point near a tree at the top. We had searched there already but it is where the bags were put down and a snow wall built to shelter the wind the day before.
Will raked the snow and I set about walking up and down in spaced out rows, covering as much area as possible.
Half an hour passed and I declared the area clear. I remembered that we moved over the top of field and I ran a short distance to catch up after forgetting to pick up my coat and the sledge.
I changed my course and began to scan across the top of the field, ice cold wind blowing in my face. Will raked behind me and we were soon 10m away like previously before finding the first loot.
The metal detector changed it's tone slightly but didn't drop dead. I scanned the area around it and then it happened. SILENCE! I looked down into a small imprint in the snow and there they were! My Superman Legoman keyring grinning at me as if he'd been alive having the best game of hiding seek ever.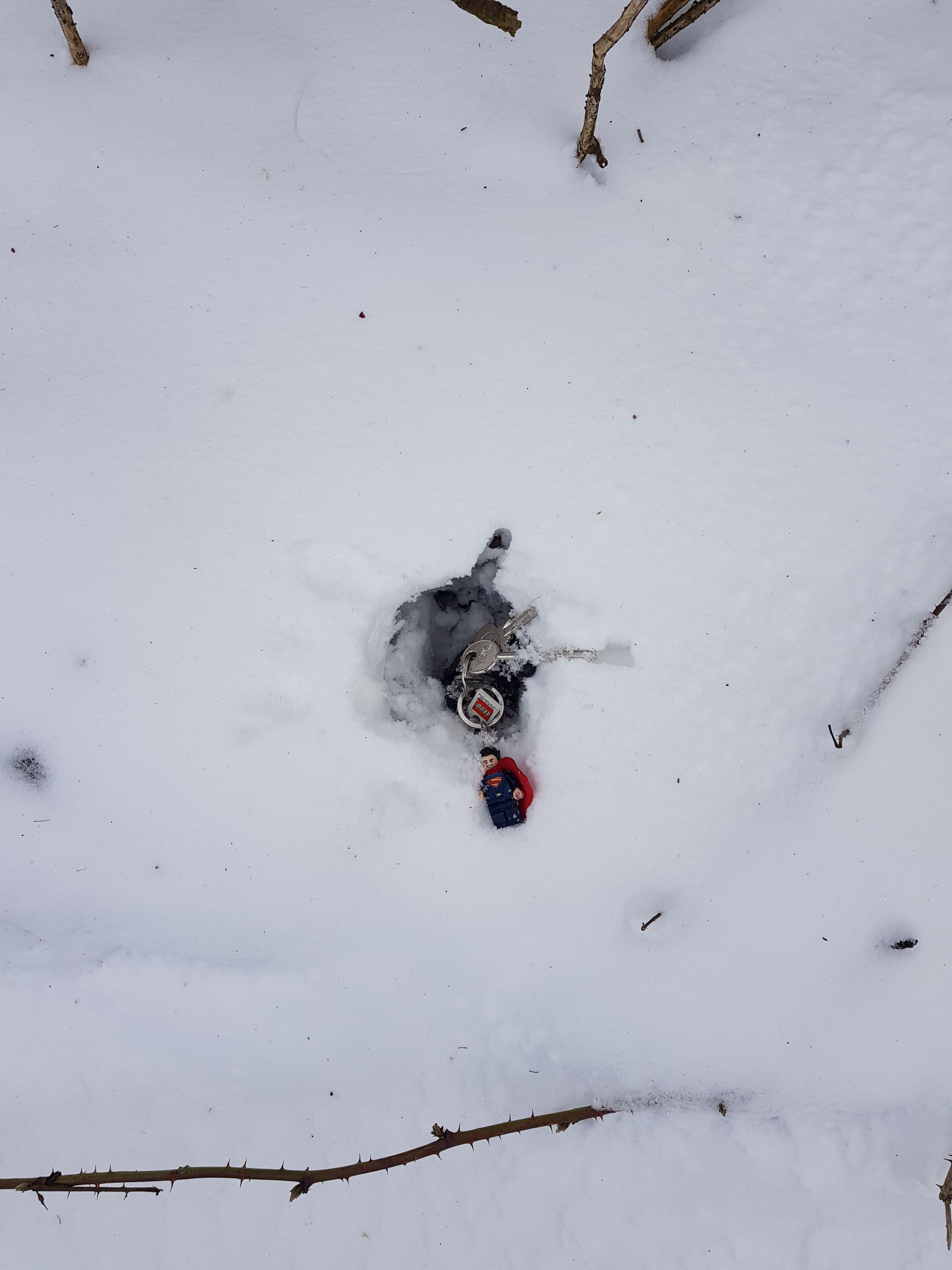 Absolute scenes followed. "Will! I've got them mate hahaha!" We couldn't believe it. All odds against us we'd found everything lost over the last 2 days all thanks to a £50 metal detector from Maplins. It would of cost me that plus more to have the car keys, work fob, and house keys replaced so I was well chuffed with my purchase.
We returned to the car like to hyper school kids and began ringing everyone who knew about our situation to share our excitement and adventure.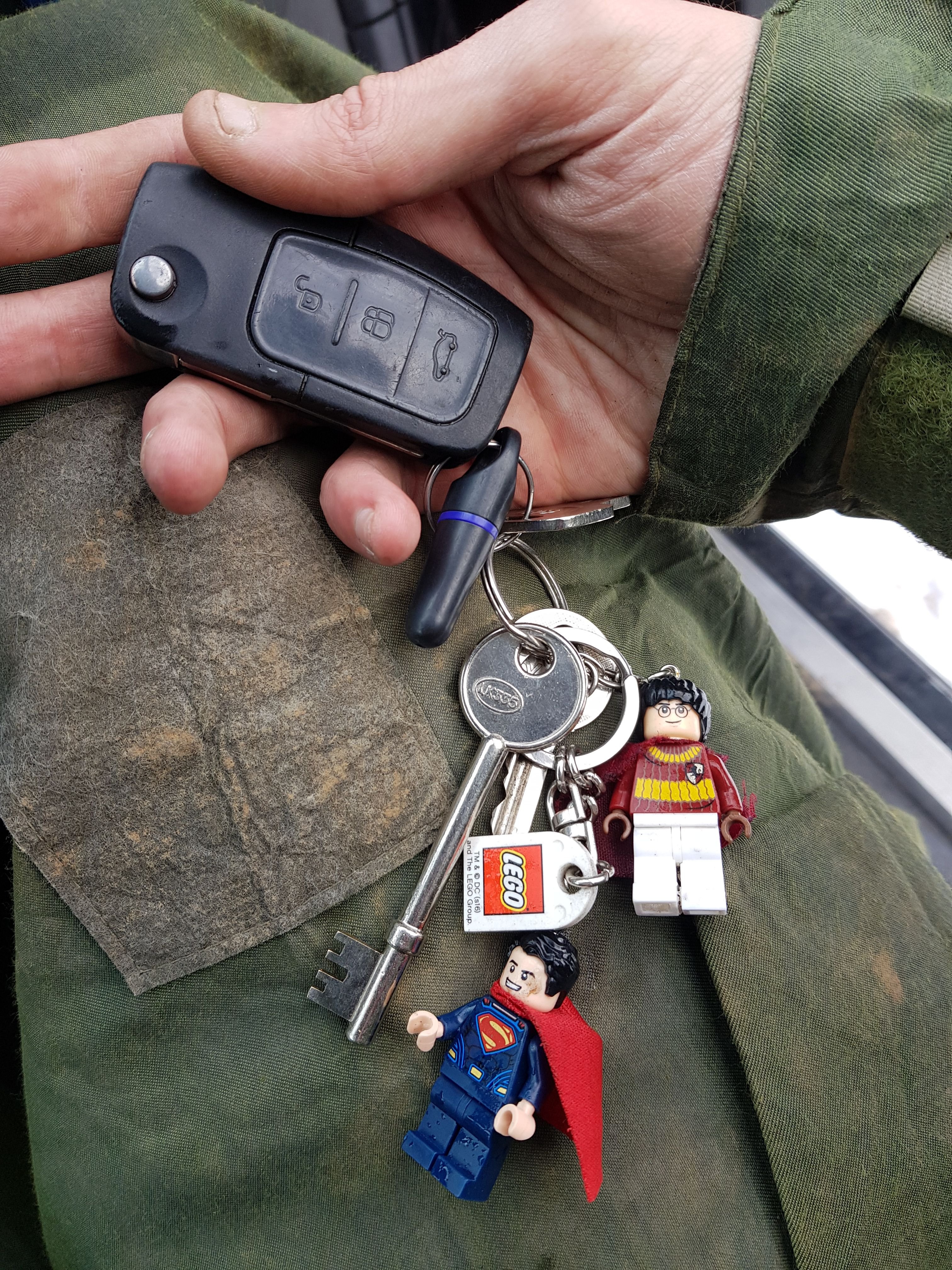 I put the 'lost' car key into the ignition after drying it off, to test it still worked... She fired straight up! Mission accomplished.