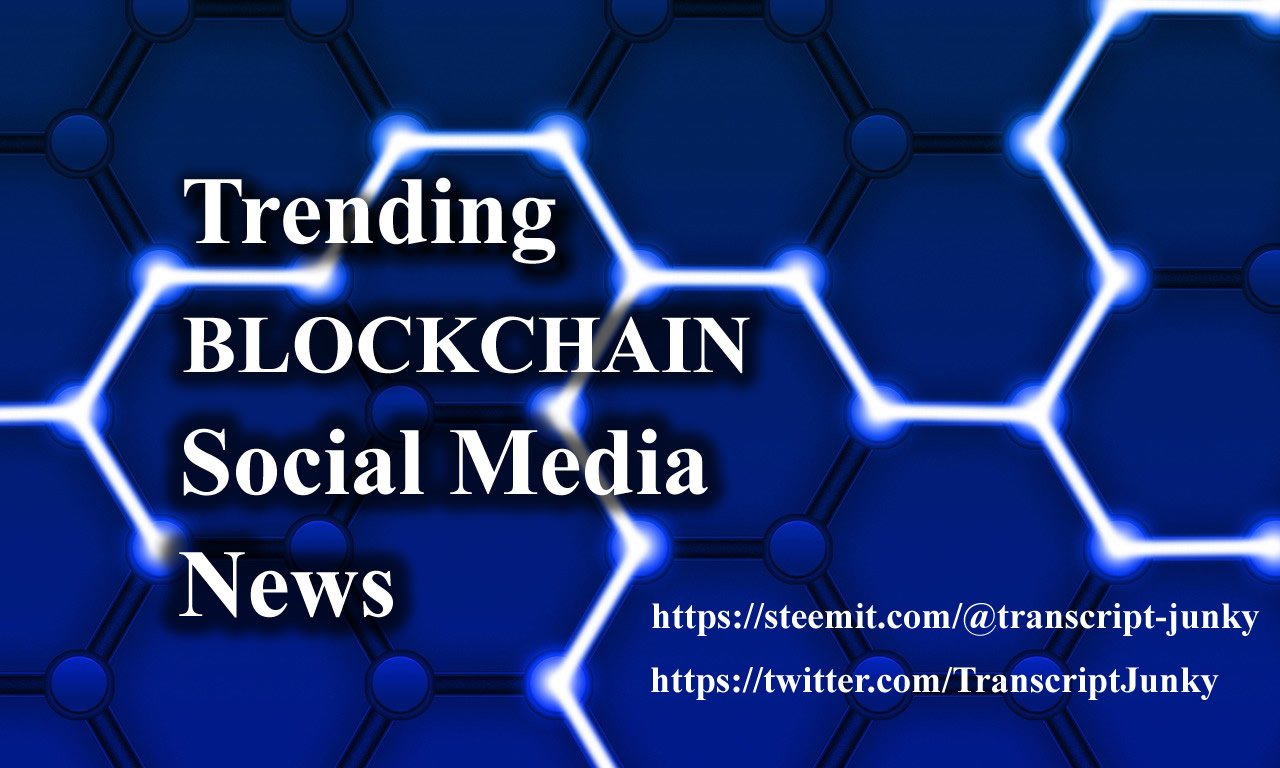 Top Current Blockchain Social Media Related News Resources
Facebook and Twitter Beware — Censorship-Resistant Social Media Is Here
"...Over the past few months, Bitcoin Cash developers have been creating applications that are similar to social media and forum platforms like Reddit, Facebook, and Twitter. Anyone in the world can use these Bitcoin Cash-powered applications such as Memo, Blockpress, Keyport, and Matter which offer censorship-resistant versions of these social media giants..."
Read More : https://news.bitcoin.com/facebook-and-twitter-beware-censorship-resistant-social-media-is-here/
Tweet this : https://twitter.com/TranscriptJunky/status/1051010172313722880
---
How the blockchain could flip Google's advertising economy
"...Much of the recent debate around the damage that large technology companies are causing to parts of the economy, the social fabric of society and democracy comes back to the foundation on which most media organisations are built: advertising... Services such as Google and Facebook are free because users are willing to share information about themselves, which is then sold to third parties in search of eyeballs (and, increasingly, ears – I'm talking about you, Alexa/Siri). You are the product, as the saying goes – platforms are incentivised to gain as many users as possible and to obtain as much data from them as they can...."
Read more : https://www.wired.co.uk/article/blockchain-tokens-google-facebook-advertising
Tweet this : https://twitter.com/TranscriptJunky/status/1051016010797473798
---
How Blockchain Can Solve Social Media Privacy
"...The main drawbacks to social media are the loss of personal privacy, data protection and ownership of information. So the saying goes, "If You're Not Paying for It, You're the Product." However, this 'centralized' control model of social media might be a thing of the past, thanks to blockchain technology. Specifically, ethereum, which brings the next-generation 'decentralized' models of social media. Ethereum is an open software platform that allows developers to build and make available decentralized applications..."
Read more : https://www.investopedia.com/news/ethereum-blockchain-social-media-privacy-problem-linkedin-indorse/
Tweet this : https://twitter.com/TranscriptJunky/status/1051031410805338113
---
Bitcoin Cash Proponent Roger Ver On Social Media Manipulation And Its Relation To Cryptocurrency
"...Recently, Roger Ver, the CEO of Bitcoin.com and an early adopter of Bitcoin [BTC], spoke about social media manipulation and its relation to the cryptocurrency ecosystem. Ver began by speaking about the 50 Cent Party, also known as the 50 Cent Army and its correlation to cryptocurrencies. It is a group of commentators controlled by the Chinese authorities to manipulate the peoples' viewpoint in favor of the authority...."
Read more : https://ambcrypto.com/bitcoin-cash-proponent-roger-ver-speaks-on-social-media-manipulation-and-its-relation-to-cryptocurrency-space/
Tweet this : https://twitter.com/TranscriptJunky/status/1051341490813722624
---
STEEM Technical Analysis: CONSOLIDATING BEFORE NEXT MOVE
"...In my last update, STEEM had broken down and was approaching 12,000 satoshi. I discussed a possible bounce off this support, targeting 13,100. We saw the bounce, but price stopped short at 12,950 satoshi. STEEM is now consolidating between key areas of support and resistance..."
Read more : https://steemit.com/cryptocurrency/@workin2005/steem-technical-analysis-consolidating-before-next-move
Tweet this : https://twitter.com/BitcoinsNGravy/status/1051018574456709121
Tweet this : https://twitter.com/BitcoinsNGravy/status/1051021696029736961
---
This Update Is Brought To You By :
https://steemit.com/@transcript-junky
https://twitter.com/TranscriptJunky
Support Our Efforts & Gain More Followers/Upvotes Via SteemFollower : https://old.steemfollower.com/?r=15236
---
Be sure to check out daily news on Bitcoin/Bitcoin Cash by : @bitcoinsandgravy ( https://twitter.com/BitcoinsNGravy )
Be sure to check out daily news on other cryptocurrencies by : @vlemon ( https://twitter.com/VinnieLemon )