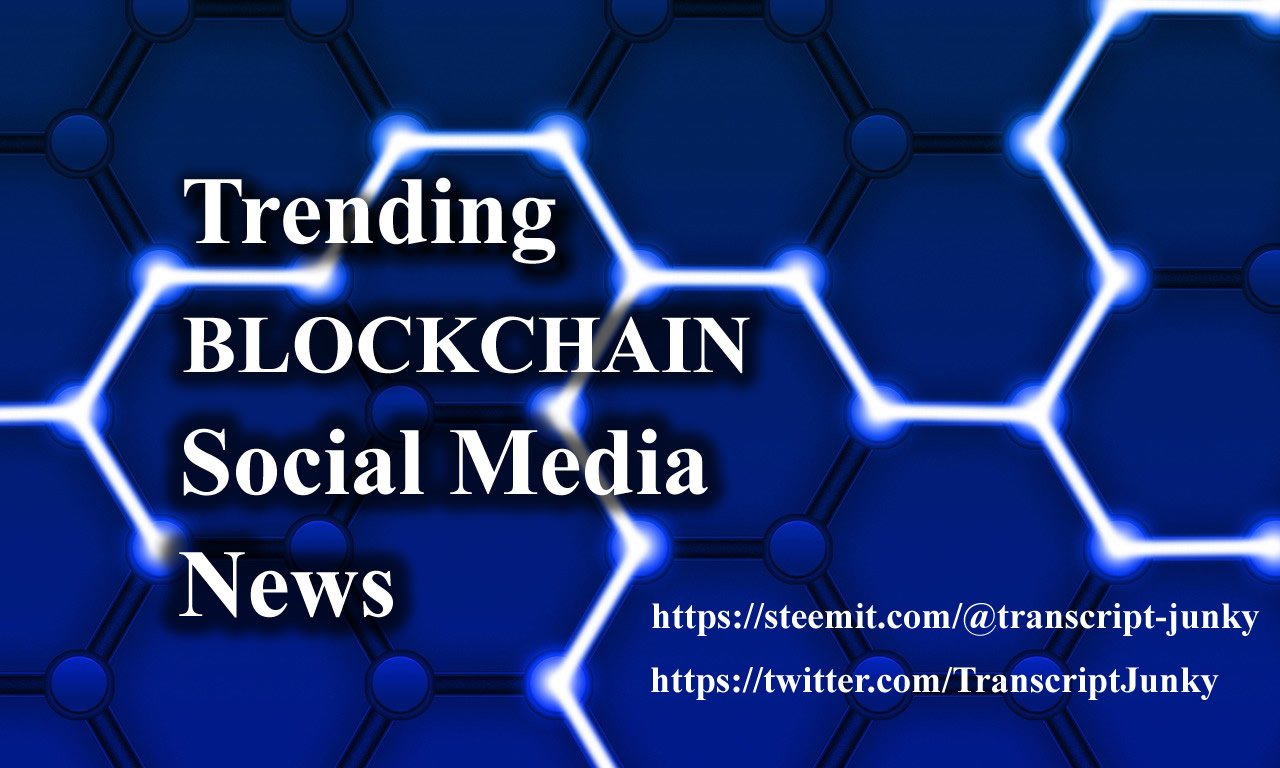 Top Current Blockchain Social Media Related News Resources
Crypto Investing May Have Finally Met Its Tinder Match
"...Crypto needs a killer app and a better sales pitch... "The average consumer just doesn't care about decentralization," Jeff Morris, Jr., an under-the-radar venture investor in the crypto space, told CoinDesk in a recent interview... Through the fund he created last year, Chapter One Ventures, Los Angeles-based Morris has quietly gotten in on some of the buzziest crypto companies over 2017 and 2018 – CryptoKitties, Radar Relay, Blockfolio and Paradigm... But while this side project has stayed out of the limelight, so far, his day job is a household name: Tinder...."
Read More : https://www.coindesk.com/crypto-investing-has-finally-met-its-tinder-match/
Tweet this : https://twitter.com/TranscriptJunky/status/1056442445515247617
---
6 Ways the Blockchain is Revitalizing Social Networking
"...Now, blockchain startups have gone beyond cryptocurrencies. With blockchain systems like Ethereum and NEO offering the ability to run applications and establish smart contracts, there is an opportunity to disrupt all sorts of industries – social networking one of them. The new generation of social networks addresses the disadvantages of a centralized approach to social networking in favor of a decentralized system, thereby bringing about efficiency, privacy, and security gains..."
Read more : https://cryptopotato.com/6-ways-blockchain-revitalizing-social-networking/
Tweet this : https://twitter.com/TranscriptJunky/status/1056946690966474754
---
Why Blockchain Could Be The Downfall Of YouTube Advertising
"...There's an ease to watching videos via mobile our and tablets. The sheer accessibility of watching our favorite shows wherever we are make creating an audience extremely easy, so that online video content not just rivals television but now outstrips it... With recent announcements showing that teenagers are now watching an hour a day of YouTube, you might think that this is huge news for the advertising industry. A captive audience stuck between ad breaks should be every advertiser's dream yet instead, the industry is tainted by fraud and fake news, something even YouTube recognizes...."
Read more : https://www.forbes.com/sites/ginaclarke/2018/07/18/why-blockchain-could-be-the-downfall-of-youtube-advertising/#405a52735cb3
Tweet this : https://twitter.com/BitcoinsNGravy/status/1057097361954983936
---
Overstock's Blockchain Unit Invests $6 Million in Crypto Social Network 'Minds'
"...Overstock.com Inc.'s blockchain subsidiary, Medici Ventures, made a $6 million Series A investment in Minds, an open-source, blockchain-based crypto social network. Under the partnership, Overstock founder and CEO Patrick M. Byrne joined Minds Inc.'s board of directors... "There has been increasing excitement in recent years over the power of blockchain technology to liberate individuals and organizations," Byrne said in statement. "Minds' work employing blockchain technology as a social media application is the next great innovation."..."
Read more : https://www.ccn.com/overstocks-blockchain-unit-invests-6-million-in-crypto-social-network-minds/
Tweet this : https://twitter.com/TranscriptJunky/status/1057235789745188864
---
STEEM (STEEM/BTC) Technical Analysis: WAITING FOR A BREAK OUT OF CONSOLIDATION
"...STEEM has been consolidating between 13,100 and 12,100 satoshi for the past month. A decisive break below could send price falling to at least 11,400 satoshi and possibly as low as 11,000 satoshi..."
Read more : https://steemit.com/crypto/@workin2005/steem-steem-btc-technical-analysis-waiting-for-a-break-out-of-consolidation
Tweet this :https://twitter.com/BitcoinsNGravy/status/1057333717851467776
Tweet this : https://twitter.com/BitcoinsNGravy/status/1057336559987417088
---
This Update Is Brought To You By :
https://steemit.com/@transcript-junky
https://twitter.com/TranscriptJunky
Support Our Efforts & Gain More Followers/Upvotes Via SteemFollower : https://old.steemfollower.com/?r=15236
---
Be sure to check out daily news on Bitcoin/Bitcoin Cash by : @bitcoinsandgravy ( https://twitter.com/BitcoinsNGravy )
Be sure to check out daily news on other cryptocurrencies by : @vlemon ( https://twitter.com/VinnieLemon )