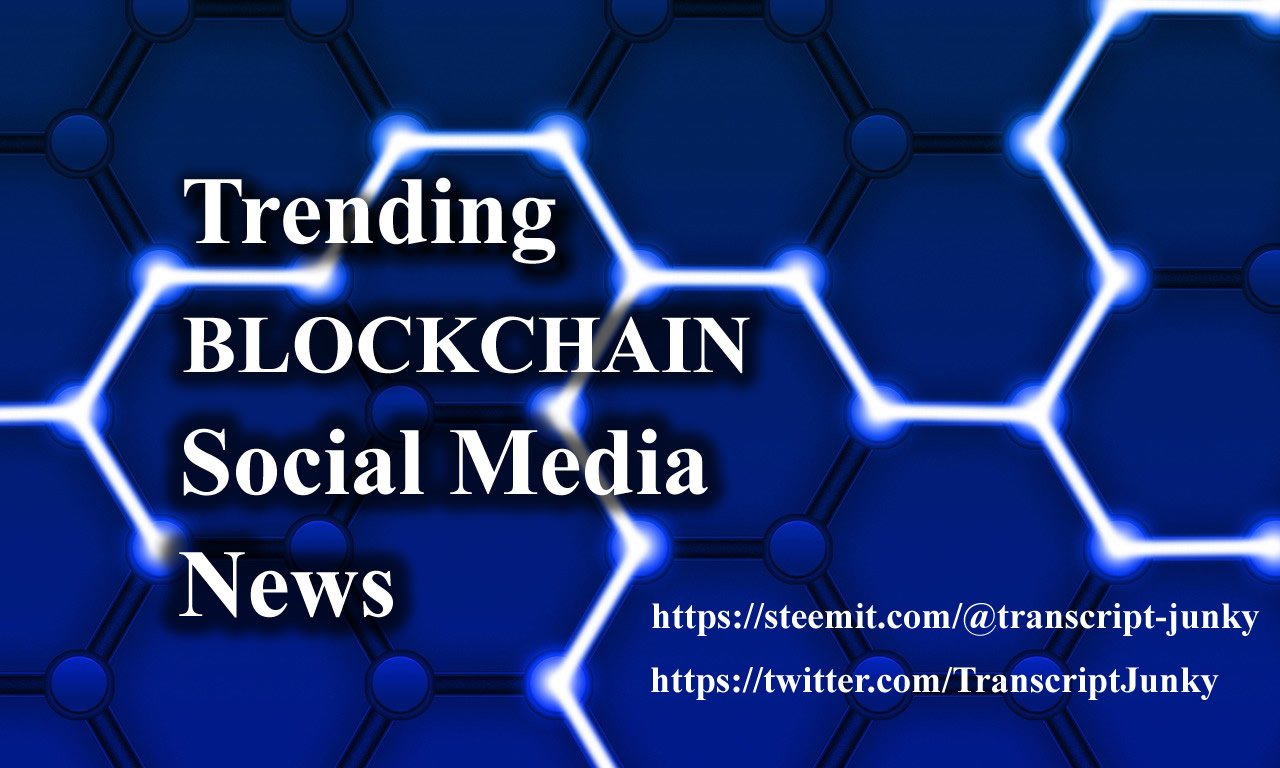 Top Current Blockchain Social Media Related News Resources
Bitcoin And Libra Heading For Social Media Showdown
"... Twitter's cofounder and chief executive Jack Dorsey and Facebook's cofounder and chief executive Mark Zuckerber have emerged as champions of two similar but opposing ideas: the internet needs its own currency, but one sees it as centralized, through Facebook, the other sees it as decentralised, through bitcoin, Billy Bambrough reported in Forbes ..."
Read More : https://www.asiatimes.com/2019/10/article/bitcoin-libra-heading-for-social-media-showdown/
Tweet this : https://twitter.com/bitchikananda/status/1193851075700248576
---
In China, It's Blockchain and Tyranny vs Bitcoin and Freedom
"...What's essential to note is that the "blockchain technology" that Xi and his cadre are pushing is a very different type than the one that helps power Bitcoin. The ledger in the Communist Party's blockchain won't be updated by proof-of-work and Nakamoto Consensus, but by proof-of-authority. Xi's blockchains will be highly centralized for maximum control and are meant to be tools for improved surveillance and social engineering. They couldn't be any farther from Bitcoin, which is open-source, decentralized, censorship-resistant and pseudonymous...."
Read more : https://www.nasdaq.com/articles/op-ed%3A-in-china-its-blockchain-and-tyranny-vs-bitcoin-and-freedom-2019-11-05
Tweet this : https://twitter.com/BitcoinsNGravy/status/1193875308702625792
---
How Bitcoin's Lightning Can Be Used for Private Messaging
"...Bitcoin's lightning network might have a use case beyond faster and more scalable payments.
Last week Lightning Labs developer Joost Jager revealed an experimental, new proof of concept: Whatsat, a version of lightning that can be used to send private messages.
Like bitcoin, it's censorship-resistant. But, unlike encrypted apps that morph messages into unreadable, garbled text to keep messages from prying eyes, there's no central entity to stop users from employing the network..."
Read more : https://www.coindesk.com/how-bitcoins-lightning-can-be-used-for-private-messaging
Tweet this : https://twitter.com/TranscriptJunky/status/1194066538807980032
---
YouTube Enters The Live-Streaming Fight With Blockchain (And Other) Opponents
"...In recent months, YouTube has been positioning itself for another run at the crown. Juiced by the impending arrival of Google Stadia, the company's first foray into cloud gaming, YouTube's been on a hunt for talent it can use to draw new viewers to its platform. It's especially wild when you consider that YouTube — the most popular video platform on the planet — already has stars with millions of followers. That, combined with the fact that the platform also has the most effective video distribution network on the internet, means that YouTube could reshape live-streaming in its image. That is, if it learned its lessons from the last go-round..."
Read more : https://www.theverge.com/2019/11/7/20949743/youtube-livestream-lachlan-couragejd-fortnite
Tweet this : https://twitter.com/BitcoinsNGravy/status/1194114728974417921
---
Facebook's Crypto Boss Is Surprisingly Bullish On Bitcoin
"...Now, Facebook's head of cryptocurrency projects, David Marcus, has said that he sees bitcoin as "digital gold," and while it's held back by its extreme volatility, bitcoin "serves a completely different purpose."..."
Read more : https://www.forbes.com/sites/billybambrough/2019/11/11/facebooks-crypto-boss-is-surprisingly-bullish-on-bitcoin/#25f9d4c81867
Tweet this : https://twitter.com/TranscriptJunky/status/1194148428739014658
---
This Update Is Brought To You By :
https://steemit.com/@transcript-junky
https://twitter.com/TranscriptJunky
Support Our Efforts & Gain More Followers/Upvotes Via SteemFollower : https://old.steemfollower.com/?r=15236
---