Hello steemians,
i've read so many inspiring steemit life changing stories, today i upvote and quote a comment from Fukumineko: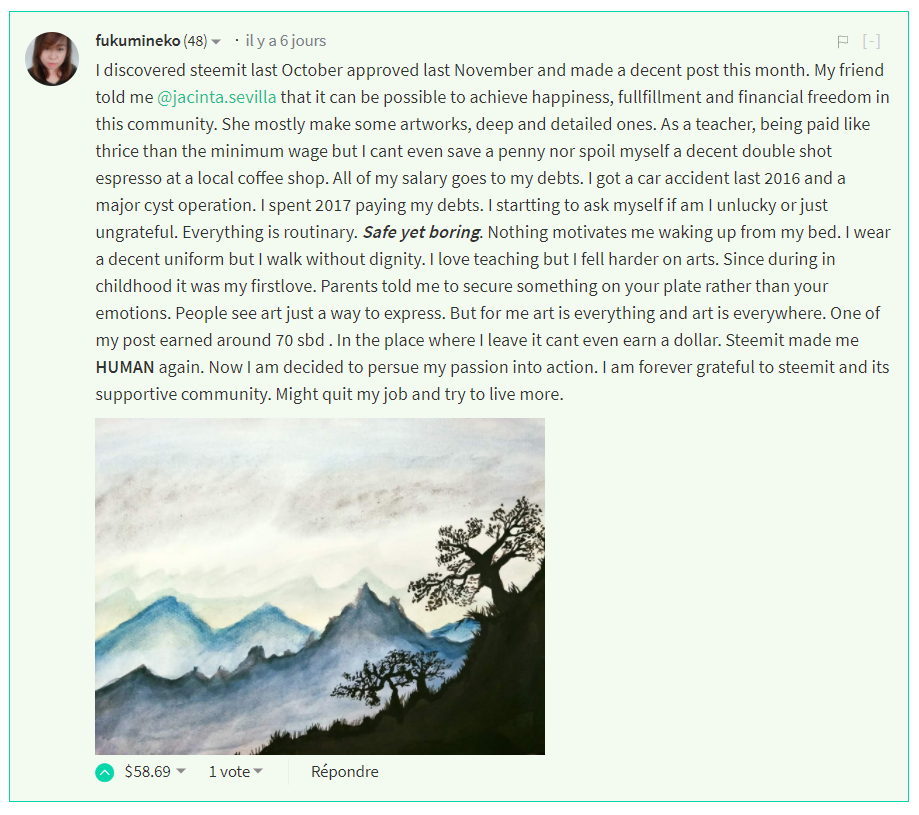 your story is touching and inspiring me because you explain how life can quickly turn bad having an accident then being in trouble with debt and fortunatly finding a way to become financially free and be able to reconnect with your passion and feel human again.
I cant even save a penny nor spoil myself a decent double shot espresso at a local coffee shop. Fukumineko
The current society economic model is totally unbalanced as the Rich continue to be richer at the expense of the poorest.
82% of the money generated in 2017 went to the richest 1%
http://www.bbc.com/news/business-42745853
Half of the worlds wealth now in hands if 1% of population
https://www.theguardian.com/money/2015/oct/13/half-world-wealth-in-hands-population-inequality-report
80% of hymanity lives on less than 10$ a day
22 000 children die each day because of poverty
http://www.globalissues.org/article/26/poverty-facts-and-stats
We all know this world is outragously unfair depending on where you are born.
              The question is what could we do about it?

Help the poor giving money to charity fund is great but is it a long term viable solution?
I think it is a great short term solution to help the poor to provide the minimum they absolutly need now but in a long term perspective we need to help the poor countries to get out of debt and construct a solid economy to provide job , education and hospitals...
Create a fair new economic model
What is the point anayway to accumulate indifinitively more and more money?
1.5% tax on billionaires could educate all the world's children
https://work.qz.com/1185496/the-worlds-richest-people-could-pay-for-universal-education-with-just-their-taxes/
There is no reason to let people accumulate money over a billion $ as it only provide power and doesn't change their quality of life.
I think we could put a worldwide hard cap on personal weatlh. If somebody get over 1 billions $ all the profits are reinvested to create a strong economy worlwide, build schools and hospitals in poor countries...
If the richest countries combined would participate with 1% of their income it would end extreme poverty worlwide next 20 years
https://www.visionofearth.org/economics/ending-poverty/how-much-would-it-cost-to-end-extreme-poverty-in-the-world/
10% of world military spending could knock off poverty
https://www.reuters.com/article/us-global-military-goals/just-10-percent-of-world-military-spending-could-knock-off-poverty-think-tank-idUSKCN0X12EQ
Why do we still need to go at war? Do you really want to kill friendly steemians? Do we really want a nuclear war?
This is totally ridiculous how we could let it happens, it just blow my mind how we don't arrive to unit worlwide to fight such disgrace.
Our system need to change, we need to help the less fortunate to access a decent life, get out of debt.
As fukumineko story shows us the income effect of steemit has change her life, gave her back confidence and passion to live happy, got out of debt and feel human again.
Crypto demonstrate a new viable economic model, how we can actively change lifes simply sharing rewards, i hope it will inspire humanity to finally find a better equilibrium.
Richer could finally find enought heart to help the less fortunate person to have a decent life.
It is not a matter of political convictions but human dignity.
Richer we are bigger is our responsability to help for a better world.
I am sure the only way to peacefully change our future goes with communication to create waves of global awakening.
Share your toughts!