This is a copy of a question I was asked on Quora;
What would you do to the person who has hurt you badly but still expects you to do everything good to them, and if you do anything bad to them they will blame you for doing wrong despite their mistake in the first place?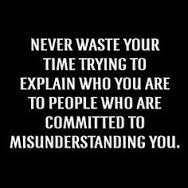 I was in the middle of searching for something important, and had no intention of letting myself be distracted.....
HOWEVER, on the off-chance that this is what I think it is, I cannot in all good conscience, not say anything, I am going to be as clear as possible, because very often the feelings of the one that is suffering are really unnrcessary and dreadful. With me I know without a doubt that I loved this man so unconditionally it as - I remember waking up in the morning and feeling like I was like a washing machine there were so many crazy situations everyday.
You can't apply societal norms to the sort of person I think you may unwittingly have become involved with a person with antisocial personality disorder and I just hope you aren't with the sort of person, I'm afraid you might be with.
if you have children, do you feel that he is too strict and militant
does he demand quiet during mealtimes?
I don't know how to find out who you are, but I'd just love to carry you away from the bubble you're living in and drill you about
what a strong person you are and don't
when your gut tells you this feels wrong then it is
do not rationalize that the things going on are normal..
I BELIEVE I MAY HAVE A BETTER ANSWER BECAUSE I WASTED 8 YEARS OF MY LIFE TRYING TO GET SOMEBODY TO KEEP TO THE PROMISES HE'D MADE..WHO LOOKS, ACTS, SPEAKS, SEEMS TO BE EVERY INCH THE PERFECT CHOICE FOR A SITUATION HE OR SHE HAS SET THEIR SIGHTS ON.
(Last saved 1m ago)
if you aren't already, you are heading for a world of hurt
You started your question asking "What would you do?" and that alone is the first plea that convinces me that your situation is a very real one. The sad fact is that there is absolutely nothing you can do. You can try and he/she will act as convincingly as the most upstanding citizen while you pour your heart out, trying to make them understand why what they did was wrong, why it hurt you etc, and they will act contrite, claim they've understood and promise that it won't happen again.
Let me give you an example of something hateful (that seems silly unless it's happening to you). One of the ways he throws you off balance is this bizarre way he acts
that one day doesn't seen to follow the next;
he expects forgiveness for something that upset you and anyone else who was around and expects you to totally banish any bad feelings that may linger. Often he will want a kiss if it's in front of people, either friends, parents even the children. He'll often do the same to the children .
These are some symptoms to watch out for and if you can score more than 3 you have a problem.
Antisocial personality disorder
Disregard for others' needs or feelings
Persistent lying, stealing, using aliases, conning others
Recurring problems with the law
Repeated violation of the rights of others
Aggressive, often violent behavior
Disregard for the safety of self or others
Impulsive behavior
Consistently irresponsible
Lack of remorse for behavior
Please leave this person A:SAP, they are very unpleasant, cruel individuals, capable of behaviour you couldn't even imagine.
to be continued