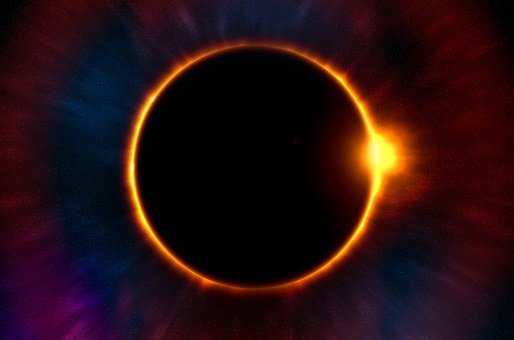 On the eve of today's highly anticipated premiere of the Solar Eclipse , being hailed already as "the event of the century", we caught up with the main star (no pun intended) of the live televised show, Ms. Moon herself.
Here's what she had to say:
"Listen honey, just call me Isis. All my besties and followers still do, even though my name has been recently hijacked! What your audience may not know is that I've been in show business a loooong time.
I started off way back in the black and white days with walk-on parts in movies like 'Nosferatu'. We all got to start somewhere, and that role was pretty important, it got me a lot of attention from the big studios.
Anyways, lots of movies followed: 'Shine on Harvest Moon', 'The Twilight Saga:New Moon', 'Transformers: Dark of the Moon', and of course 2009's pivotal movie, simply named after me; 'Moon', with Sam Rockwell and Kevin Spacey as my supporting actors. That one definitely put me on the solar map, if you know what I mean."
We asked how she feels acting opposite the Sun himself.
"Well, you know, I still get slightly nervous, but like it's in a good way, like an adrenaline rush, you know? I'm still simply in AWE of the Sun, like he has been the brightest star of all for like, forever, the Solar King, and some people still worship him like a God. So, getting a chance like this to actually ECLIPSE him and have him playing the supporting role is the stuff dreams are made of."
What about the full nudity?
"Well, listen. It's not like anybody hasn't seen my backside before. I've been mooning everyone forever. In fact, I do it so often it's even been named after me. It's just part and parcel of modern reality TV, right? Look, we know it's a family show so there are special glasses available and sensitive people are being warned not to look directly at me. I think it's all a little O.T.T. It'll all be over pretty quickly anyhow. Most will only see a partial eclipse."
We asked the Sun about accepting a supporting role, and for a few final words before the main event:
" It has been embarassing (bare ass pun?) recently with people stopping regarding me as the biggest star. I don't know why. They have even been advised not to look directly at me in public. That hurts. I rarely get asked for autographs anymore. I'm hoping this can turn things around again. I've been preparing for this role for a while. Anyhow, a guy's gotta work, I don't have the fanbase I once had and the opportunity came up. So I took it."
And what about your leading lady, Ms.Moon.
"She's simply the best. I mean, honestly? She just puts the rest of us in the shade."
With over 10 million hits on the trending page of Google within the last 24 hours in America alone, we are sure follow-ups, (with rumors of a possible spin-off series), and those all important Awards ceremonies won't be far away!!