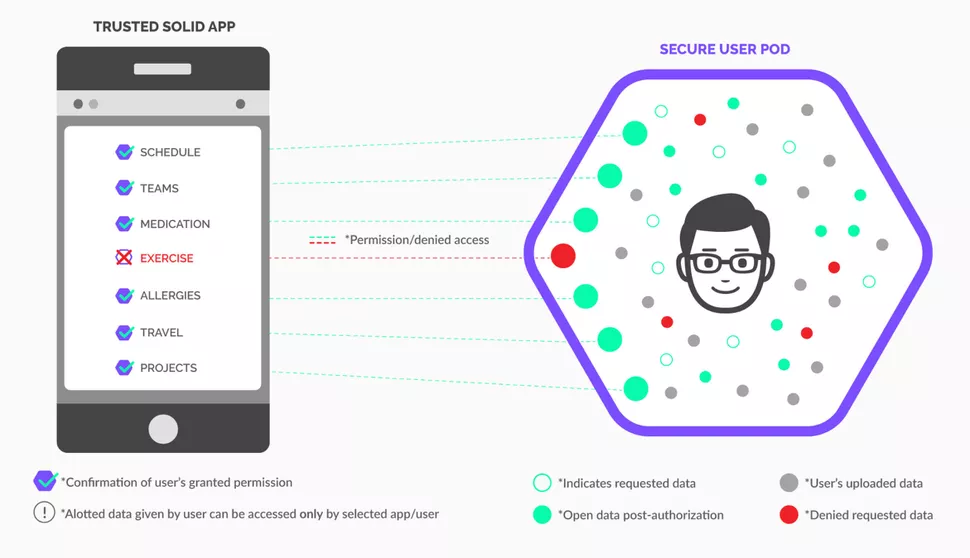 Image Credit
"The future is so much bigger than the past" - Inrupt.com
News of Tim Berners Lee's new startup, Inrupt has hit mainstream media with a vengance these past few days, however there hasn't been much publicity of this on Steem so I thought I would write my thoughts on the topic.
Who is Tim Berners Lee?
London born, knighted as Sir and also known as TimBL, he is foremostly known for being the inventor of the World Wide Web, or the Internet as we know it today.
Tim founded the World Wide Web foundation which focusses on establishing the open Web as a global public good and basic right to be accessed and used freely. TimBL is also the director of the World Wide Web Consortium (W3C), with its purpose to develop standards for the World Wide Web.
TimBL has been keynote speaker on TED Talk and even at Ripple's Swell Conference in 2017, exhibiting a positve attitude towards blockchain in general.
Inrupt.com Startup
Inrupt was co-founded by the aformentioned TimBL and John Bruce, business leader and former CEO of IBM acquired Resilient Systems. Inrupt Inc, a member of the World Wide Web Consortium was created with the mission to promote the new Open Source Solid standard and build a commercial ecosystem to fuel Solid's success. It has recently made waves in the media with press releases in major news outlets with claims that TimBL the founder of the Internet will once again disrupt very nature of the web as we know it and allow users to take back control from the corporate data harvesters through containerised data under the control of the user.
The Solid Standard
The Solid project can be found in the community Github and more information can be found at https://solid.mit.edu/ and https://solid.inrupt.com/, there is also a Gitter.im chat available for further engagement.
After reading all of the media hype I have to admit I was a bit underwhelmed once I had a look at the implementation of the technology, firstly their Github has the slogan "Re-decentralizing the web", this is a bit of a misnomer because the solution isn't very decentralised at all, and in fact is based around what is termed a Solid Pod, which is a virtual container where users will store their personal data and have control over who to share the data with. Each user identity will be assigned a WebID which will server as a universal identifier.
The reason I say the solution isn't very decentralised is because currently the Pods are designed to be hosted on a VPS or by a centralised hosting provider of which there are currently only two options listed on the Inrupt site, either Inrupt themselves or the community project offering Pod registration and provisioning.

You could also host your Pod on your local machine or on USB storage if you like, but the Pod itself is a single point of failure whichever way you look at it, unless you are diligent in creating backups or use cloud storage like Google Drive or Dropbox, which is still centralised in nature.
The very design of this system leaves your data reliant on centralised providers such as Dropbox, Microsoft Azure, VPS providers and Inrupt themselves, coming from a blockchain background, I immediately thought that Pods should rather participate in a sharded network structure and commented the below in the Solid Github issue #183
From what I understand a Solid Pod is essentially an encrypted container for your online identity and data, it does not exist in any distributed context and as mentioned above is a single point of failure and hence, once located, is easily censored as well. A more robust network could be created by treating Pods as nodes for sharding purposes, you would still need a Pod to join the network and house your data but it would also add to the global sharding pool, where encrypted shards of data from x other pods are stored within your Pod and in turn your data is sharded to other Pods.
This basically creates a self-healing network where you could essentially rebuild your Pod from the shard network if the host server ever failed. Timestamped version restore capabilities would also be useful, should your sharded data ever become corrupted or compromised, allowing rollback to a previous state archived by the shard mesh network.
Basically, a Pod as a single container is a nice idea as a starting point, but with sharding, each new Pod that joins would also add to the security and immutability of the Solid network community and make it a truly robust and technically marvellous concept.
How does Steem fit in?
"The enemy of my enemy is my friend"
Both the solid project and Steem share the same goals of democratising and decentralising the internet and breaking the stronghold that the big corporate data harvesters currenly have on their users and provide very little value in return.
Solid is gaining alot of recent media coverage and it would be a good idea to have the Steem name associated with Solid and feature within Solid's community in some supportive form, which will serve as product placement or embedded marketing of Steem.
Inrupt states that Solid is "A place where entrepreneurial developers can innovate and generate revenue, and trusted businesses provide ancillary products and services.".
Steemians, as ambassdors of the free internet should answer this call and think of ways that Steem apps can integrate with Solid user identities.
Solid is seeking develpers to build apps and the Steem ecosystem has many developers who can take up the mantle.
I have taken the liberty of creating Solid Github issue #197, inviting the Solid Github owners to signup with Utopian.io.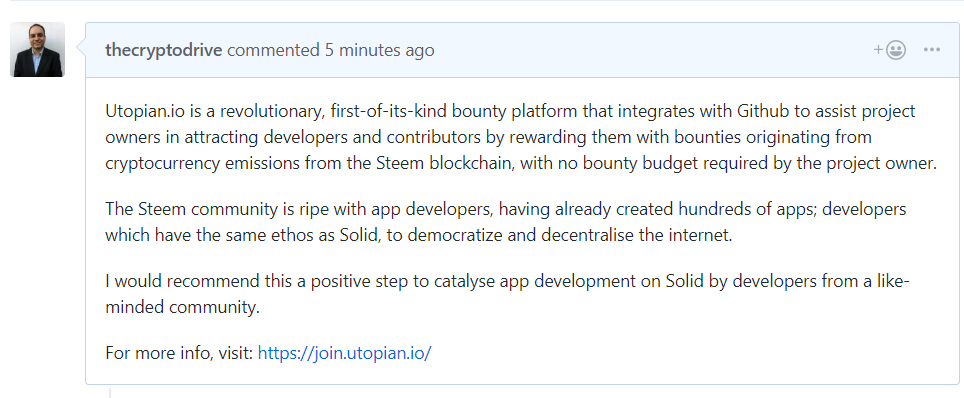 I have opened this door and invite Utopian representatives @elear and @techslut to engage in this issue further.
Furthermore as mentioned above, TimBL is on occassion available for public speaking events and have been engaged by Ripple in the past for their Swell event. It would be a novel idea to invite TimBL to speak at Steemfest Krakow this year and even though this could be a moonshot, he may just accept in order to attain further coverage for Inrupt and Solid. Details on how to contact TimBL's agents for speaking engagements can be found on this link and I hereby tag @roelandp to asses the feasibility of this idea.
I look forward to the disruption of the internet as we know it and to seeing Steem helping lead the charge in the eye of the public.
Sincerely,
Ricardo Ferreira
@thecryptodrive
BuildTeam CEO and Steem Witness
---
---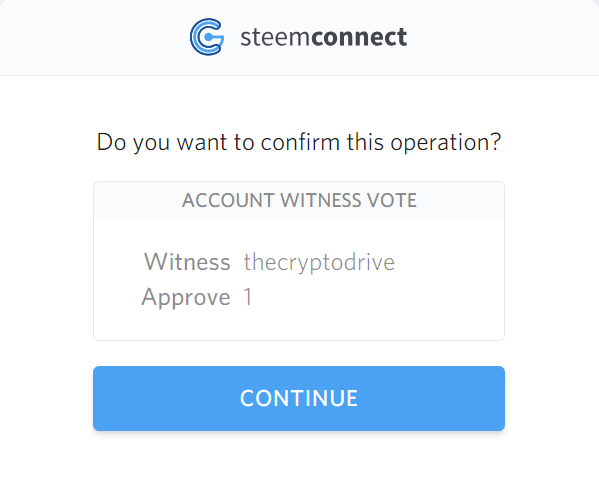 ---