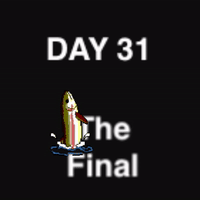 🎵 Europe - The Final Countdown 🎵
---
---
Finally "it's done"!
I didn't think I could keep up a 30-day challenge, but I did it and it was a lot of fun.
Actually, I had a little help. I used Steemauto, developed by @mahdiyari, to publish my prepared articles on a scheduled basis. This tool is great if you can't be online every day. You can prepare your articles and put them on hold up to seven days in advance. Steemauto has many more possibilities, but you better discover them for yourself!
Yes, this 30-day song-challenge was a good way to easily generate content, steem and reputation. It has helped me a lot to rise a little and now I can continue to support minnows. I do this mostly in hashtag #lacasadelmilagro. I always find South Americans there, especially from Paraguay and Venezuela. These people need cryptos because their own currencies are worth virtually nothing. Of course, most of these proud people would never beg for a vote, but they are happy about every little cent.
Venezuela in particular is in a disastrous political and humanitarian situation. Inflation has destroyed the currency and food production has largely ceased. Believe me, there's a famine. Of course, people with cryptos cannot buy food if no food is available. But they can at least pay doctors and medicines with crypto currencies, so some of the misery can be alleviated.
Music connects the world!
So if you guys want to do something good make sure to visit #lacasadelmilagro every now and then! A small vote won't hurt you but it may save lives!
---
---
My special thanks go to @connecteconomy who has initiated #song-challenge. Feel free to participate, the "rules" are explained in this article.
---
I would also like to thank the following people who have supported my work right from the beginning or every now and then:
---
You were all offered to listen to these songs:
01 - The Hives - Blood Red Moon
02 - The Proclaimers - I'm Gonna Be (500 Miles)
03 - The Beach Boys - Surfin' U.S.A.
04 - Elvis Presley - Always On My Mind
05 - The Arrows - I Love Rock 'n' Roll
06 - Gloria Estefan, Miami Sound Machine - Conga
07 - Chris Rea - Driving Home for Christmas
08 - The Beatles - Got to Get You Into My Life
09 - Jimmy Soul - If You Wanna Be Happy
10 - Billy Joel - Leningrad
11 - Kate Bush - Wuthering Heights
12 - Fats Domino - Blueberry Hill
13 - Elton John - Crocodile Rock
14 - Queen - Crazy Little Thing Called Love
15 - Aretha Franklin - Respect
16 - Bach - Cello Suite No.1 in G (Artist: Mischa Maisky)
17 - Adriano Celentano & Claudia Mori - 30 Donne Del West
18 - Rick Astley - Beautiful Life
19 - Slade - Universe
20 - The Beatles - Yesterday
21 - Placido Domingo - Maria (West Side Story)
22 - David Bowie - Heroes
23 - USA for Africa - We are the World
24 - R.E.M. - Losing My Religion
25 - George Michael - Faith
26 - Stevie Wonder - You Are the Sunshine of My Life
27 - Shania Twain - You're Still The One
28 - Leonard Cohen - Famous Blue Raincoat
29 - Phil Harris, Bruce Reitherman - The Bare Necessities (Jungle Book)
30 - Frank Sinatra - My Way
Thank you, my friends! Please support #lacasadelmilagro!
Gracias, amigos míos! Por favor, apoye a #lacasadelmilagro!
Greets to @banjo & @cleverbot!