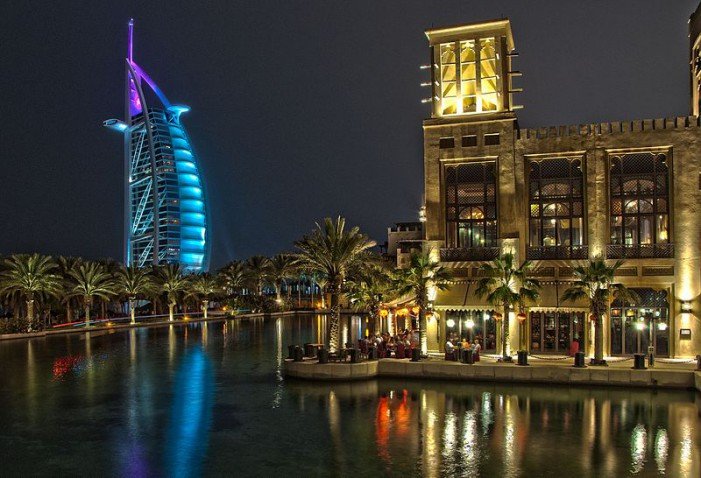 source
Think about it once, sitting in a restaurant surrounded by glass under the water, is spending time with your loved ones, served in front of you all delicious food from home and abroad. Understand that a rare marine fish swim across the glass beside your side, so that you can catch hands, but you can not catch it. Want to go to the environment? There really is such a place! And that is the underwater restaurant of Dubai's Burj Al Arabian's most luxurious hotel in Dubai. What else is there in the hotel? These are our presentations.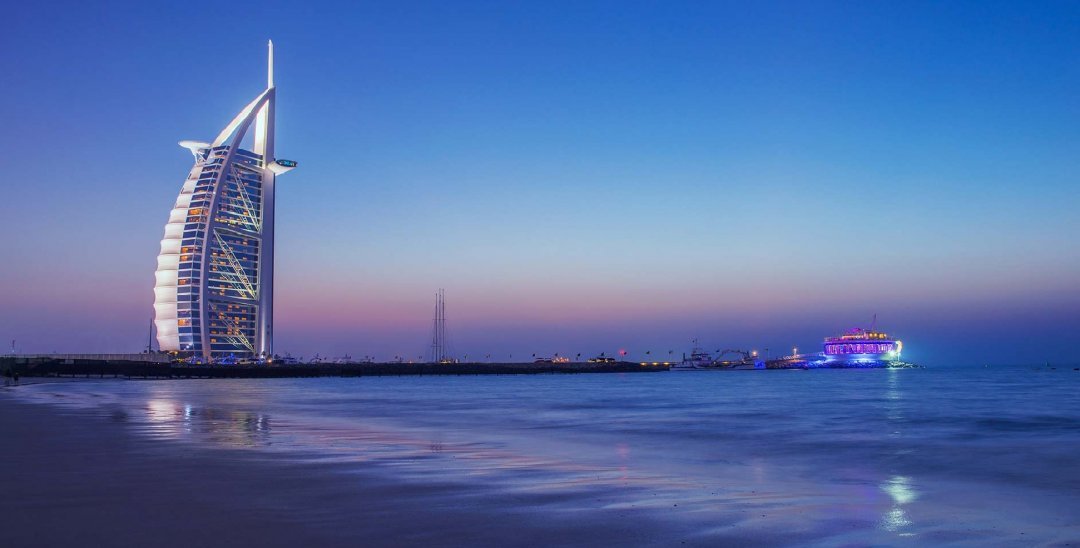 source
Burj Al Arab from a distance
The word 'burj' means the tower. So 'Burj Al Arab' (برج العرب) means the tower of Arabia. This luxurious hotel is located in Dubai, UAE. It is the third highest hotel in the world. However, 39% of the entire building is ineligible, thus keeping it only to increase height.
Burj Al-Arab Zumaira standing on an artificial island, 280 meters or 920 feet from the beach. Fitted with a bridge to the original land. From a distance, it would seem like a ship's tail on the ocean is like it.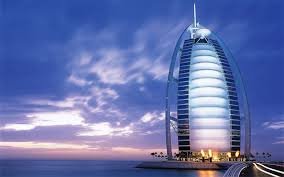 source
Bourgeois al-Arab;
There is a helipad on the top of Burj Al Arab, which is 210 meters or 680 feet high above the ground. By clicking here you can take a view of its 360 degree view!
The construction of this hotel began in 1994, and ended in 1999. Three of the 56 floor of the hotel is under the water! There are 18 elevators in the entire hotel. Architects Tom Wright, designer of this spectacular building. He was told to build something that would be Dubai's 'Icon'. As soon as Sidney's name comes, the opera house comes to mind, such as London, the Big Ben or Paris is the Eiffel Tower, so to say that Dubai is Burj Al Arab! He designed bourgeois al Arabas in the form of traditional Arabian boat variant, which means to move forward in the future. The 202-room hotel is looking after the construction of British multinational engineering and design company WS Atkins.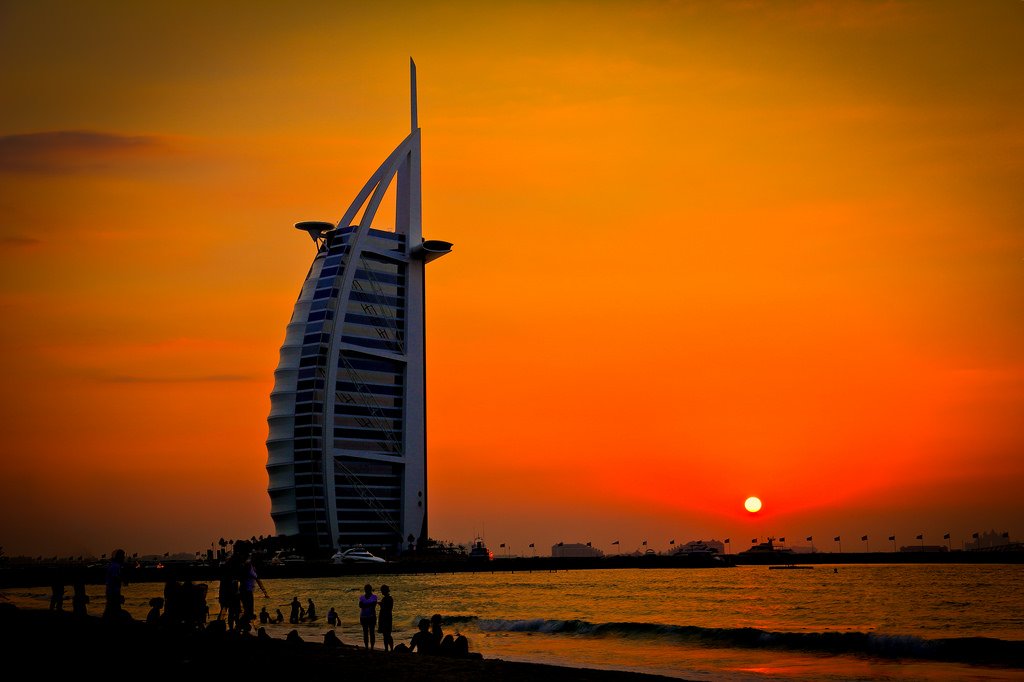 source
Sunrise behind Burj Al Arab;
Where is Burj Al Arab, the previous name of that beach was the Chicago Beach. Before there was Dubai Chicago Beach Hotel, which was broken in 1997. During the making of Burj Al Arab, the project was named after the 'Dubai Chicago Beach Hotel Project', then the ruler of Dubai and Vice President of UAE and Prime Minister Sheikh Mohammed bin Rashid Al Maktoum announced the name of 'Burj Al Arab'.
Artificial islands started in 1994. Nearly 2,000 workers took office to build the hotel. The hotel was inaugurated in December 1999. It took three years to build the island but it took less than three years to build the hotel! Construction of the building was about 70 thousand cubic meters of concrete and nine thousand tons of steel. Burj Al Arab is the third highest hotel in the world, but in Dubai it is not the tallest building! Dubai's Rose Raihan Hotel (72 storey) is also 11 meters or 36 feet high from Burj Al Arab.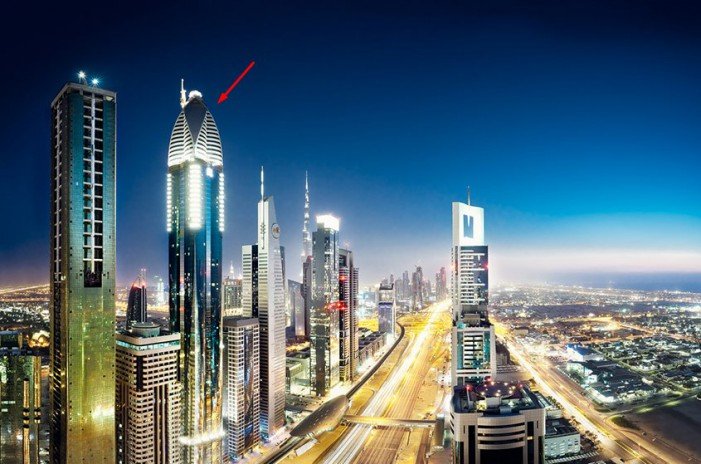 source
The arrow shown by the arrow is Rose Raihan of Dubai
Zumaira Group operates the Burj Al Arab Hotel. Despite being so huge, this hotel has only 28 flat floors, all of which have 202 suites. The hotel's smallest suite is 1,820 sqft, and the largest is 8,400 sqft! The suites have East and West side. In addition to the furnished rooms in the white colored column, there are mosaic tiled bathrooms, bathroom materials in the bathroom again wrapped!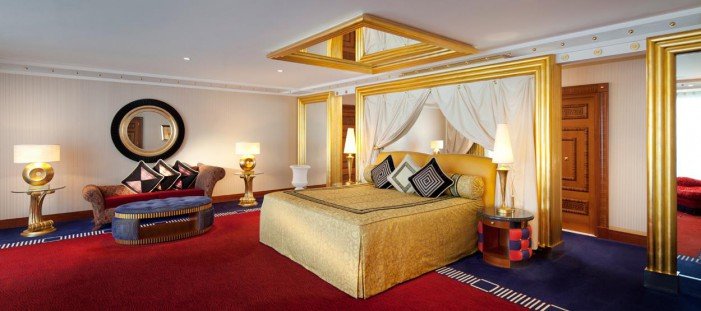 source
#A room in Burj Al Arab;
In 2012, CNN-Gog ranked the 12th position in the list of the 15 valued hotel suites in Burj Al Arab's Royal Suite. Want to know, how much does it cost to spend one night there? Only twenty four thousand dollars That is, about two million taka. The real luxurious royal or honeymoon suit is like 2 million rupees per night, but Namkiwatte room can be available from half a million. There is no better hotel for honeymoon, but due to the religious law of Dubai, couples may want to show an official marriage certificate to stay in the same room.

source
A bathroom in the Burj Al Arab;
Now let's know about the restaurant, go to the hotel, but do not eat it, what happens? The restaurant Al Muntahah is 660 feet high, where you can see the surroundings and see a whole spectacular view of Dubai, and on the other side you will see Sea. The restaurant, built in a 27 meter extended area, with the help of Cantilever from the main building. The price of the food is very high, it is definitely not worth it.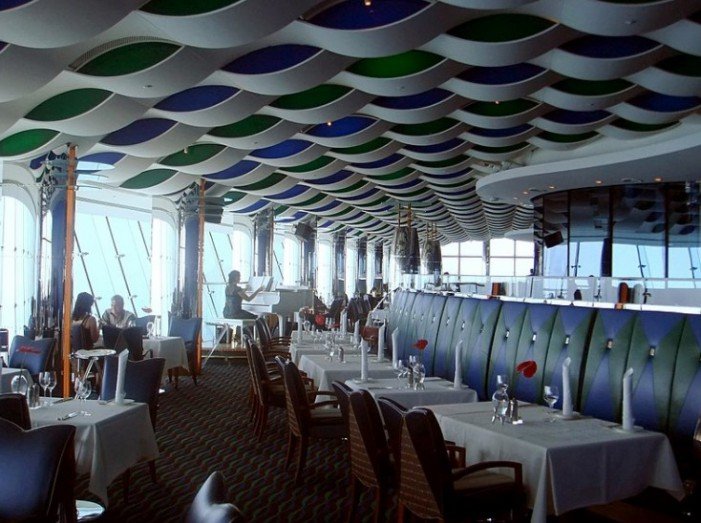 source
Al Muntaha Restaurant;
Al-Mahara, another famous hotel restaurant, will be sent to feel like entering the submarine. You will eat by the side of a huge monkey, swimming around the fish in your surroundings, an underwater restaurant. There is 9,90,000 liters of water in Aquarium. There is an arrangement to resist water pressure with 7.1 inch thick acrylic glass.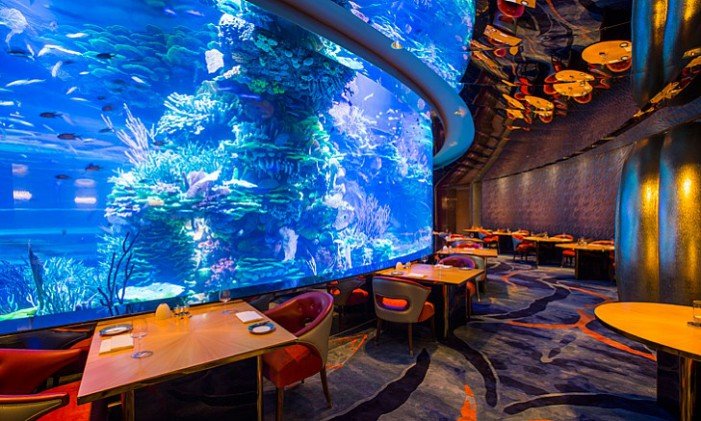 source
Al Mahara Restaurant;
Many people call Burj Al Arab as 'Seven Star' Hotel, but it is actually a misconception. This is a five star or five star hotel. Who knows how the 'seven stars' came in, but the hotel authorities say that they never said it! This hotel can not stand up to criticism, however, as it can be. According to many critics, the hotel is busy to show the passion of money rather than a really good design!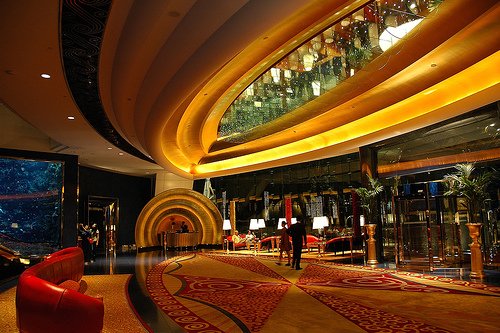 source
A hotel lobby,
The 689 feet high helipad has many famous occasions to attract the media. For example, Tiger Woods was brought in 2004, Agassi and Federer used to play tennis in 2005, but the venue had to work four hours to make it suitable for playing tennis. There have been many such media stunts there. Even in many movies or series Burj al-Arab is seen, though Burj Khalifa has more prominence than Burj Al Arab; It will talk about the Burj Khalifa any other day!
#Playing tennis;
Now let us know some strange things about Burj Al Arab. For example, this hotel's Junsui Lounge is used to make 29,000 crystals like Milky way galaxy!
The lounge is arranged like the Milky Way galaxy
Each year, 10 tons of chocolate was used in these hotel restaurants.
Chocolate and chocolate, 10 tons chocolate