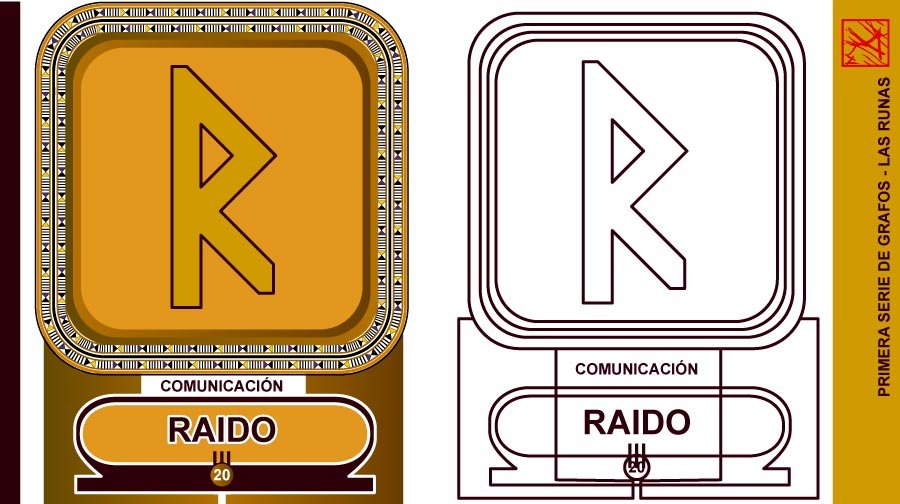 La figura del grafema Raido de la escritura rúnica nos muestra el poder de la comunicación tenaz y efectiva.

Las Runas son una forma de escritura antigua originalmente relacionadas con liturgias y ritos Celtas, la antigua religión de los habitantes de las tierras nórdicas y escandinavas, su uso se limitaba al área espiritual, no como soporte de su idioma hablado. Con el inicio de esta serie de post empezamos con la promoción de todas esas escrituras que formaron parte de las culturas ancestrales con las cuales de alguna u otra forma aun seguimos ligados.
Runes are a form of ancient writing originally related to liturgies and Celtic rites, the ancient religion of the inhabitants of the Nordic and Scandinavian lands, their use was limited to the spiritual area, not as a support for their spoken language. With the beginning of this series of publications, we begin with the promotion of all those graphs or alphabets that were part of the ancestral cultures with which we are still linked in some way.

SOPORTE CREATIVO
En la figura de la derecha pueden observar el diseño completamente vectorizado lo cual indica que la imagen es original del autor del post, no bajada de internet y los derechos de usos son limitados.
In the fugura of the right they can observe the completely vectorized design which indicates that the image is original of the author of the post, not downloaded from the internet and the rights of uses are limited.
I hope you like the design

EXPLICACIÓN DEL GRAFEMA
De acuerdo a la tradición del
Oráculo Rúnico
del linaje de los sacerdotes de Odin, la runa Raido nos enseña que la comunicación es importante al momento de unir fuerzas para lograr un objetivo común, no se puede forzar de un lado ni de otro, la verdadera unión y solidaridad son los resortes secretos para que la comunicación logre su objetivo con la armonía entre la materia y el espíritu.
Al aparecer invertida nos indica que algo ha salido mal, los proyectos no se concreten, existe un corte en el flujo de energía o la comunicación se interrumpió o no fue transmitida correctamente, es el momento de analizar la falla y corregir oportunamente.
According to the tradition of the Rune Oracle of the lineage of the priests of Odin, the Raido rune teaches us that communication is important when joining forces to achieve a common objective, it cannot be forced from one side or the other, true union and solidarity are the secret springs for communication to achieve its objective with the harmony between the matter and spirit.
When it appears inverted it indicates that something has gone wrong, the projects do not materialize, there is a cut in the energy flow or the communication was interrupted or was not transmitted correctly, it is time to analyze the fault and correct it in a timely manner.