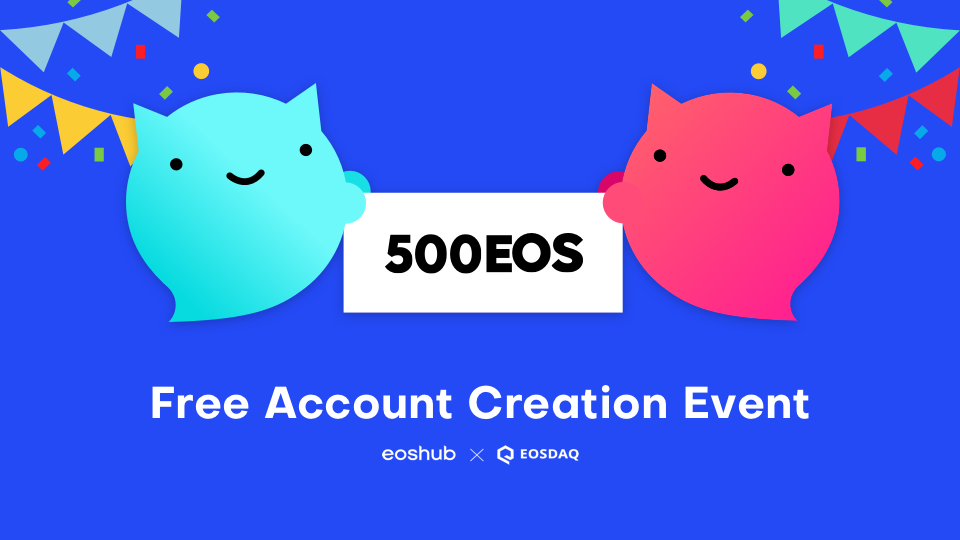 Fuente:
ACTUALIZACIÓN DE ULTIMA NOTICIA. 12/11/2018
Debido a que el evento del pasado 9 de Noviembre sobre las creaciones de cuentas EOS de EOSDAQ y EOSYS fueron suspendidas por algunos inconvenientes con el envío de códigos de confirmación por correo, recientemente EOSDAQ confirmó la nueva fecha del evento.
EOSDAQ (DEX) Peter Kim:
Hello everyone!
Once again, we apologize for the hassle last Friday.

The Free EOS Account Creation will resume as below:

Start: Nov 13th (Tuesday), 05:00pm KST (08:00am UTC)
Where: https://eoshub.io/
The event will last until we run out of the EOS accounts.

Fuente: Telegram EOSDAQ: https://t.me/EOSDAQ
Así que el evento se trasladó para el día 13 de Noviembre y durará hasta que se completen la cantidad limite de cuenta EOS que sería un total de 1000 cuentas o lo equivalente a 500 EOS. Para más información sobre el evento y sus requisitos, puede visitar mi último post.
https://steemit.com/spansih/@dcardozo25/creaci-n-de-cuenta-eos-gratis-por-tiempo-muy-limitado-20181109t085405303z-post