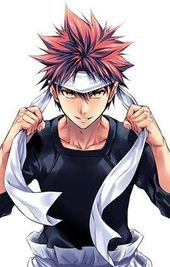 Shokugeki no Sōma
Esta vez empecé a ver un anime recomendado por unos amigos, llamado Shokugeki no Sōma. El anime en general es de comedia y aunque me pareció un poco raro porque el ecchi no es lo mío, después de ver varios capítulos, me han dado hasta risa esas escenas y le he agarrado gusto.
This time I started watching an anime recommended by some friends, called Shokugeki no Sōma. The anime in general is comedy and although I thought it was a little weird because the ecchi is not my thing, after watching several episodes, I have even laughed at those scenes and I have liked it.
---
Hasta ahora, la trama es muy chévere y divertida, la vuelve interesa con ganas de ver el siguiente episodio.
El personaje principal que es Sōma Yukihira es un chico lleno de confianza, muy simpático, que de verdad transmite el disfrute hacia la cocina. Y su energía ante todo hace que uno le agarre cariño desde el principio.
So far, the plot is very cool and fun that makes it interesting and eager to see the next episode.
The main character Sōma Yukihira is a boy full of confidence, very nice, who really transmits the enjoyment of cooking. And his energy makes you love him from the start.


Ha trabajado con su padre en el restaurante familiar toda su vida, haciendo desafíos de quién es el mejor cocinero, el cual ha perdido 489 veces - en serio- y tiene un gran interés para inventar nuevos platos y dárselos a probar a sus amigas - que en verdad son un fracaso y las deja un poco traumadas-. Su sueño es continuar en el restaurante familiar después de graduarse.
He has worked with his father in the family restaurant all his life, making challenges of who is the best cook, which he has lost 489 times - seriously - and he has a great interest in inventing new dishes and give them to her friends - but they are sometimes a failure and leave them a bit traumatized-. His dream is to continue in the family restaurant after graduating.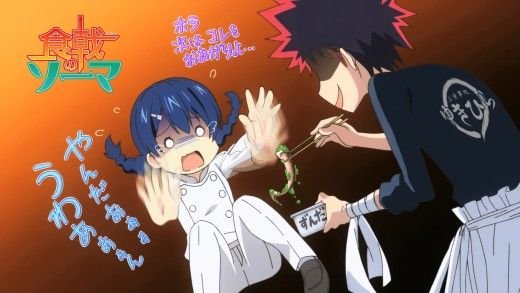 Megumi rechazando uno de los inventos de Sōma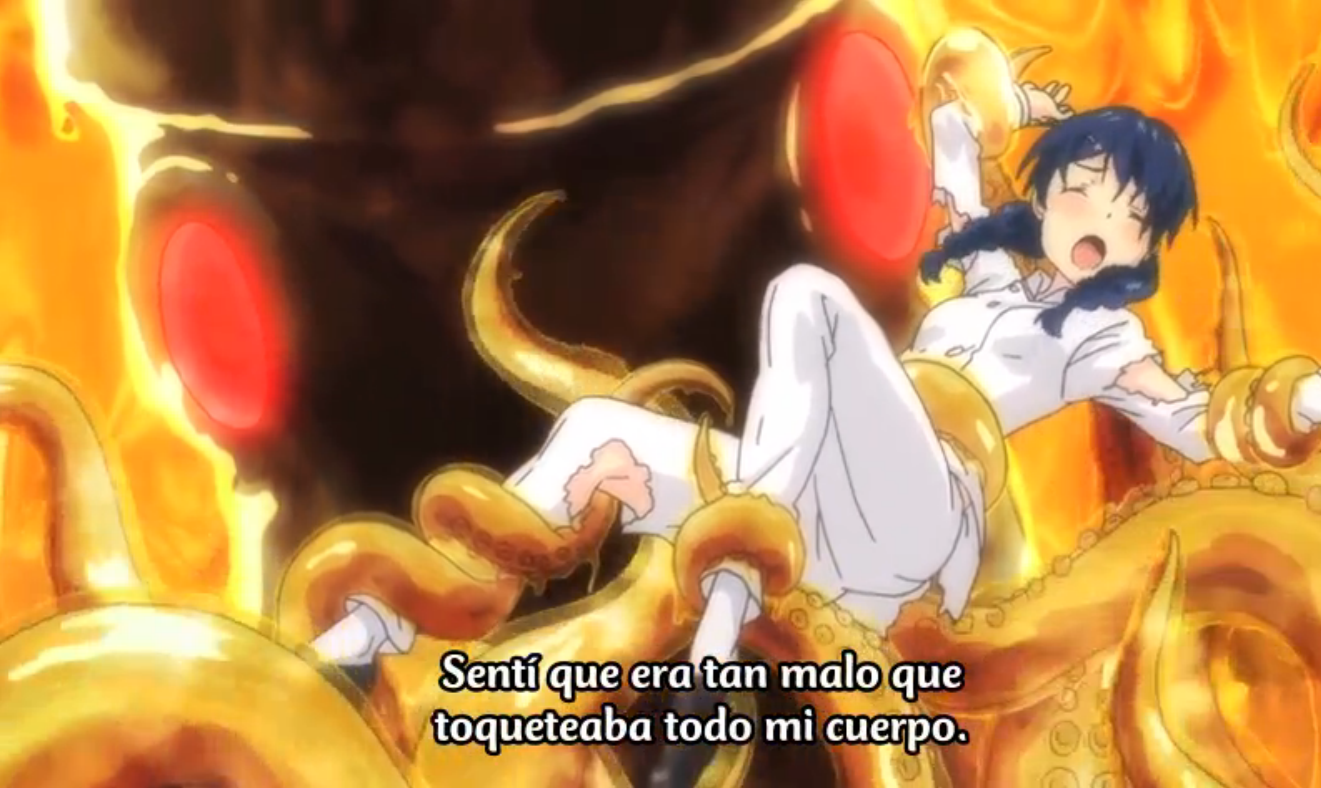 Megumi traumada después de probarlo
---
El detalle que uno no se espera, es que el padre tiene otros planes. De repente se quiere ir a trabajar al exterior y no quiere que su hijo se quede estancado trabajando en el restaurante o que su meta solo sea superarlo a él, por lo que decide inscribirlo en la mejor academia de cocina de Japón. Para que pueda aprender nuevas técnicas, mejorar como cocinero y el gancho final es que quizás así su hijo pueda vencerlo. Y así es como este chico no lo dudó y empezó esta aventura.
The detail that no one expect is that the father has other plans. Suddenly he wants to go to work in another country and does not want his son to be stuck working in the restaurant or that his goal is only to overcome him, so he decides to enroll him in the best cooking academy in Japan. So that he can learn new techniques, improve as a cook and the final hook is that maybe his child can beat him. And this is how this guy did not hesitate and started this adventure.
Si de verdad quieres pasar un rato agradable o quieres que te de más hambre de lo usual, este anime es para ti. Tiene muy buena animación, una historia entretenida y la comida es muy realista. Uno hasta le dan ganas de estudiar cocina y todo.
If you really want to have a nice time or be hungrier than usual, this anime is for you. It has very good animation, an entertaining story and the food is very realistic. One even wants to study cooking and everything
Para unirte, sigue esta guía:
Escribe una publicación sobre algo sobre lo que tengas que ser positivo hoy en día. Podría ser una cosa real, estar agradecido por sus amigos y familiares, o incluso estar agradecido por la oportunidad que se puede brindar aquí en Steemit, solo mantenlo positivo.
Haz esto durante 7 días seguidos si te nominan.
Mencione a tres personas que pueden hacer esto cada día.
Etiquétalo con #7daypositivitychallenge e incluye estas reglas en la parte inferior de tu publicación. No olvides poner el símbolo # para que la etiqueta sea aceptada.
Incluye una imagen de algo positivo (relacionado con tu historia si es posible).
To join, follow this guide:
Write a post about something that you have to be positive about today. It could be a real thing, be grateful for your friends and family, or even be grateful for the opportunity that can be offered here at Steemit, just keep it positive.

Do this for 7 days in a row if they nominate you.
Mention three people who can do this every day.
Label it with # 7daypositivitychallenge and include these rules at the bottom of your post. Do not forget to put the symbol # so that the label is accepted.
Include an image of something positive (related to your story if possible)