Hola amigos de Rada Quest!
Mañana será un día muy especial para todos los amigos de Rada Quest. Han pasado más de 6 meses desde que inicié este proyecto en Steemit, aunque el origen de todo comenzó hace más de 10 años. Y mañana alcanzaremos un hito más en nuestro camino.
Desde el día 1 de septiembre ya es posible hacer stake del token TARUK. Si haces stake de tus tokens, te conviertes en accionista del juego.
Y mañana se realizará la primera entrega de beneficios.
Por ahora los beneficios solo provienen de las publicaciones y de las curaciones en las comunidades que apoyamos desde el equipo de Rada Quest:
Battle Games
SteemAce
CreativeCoin
Neoxian
HispanoHablantes
También cuentan los beneficios de la venta de tokens y de la venta de ilustraciones en la web oficial del juego.
La previsión para el reparto de mañana es de 0.03 Steem por TARUK en stake.
Aprovecho para recordaros que en la web oficial del juego es posible hacer los pagos con Steem, SBD y con PayPal.
Además, los packs de tokens TARUK tienen importantes descuentos.
Estado del código
Ya estamos en la fase de codificación del juego y, también, en la fase de diseño del interface.
Por ahora, lo único que puedo enseñaros es la pantalla provisional de login. Como podéis ver, se podrá hacer login con Steem Keychain.
Nueva incorporación
Esta semana también damos la bienvenida a @beyondraws con sus ilustraciones para reforzar la baraja. Esta es su primera aportación al juego: https://steemit.com/battle/@beyondraws/seren-rune-star-for-rada-quest-tcg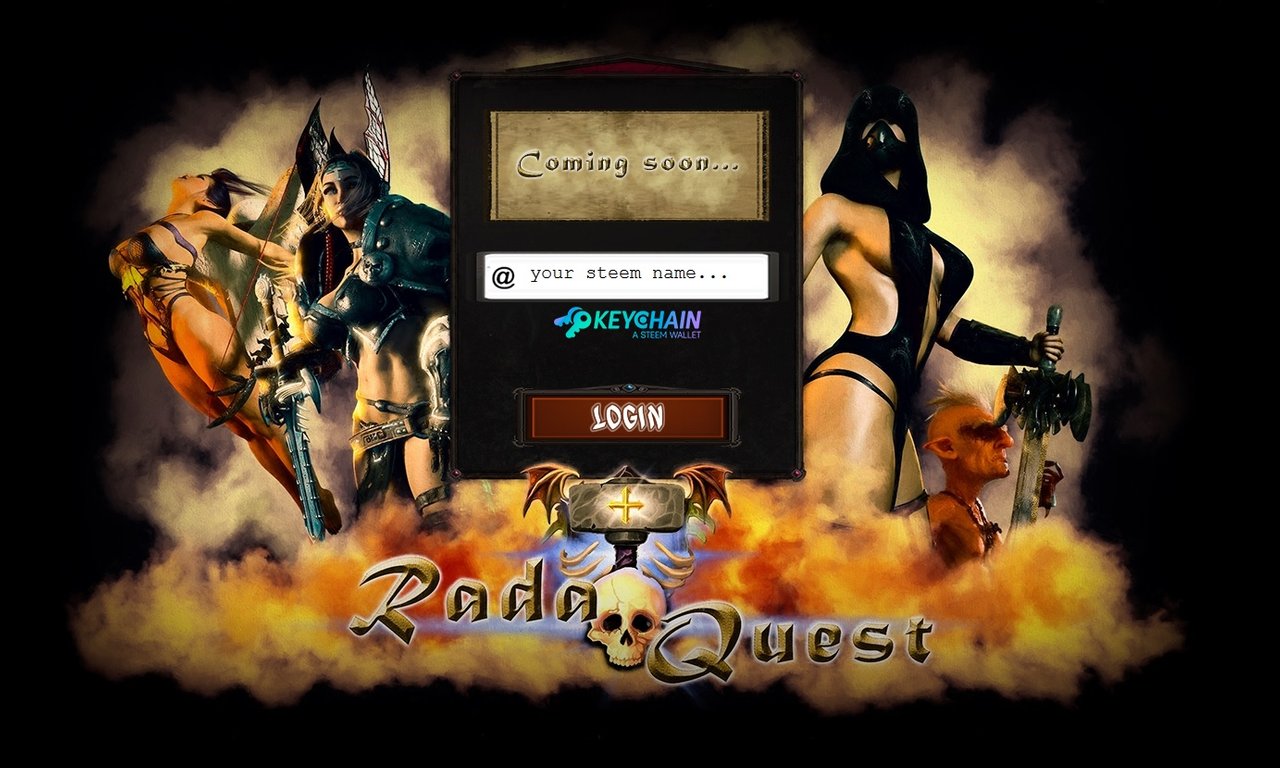 Hello friends of Rada Quest!
Tomorrow will be a very special day for all friends of Rada Quest. It has been more than 6 months since I started this project in Steemit, although the origin of everything began more than 10 years ago. And tomorrow we will reach another milestone on our way.
From the 1st of September, it is already possible to become a TARUK token stakeholder. If you stake your tokens, you become a shareholder of the game.
And tomorrow will be the first benefit-sharing!
For now, the benefits only come from publications and curations in the communities we support from the Rada Quest team:
Battle Games
SteemAce
CreativeCoin
Neoxian
HispanoHablantes
They also count the benefits of selling tokens and selling artwork on the official website of the game.
The forecast for tomorrow's distribution is 0.03 Steem per TARUK in stake.
I want to take this opportunity to remind you that on the official website of the game it is possible to make payments with Steem, SBD and PayPal. In addition, TARUK token packs have significant discounts.
Code Status
We are already in the coding phase of the game and, also, in the interface design phase.
For now, all I can show you is the provisional login screen. As you can see, you will can login with Steem Keychain.
New incorporation
This week we also welcome @beyondraws with new and amazing illustrations to reinforce our deck. This is his first contribution to the game: https://steemit.com/battle/@beyondraws/seren-rune-star-for-rada-quest-tcg