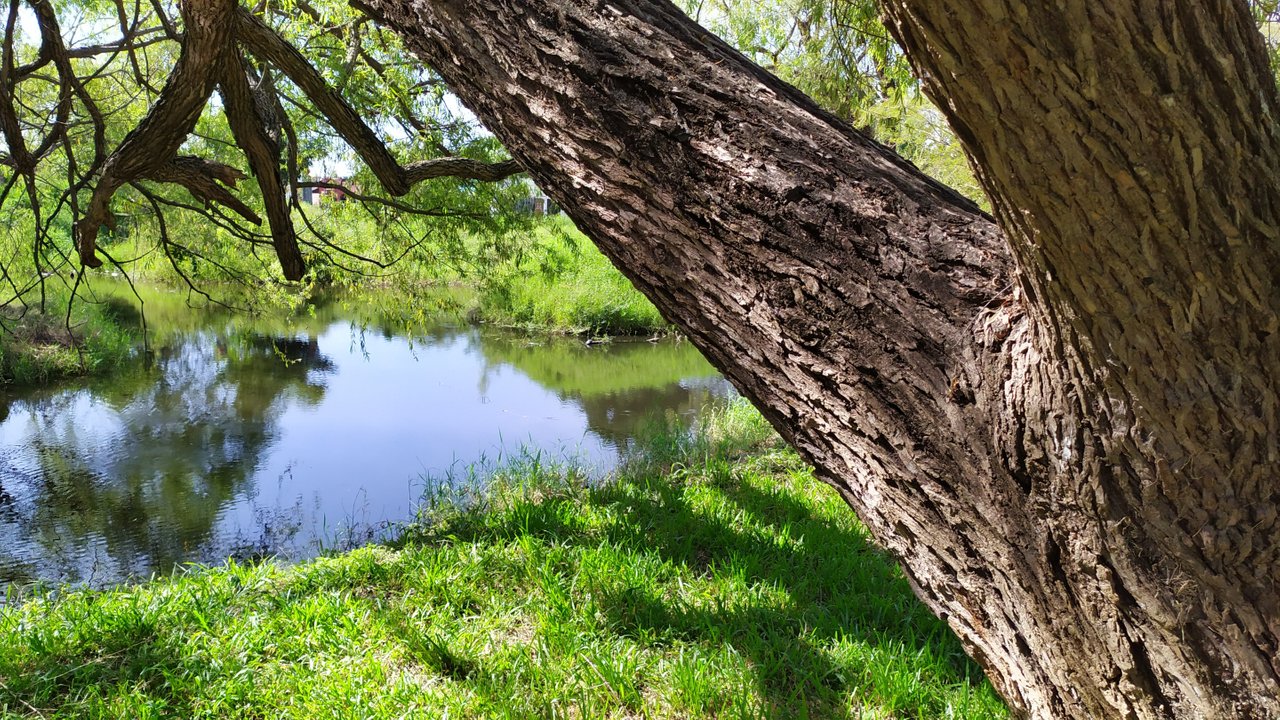 Yesterday I decided to go out and look for some images that caught my attention, the idea was to get up early, something I didn't get, however I had already observed a place that I want to present below.
I still practice and learn about the camera of my mobile device, and there is no better way to learn than to go out in search of challenges that inspire and motivate us to connect with our surroundings, the city is full of life if you know how to search, or if you pay attention, it is true that the mark of the human being (pollution) is more noticeable, but still nature looks for the way to remain present giving us moments of peace and tranquility that we do not deserve.
This time I went to a park called "Metropolitano" and although it does not have as many flowers as I expected, it does have enough animal life and some impressive trees that give us a good shade under which to rest.
El día de ayer decidí salir y buscar algunas imágenes que llamaran mi atención, la idea era levantarme temprano, algo que no conseguí, sin embargo ya había observado un lugar que les quiero presentar a continuación.
Sigo practicando y aprendiendo sobre la cámara de mi dispositivo móvil, y no hay mejor manera de aprender que salir en busca de retos que nos inspiren y motiven a conectarnos con nuestro alrededor, la ciudad está llena de vida si se sabe buscar, o si se presta atención, es cierto que la marca del ser humano (contaminación) es más notoria, pero aún así la naturaleza busca la forma de seguir presente regalándonos momentos de paz y tranquilidad que no nos merecemos.
Ésta vez me fui a un parque llamado "Metropolitano" y aunque no tiene tantas flores como lo esperaba, sí que tiene bastante vida animal y unos árboles impresionantes que nos regalan una buena sombra bajo la cual descasar.
---
I recommend you open the images in another tab, so you can see all the details of the photo.

Te recomiendo abrir las imágenes en otra pestaña, para que puedas observar todos los detalles de la fotografía.




---
I must admit that on this bench I was sitting for about 20 minutes, just listening to the combination of sounds that merged in an enigmatic way.
Debo admitir que en ésta banca estuve sentado por alrededor de unos 20 minutos, simplemente escuchando la combinación de sonidos que se fusionaban de manera enigmática.
---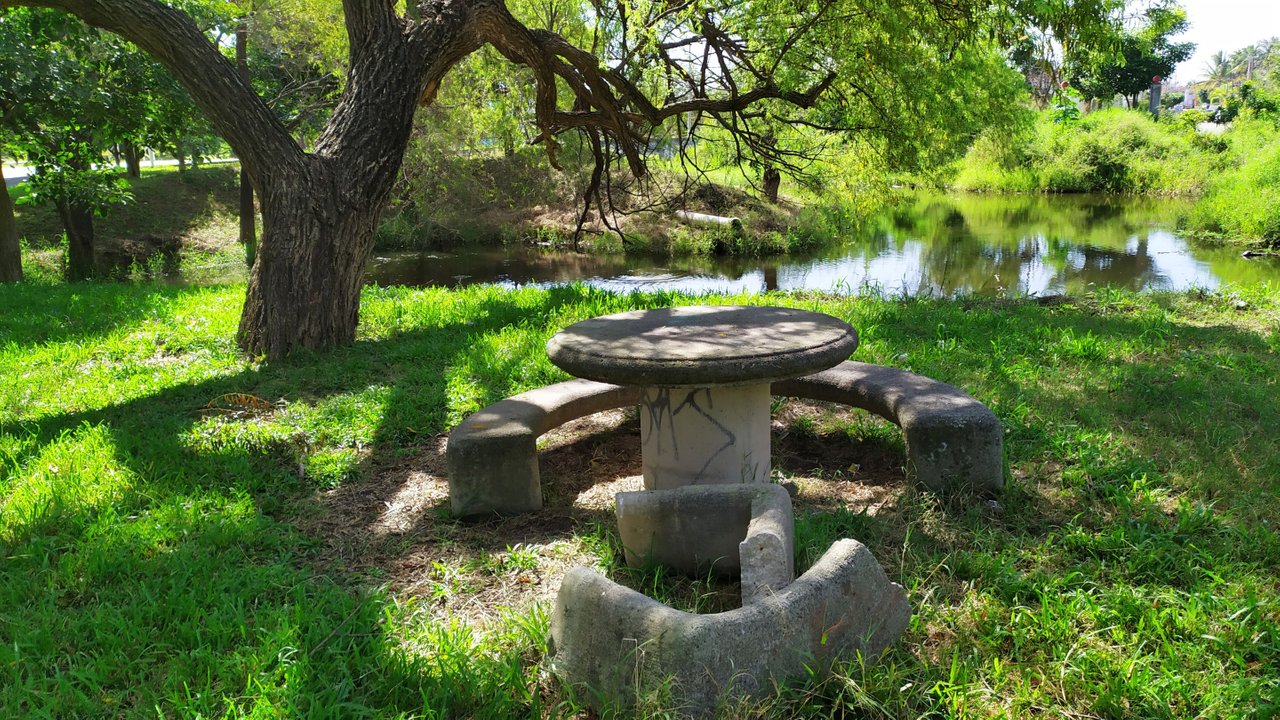 ---
By the way, the tree that appears in the first image of this post is next to the bench where I lost track of time.
Por cierto, el árbol que sale en la primera imagen de éste post se encuentra a un lado de la banca en la que perdí la noción del tiempo.
---
left
right


I kept walking until I came across this path, apparently it connects with another park called "Ecológico" and is used to exercise, run, walk, ride a bike, etc.
Seguí caminando hasta topar con éste camino, al parecer conecta con otro parque llamado "Ecológico" y se usa para ejercitarse, correr, caminar, andar en bicicleta, etc.
---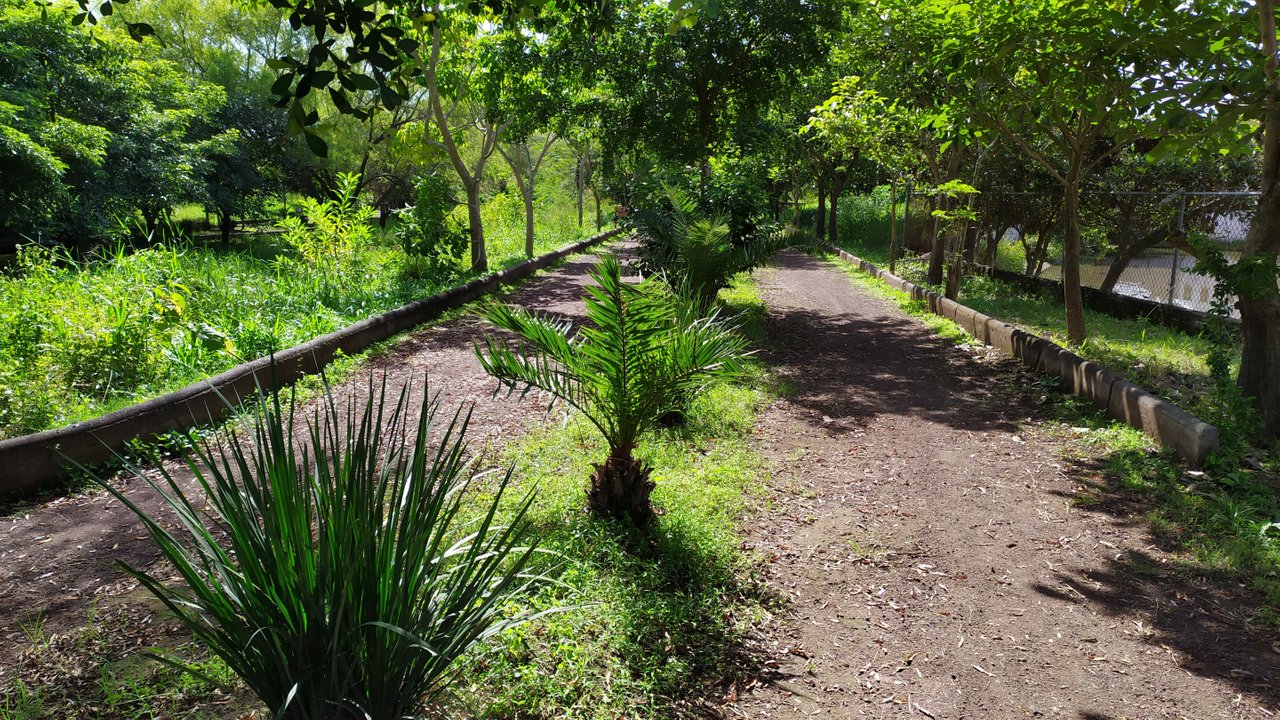 Two more photographs: / Dos fotografías más:
| 1 | 2 |
| --- | --- |
| | |
---
I went back through my steps since I wanted to get as close as possible to the heron and turtles I saw earlier, and although I had to take the picture from afar to not scare the animals, if you zoom in on the image you can see them easily.
Regresé por mis pasos ya que quería acercarme lo más posible a la garza y las tortugas que vi anteriormente, y aunque tuve que tomar la fotografía desde lejos para no asustar a los animales, si haces zoom sobre la imagen podrás verlas con facilidad.
---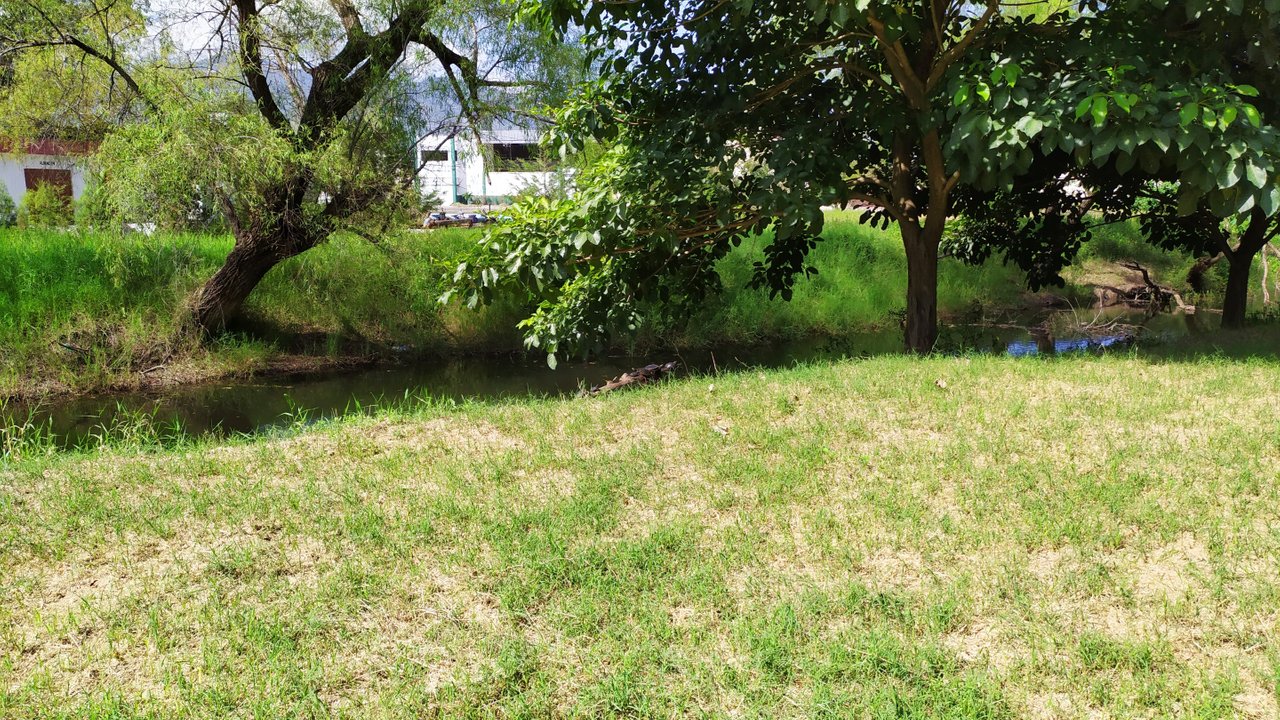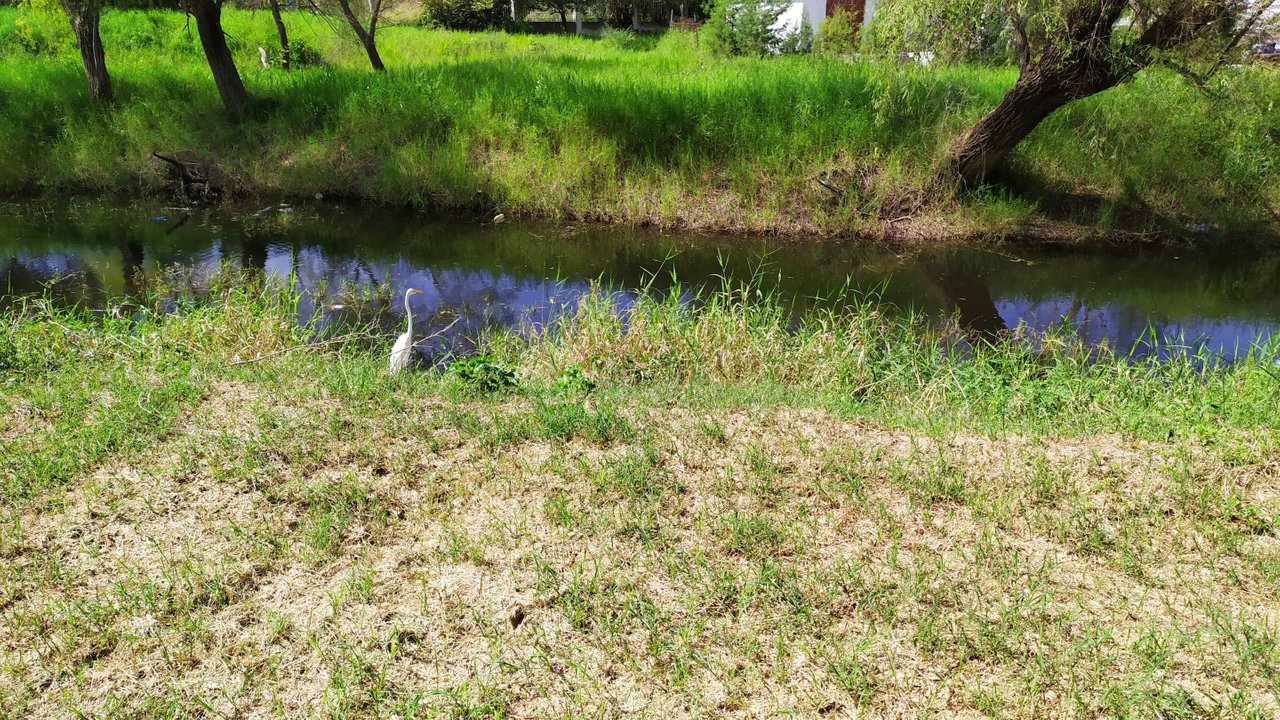 I keep spying on her, although to my bad luck she hid when she caught a fish to eat.
La sigo espiando, aunque para mi mala suerte se escondió cuando atrapó un pez para comer.
---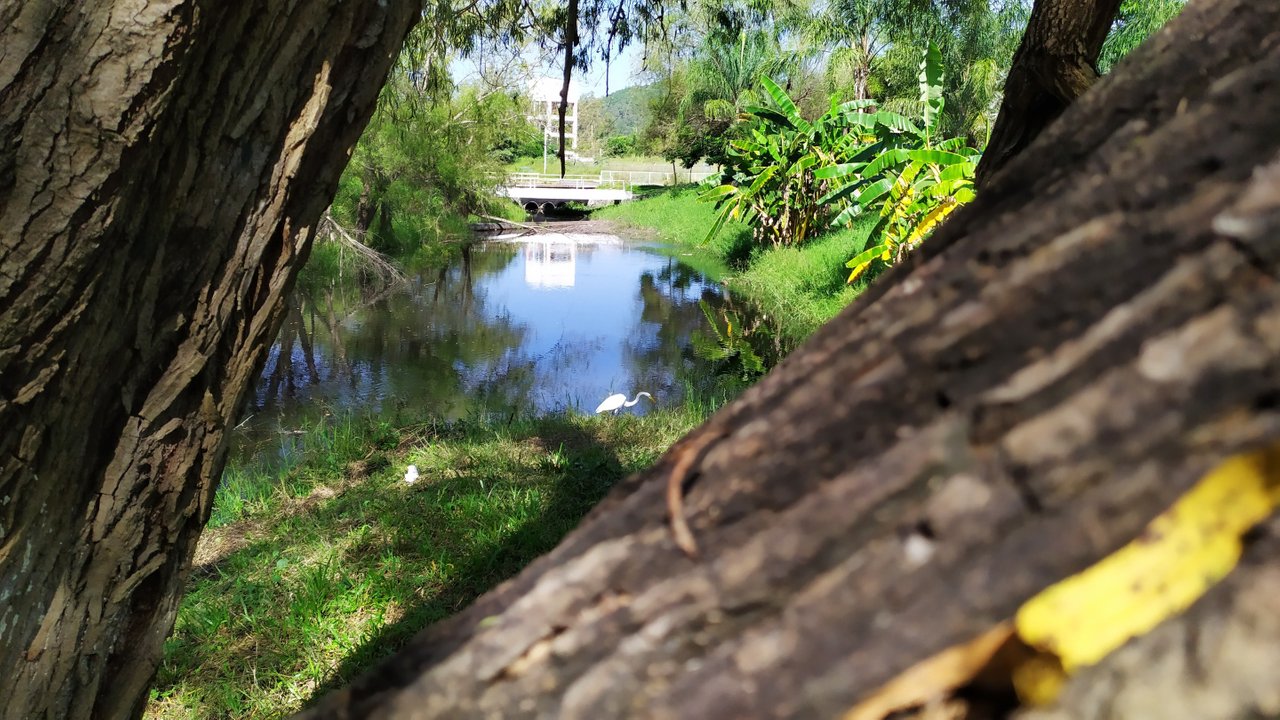 ---
Then she got scared and flew to the other side of the river, so I only had to take this picture:
Después se asustó y voló hasta el otro lado del río, así que sólo me quedó tomar ésta fotografía:
---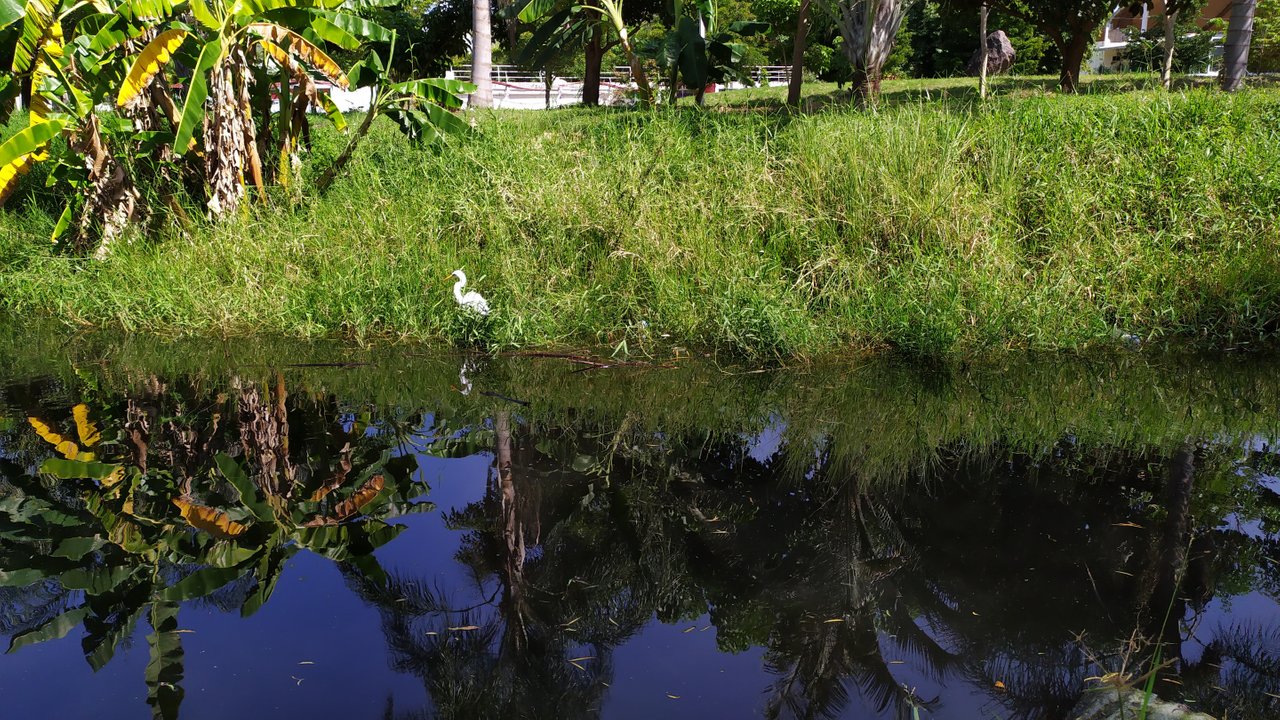 ---
Something that surprised me a lot, was to see that the place is infested by this fish, which I know as "Plecos" and that I understand is originally from South America, currently it is used as a "cleaner" fish inside the fish tanks that we have in the home (I include myself), but that due to carelessness of the human being, has been released in areas where it should not be, becoming an invasive species damaging the local ecosystem.
I could not take a picture of the biggest fish I saw, however, from the top of one of the bridges I could take the next gif with which I want to finish this post.
Algo que me sorprendió mucho, fue ver que el lugar se encuentra infestado por éste pez, el cual conozco como "Plecos" y que tengo entendido es originario de Sudamérica, actualmente se utiliza como un pez "limpiador" dentro de las peceras que tenemos en el hogar (me incluyo), pero que por descuidos del ser humano, ha sido liberado en zonas donde no debería de estar, convirtiéndose en una especie invasora dañando el ecosistema local.
No pude tomar fotografía del pez más grande que vi, sin embargo, desde la parte superior de uno de los puentes pude tomar el siguiente gif con el que quiero terminar éste post.
---