Les narraré el horror de lo que pasa día a día en la frontera de #mexico.

Hace menos de un mes empecé a transmitir por medio de la aplicación de periscope, en donde puedo hablar de manera más libre con quien tenga la amabilidad de oír y de compartir algún tema acorde, generalmente de los temas son de los acontecimientos o noticias de lo que pasa en #mexico día a día; es ahí donde me ayuda a combatir mi soledad y desahogarme del mundo que me rodea, sin embargo una de las grandes cualidades que ha surgido es este diálogo que se tiene con quien te escucha.

En una de varias transmisiones en vivo, un hombre joven empezó a narrar su historia de vida como migrante. Hace pocos años atrás empezó su travesía para llegar a Estados Unidos con el único propósito de trabajar para conseguir una mejor vida económica, ya que en nuestro hermoso país a muchos compatriotas les hes muy difícil conseguir trabajo; al llegar a la frontera en un grupo de 30 personas en donde sólo iba una mujer, cruzaron por el desierto, al principio se les engañó diciendo que el viaje sólo duraría a lo máximo 3 días, pero esto no era cierto, la duración fue de 7 días, una travesía muy dolorosa, muy cansada, muy difícil, porque la comida y la bebida no era suficiente, llegaron al extremo de beber su orina para lograr sobrevivir, algunos se drogaban con cocaína para poder aguantar semejante camino; poco a poco este joven narrador se dio cuenta que se seguía un camino marcado por esqueletos y cadáveres de migrantes que no lo lograron, la voz se le corta comprensiblemente cuando recuerda de manera súbita que debajo de una pequeña sombra de una piedra a un cadáver de una mujer abrazando a su hijo fallecido; las lágrimas me corren en la mejilla al oír esto en voz de su narrador, la imaginación se me cuela por la mente y el dolor de aquella madre en que su último aliento lo utilizó para su hijo al protegerlo en medio del desierto, en medio de la nada, en medio de la soledad, en medio de la discriminación.

Aún hoy después de varios días sigo teniendo ese dolor en el corazón al recordar esa narración, hoy me sigue doliendo saber que en la realidad es esa y que se sigue repitiendo día a día en un desierto lleno de almas olvidadas, lleno de historias de lucha por lograr una mejor vida.

Duele y duele mucho y queda un nudo en la garganta, en la mente y en el corazón permanente.
_________________________________________________________________
I'll tell you the horror of what happens every day on the border of #mexico.

Less than a month ago I began to transmit through the application of periscope, where I can talk more freely with anyone who has the kindness to hear and share some topic in agreement, usually the topics are events or news of what happens in #mexico day by day, that's where it helps me fight my loneliness and vent the world around me, however one of the great qualities that has emerged is this dialogue that you have with those who listen.

In one of several live broadcasts, a young man began to tell his life story as a migrant. A few years ago he began his journey to the United States with the sole purpose of working to achieve a better economic life, since in our beautiful country many compatriots find it very difficult to get a job; When they arrived at the border in a group of 30 people where only one woman was going, they crossed the desert, at first they were deceived saying that the trip would only last 3 days at the most, but this was not true, the duration was 7 days, a very painful crossing, very tired, very difficult, because the food and drink was not enough, they went to the extreme of drinking their urine to survive, some were drugged with cocaine to be able to endure such a journey; Little by little this young narrator realized that a path was being followed marked by skeletons and corpses of migrants who did not make it, his voice is understandably cut off when he suddenly remembers that under a small shadow of a stone a woman's corpse is hugging her dead son; tears run down my cheeks when I hear this in the voice of its narrator, my imagination runs through my mind and the pain of that mother who used her last breath for her son by protecting him in the middle of the desert, in the middle of nowhere, in the middle of loneliness, in the middle of discrimination.

Even today, after several days, I still have that pain in my heart when I remember that story. Today it still hurts me to know that in reality it is that one, and that it continues to be repeated day after day in a desert full of forgotten souls, full of stories of struggle to achieve a better life.

It hurts and it hurts a lot and it leaves a knot in the throat, in the mind and in the heart that is permanent.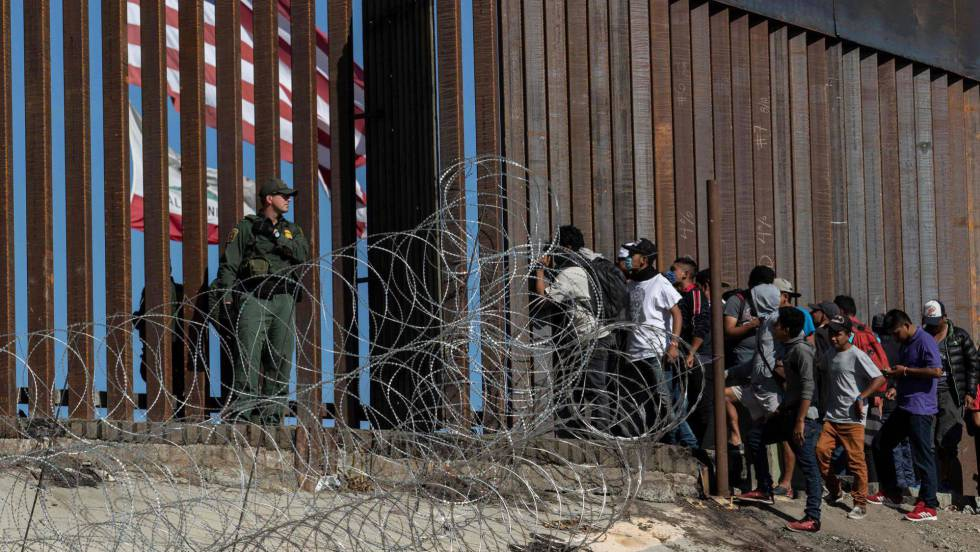 Fuente de la imagen https://elpais.com/internacional/2018/11/26/actualidad/1543247739_442171.html