Hola Steemians. Hoy les traigo una obra llena de hermosos colores que han sido perfeccionados, según la historia, por mutaciones genéticas espontáneas y por intervención de la mano del hombre, pero ¿De qué estoy hablando?; pues, de la maravillosa historia de los Carpas Koi.
Los Carpas Koi son una variedad de peces coloridas que se derivan de las carpas comunes, que fueron desarrolladas en Asia. Son los peces ornamentales más difundidos en estanques de jardines privados y parques públicos de todo el mundo.
Esta pintura la hice inspirada en dos factores, mi amor por los dragones y la "leyenda detrás de las carpas Koi": Se dice que las carpas que lograban nadar río arriba hasta alcanzar una cascada y subirla eran consideradas símbolos de perseverancia, y como premio a su gran esfuerzo y dedicación éstas se transformaban en hermosos dragones.
Para esta obra utilicé:
Acuarela.
Cartulina blanca de 20 x 20 cm.
Pincel #0 y #5.
Cinta adhesiva.
Lápiz de grafito.
Hey, Steemians. Today I bring you a work full of beautiful colors that have been perfected, according to history, by spontaneous genetic mutations and by the intervention of man's hand, but what am I talking about, then, the wonderful history of the Koi Tents.
The Koi Carps are a variety of colorful fish derived from common carp, which were developed in Asia. They are the most widespread ornamental fish in private garden ponds and public parks around the world.
This painting was inspired by two factors, my love for dragons and the legend behind the Koi carps: It is said that the carps that managed to swim upstream to reach a waterfall and climb it were considered symbols of perseverance, and as a reward for their great effort and dedication these were transformed into beautiful dragons.
For this work I used:
Watercolor.
White cardboard of 20 x 20 cm.
Brush #0 and #5.
Adhesive tape.
Graphite pencil.
---
Arte Final (Final Art)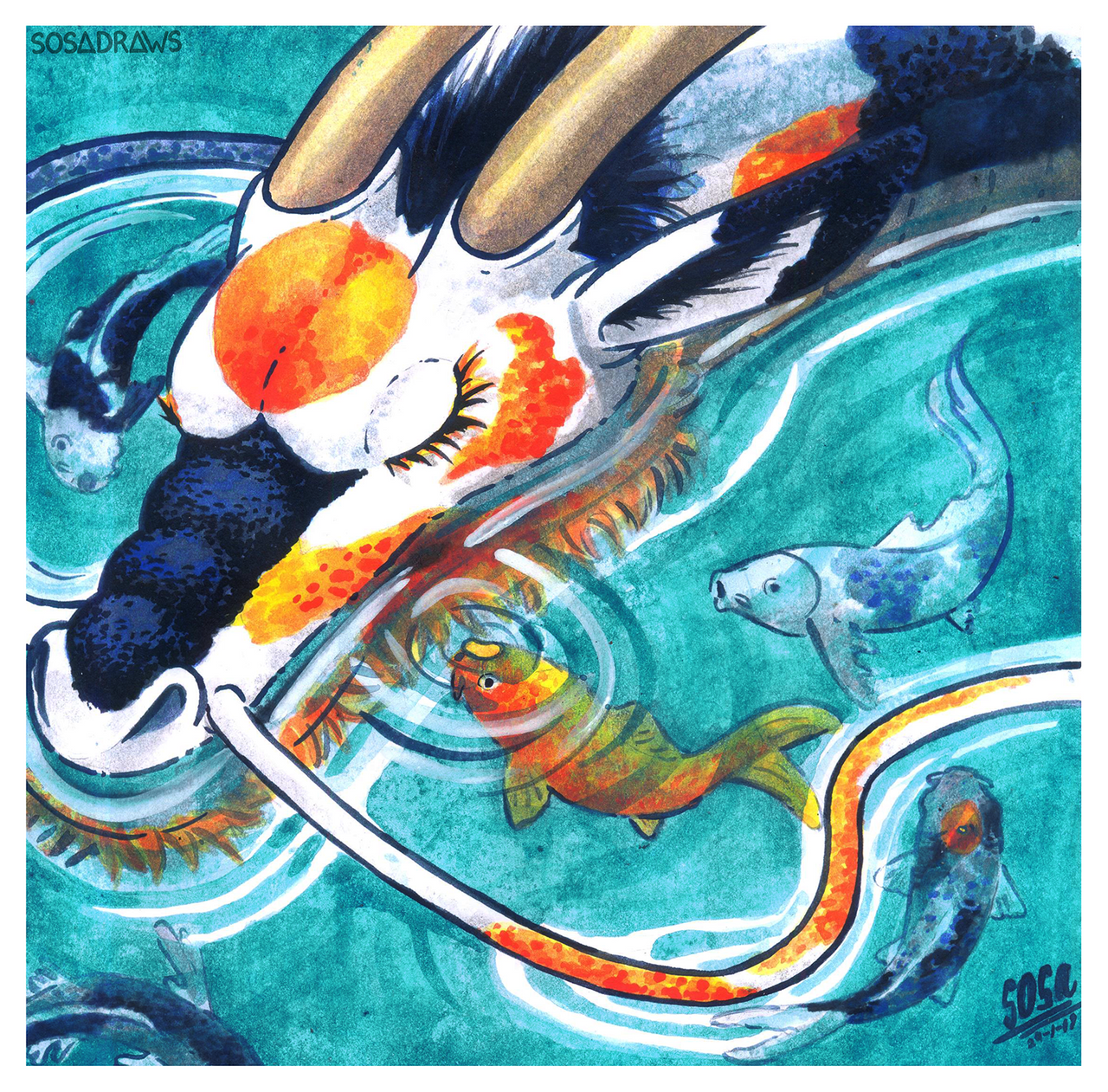 Memoria fotográfica (Photographic memory)
| 1/20 | 2/20 |
| --- | --- |
| | |
| 3/20 | 4/20 |
| | |
| 5/20 | 6/20 |
| | |
| 7/20 | 8/20 |
| | |
| 9/20 | 10/20 |
| | |
| 11/20 | 12/20 |
| | |
| 13/20 | 14/20 |
| | |
| 15/20 | 16/20 |
| | |
| 17/20 | 18/20 |
| | |
| 19/20 | 20/20 |
| | |
Gracias por visitar mi publicación
Thank you for visiting my publication