Aprovechando la fecha de San Valentín hice un dibujo inspirado en el cortometraje chileno
"Este es el Plan"
de
Fernanda Frick H.
Trata de un matrimonio entre un perro y una gata que comparten la pasión de hacer cupcakes, así que deciden crear su propia tienda, sin embargo, debido a varias circunstancias han tenido que postergar su plan, y así poco a poco se van separando de lo que aman.
Me pareció hermoso compartir esta obra con ustedes a propósito del Día de San Valentín. En mi País también lo conocemos como "El Día de los Enamorados", "El día del Amor", "El día de la Amistad" y otras variantes encantadoras.
Este es mi regalo en el "Día de San Valentín" para toda la comunidad de SteemIt. Felíz día del Amor y la Amistad. 😍 🖤 😍
Para esta obra utilicé:
Acuarela.
Cartulina blanca de 29,6 x 20,2 cm.
Pincel #0 y #5.
Cinta adhesiva.
Lápiz de grafito.
Tiza pastel amarilla.
Laca (Fijador en spray para el cabello).
Taking advantage of Valentine's Day I made a drawing inspired by the Chilean short film
"Here's the plan"
by
Fernanda Frick H.
It is about a marriage between a dog and a cat who share the passion of making cupcakes, so they decide to create their own store, however, due to various circumstances they have had to postpone their plan, and thus gradually separate themselves from what they love.
I thought it was beautiful to share this work with you about Valentine's Day. In my country we also know it as The Day of the Lovers, The Day of Love, The Day of Friendship and other charming variants.
This is my Valentine's Day gift to the entire SteemIt community. Happy Day of Love and Friendship. 😍 🖤 😍
For this work I used:
Watercolor.
White cardboard 29,6 x 20,2 cm.
Brush #0 and #5.
Adhesive tape.
Graphite pencil.
Yellow pastel chalk.
Lacquer (Hair Spray Fixer).
---
Arte Final (Final Art)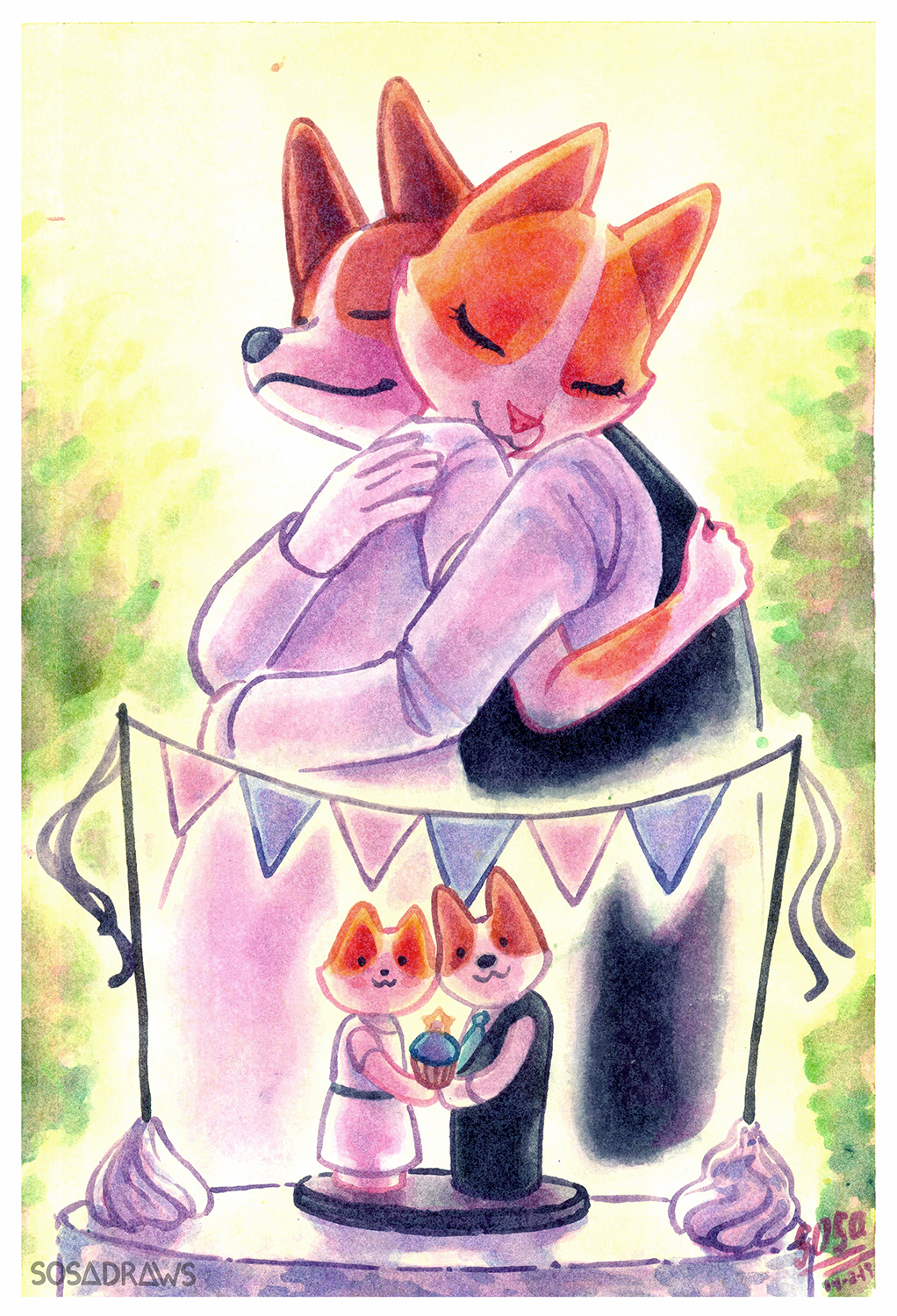 Paso a paso (step by step)
Gracias por visitar mi publicación
Thank you for visiting my publication