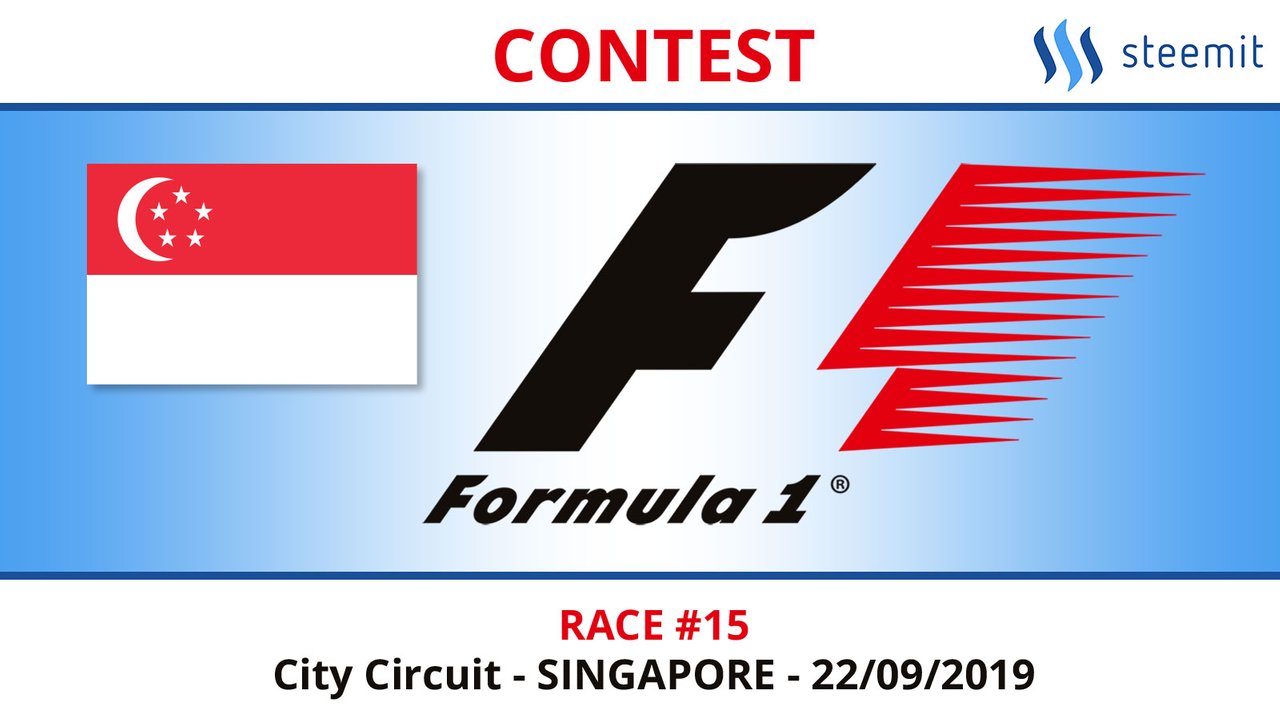 | GP | 1° | 2° | 3° |
| --- | --- | --- | --- |
| Singapore | - | - | - |
| Italy | Leclerc | Bottas | Hamilton |
| Belgium | Leclerc | Hamilton | Bottas |
| Hungary | Hamilton | Verstappen | Vettel |
| Germany | Verstappen | Vettel | Kvyat |
| Great Britain | Hamilton | Bottas | Leclerc |
| Austria | Verstappen | Leclerc | Bottas |
| France | Hamilton | Bottas | Leclerc |
| Canada | Hamilton | Vettel | Leclerc |
| Monaco | Hamilton | Vettel | Bottas |
| Spain | Hamilton | Bottas | Verstappen |
| Azerbaijan | Bottas | Hamilton | Vettel |
| China | Hamilton | Bottas | Vettel |
| Barhain | Hamilton | Bottas | Leclerc |
| Australia | Bottas | Hamilton | Verstappen |

Gara #15 – Singapore
Un saluto a tutti,
State ancora festeggiando la vittoria di Leclerc su Ferrari a Monza di due settimane fa? Bene… adesso passiamo alla prossima gara, a Singapore. Un bel circuito cittadino dove si correrà di notte, e questa è una della sue particolarità. A me piace, anche perché è veloce e spettacolare, e come tutti i circuiti cittadini nasconde insidie ad ogni curva. I piloti dovranno restare concentrati per tutta la gara. I muri non perdonano, e anche i piloti delle squadre minori potranno avere possibilità di far bene. Voi come la vedete?
---
Regolamento del concorso
Dovete upvotare il post manualmente al 100%.
Resteem non obbligatorio, ma consigliato: ovviamente può aiutare a far aumentare il valore del post portando nuovi concorrenti (ditelo anche ai vostri amici).
I pronostici vengono raccolti commentando questo post, per i primi tre classificati, ad esempio 1. Vettel - 2. Hamilton - 3. Raikkonen.
Potete votare fino alla partenza della gara. L'orario verrà controllato anche attraverso GinaBot su Discord e SteemWorld.
Vengono assegnati 3 punti a chi indovina il primo classificato, 2 al secondo, 1 al terzo. La somma dei punti, farà la classifica dei vincitori, che eventualmente si divideranno i premi: 30% - 20% - 10% del valore del post al momento del pagamento, dopo 7 giorni.
Ricordo i premi extra di fine campionato:
15% di quanto raccolto e non assegnato per il vincitore del nostro campionato Formula-1-Steemit;
15% (come sopra) per il vincitore del pronostico sul pilota campione del mondo di Formula 1. Il vincitore sarà chi esprimerà la preferenza corretta per primo, quindi meglio farlo durante i primi GP o quando iniziate a partecipare.
Aspetto i vostri commenti e pronostici.
In bocca al lupo a tutti!
---
Passiamo ora al recap nostro concorso
Grande gara a Monza due settimane fa e una grande festa per tutti i fan della Ferrari. Con la vittoria di Leclerc la festa è stata grandiosa! Ma dobbiamo ricordare che non è stato facile, e le due Mercedes, con Bottas secondo e Hamilton terzo, erano avversari difficili da battere. Verstappen e Vettel nelle retrovie, mentre da notare l'eccellente prestazione delle Renault di Ricciardo, quarto, e Hulkenberg quinto.
Veniamo da noi e al nostro concorso. Guardando la tabella dei risultati delle nostre previsioni, abbiamo fatto un voto al 100%. Per tutte le posizioni ti lascio con la tabella qui sotto, come sempre:
@c3r34lk1ll3r si dimostra ancora una volta il migliore, indovinando il primo e il terzo posto, raccogliendo così da solo il 30%;
cinque concorrenti hanno centrato solo la prima posizione. Per loro il 20% /5;
@jonelescalona rimane in cima alla classifica, aumentando la sua posizione. @ c3r34lk1ll3r si distingue @genuino1980 e rafforza la sua seconda posizione. @ciuoto raggiunge @genuino1980 e quindi condividono la terza posizione.

Race #15 – Singapore
Hello everybody,
Are you still celebrating Leclerc's victory over Ferrari at Monza two weeks ago? Well... now let's move on to the next race, in Singapore. A nice street circuit where you will run at night, and this is one of its peculiarities. I like it, also because it is fast and spectacular, and like all city circuits it hides pitfalls at every turn. The drivers will have to stay focused throughout the race. The walls do not forgive, and even the drivers of the smaller teams will be able to do well. How do you see it?
---
Rules of our contest
You have to manually upvote the post at 100%.
Resteem not mandatory, but recommended: obviously it can help to increase the value of the post by bringing new competitors.
Predictions are collected commenting on this post, for the first three classified, for example 1. Vettel - 2. Hamilton - 3. Raikkonen.
You can vote until the start of the race. The timetable will also be controlled via GinaBot on Discord and SteemWorld.
Who get the 1st position will raise 3 point, 2nd place 2 point, 3rd place 1 point. The sum of the points will make the ranking. The ones in the same position will divide the prizes: 30% - 20% - 10% of the final value of the post at the moment of the payment, after 7 days.
I remember the extra end of season prizes:
15% of the amount collected and not awarded for the winner of our Formula-1-Steemit championship;
15% (as above) for the winner of the prediction on the World Champion Formula 1 driver. The winner will be who will express the correct preference first, so it's better to make your guess during the first races or when you start playing with us.
I'm waiting for your comments and your choices.
Gook luck to all!
---
Let's talk about our contest
Great race at Monza two weeks ago, and a big party for all Ferrari fans. With the victory of Leclerc the party was a great one! But we must remember that it was not really easy, and the two Mercedes, with Bottas second and Hamilton third, were tough opponents to beat. Verstappen and Vettel in the rear, while to mention the excellent performance of the Renault of Ricciardo, fourth, and Hulkenberg fifth.
We come to us and to our contest. Looking at the results table of our predictions, we all made a 100% upvote. For all positions I leave you with the table below, as always:
@c3r34lk1ll3r proves once again to be the best, guessing first and third place, thus collecting alone the 30%;
five competitors hit only the first position. For them 20% /5;
@jonelescalona remains at the top of the chart, increasing his postion. @c3r34lk1ll3r stands out @genuino1980 and reinforces its second position. @ciuoto reaches @genuino1980 and so they share the third position.

Race #14 - Results

FESteem Ranking

Official FIA Formula 1 Site
Official FIA Formula 1 Youtube Channel

Immagini CC0 con diritti di modifica
CC0 Image labeled for reuse with modification